The Tarte Concealer Kyle Richards Can't Live Without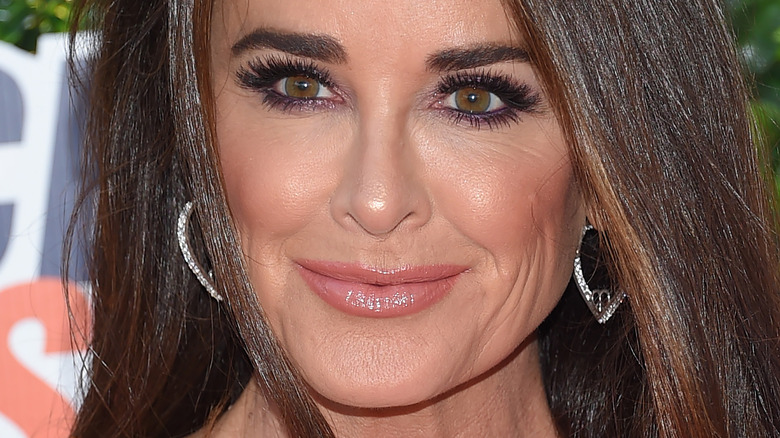 DFree/Shutterstock
With such a densely populated makeup market, it takes a lot for a single product to stand out amongst the rest and demand a cult following. Sure, some superstar products will have their big moments where everyone's raving about them, but none have quite outlasted every other tube on the shelf the way that Tarte Cosmetics' Shape Tape has.
Concealer is a critical makeup step in everyone's routine. Whether you're a natural girl or love a full-glam moment, concealer is a go-to for almost everyone. It's also the trickiest product to perfect, with so many consumers having such a wide variety of different needs and expectations to be met. So, when Tarte Cometics' Shape Tape took over the entire concealer game, it was impressive. The concealer quickly became a holy grail must-have for many, selling every 12 seconds and even being crowned Allure's #1 Concealer Brand in the Readers' Choice Awards (via Tarte Cosmetics).
If you're a fan of makeup, you're probably familiar with the Shape Tape movement. And if you're an avid close watcher of "The Real Housewives of Beverly Hills," you're likely to have noticed it on a certain OG cast member's vanity...
Tarte's Shape Tape concealer is Kyle Richards' "miracle" product
Tarte Cosmetics launched an entire "International Shape Tape Day" on January 12 in honor of the infamous concealer, and that should give you an idea of just how loved this concealer is, per Bustle. Since its success, Tarte Cosmetics has developed an entire Shape Tape product range that includes a foundation and a primer. However, the original Shape Tape Concealer remains unmatched. So much so, in fact, that one makeup-obsessed Real Housewife cannot get enough of it.
A big portion of Kyle Richards' screen time on "RHOBH" takes place in front of her vanity. The housewife is often seen doing her makeup by herself, and her looks never miss a beat. So when she sat down for Bravo's "The Lookbook" to give an exclusive tour of the infamous vanity, fans listened closely to each product she named.
Now, you may have been observant enough to already clock her holding the tube in her hand in countless episodes, but Richards finally dished about her "standout star" product, the Tarte Shape Tape Contour Concealer. Richards shared with Bravo that it's her favorite thing, and she "cannot live without" it. Even the reality star couldn't resist the gravitational pull that Shape Tape has on us all.