Here's What Sharon Stone Looks Like Going Completely Makeup-Free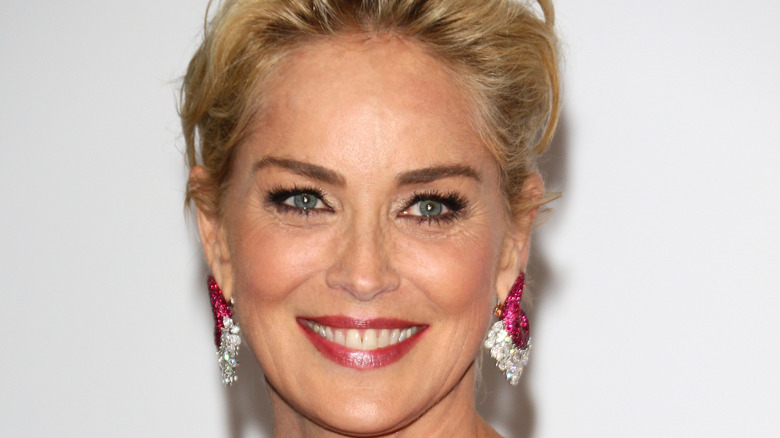 Vittorio Zunino Celotto/Getty Images
Sharon Stone is a Hollywood legend, but, in stark contrast to many others of her ilk, the actor isn't afraid to tell everybody how it is. In an excerpt from Stone's memoir, "The Beauty of Living Twice," shared by Vanity Fair, the "Basic Instinct" star opened up about her most famous role nearly breaking her, how she was considered a "difficult" woman purely for standing up for herself and demanding respect, and how she finally found peace with her looks after decades of being judged by the entire world. 
Stone has a refreshing attitude toward aging, too, which matches her no-nonsense approach to her career and life in general. As the actor explained in an interview with Allure, "I started to understand that I was going to go for being more like a European woman who got more beautiful with age and who could understand that women are more beautiful than girls because they know something." Stone proved she still had it (as though there was any doubt) by recreating her most (in)famous movie moment in a 2019 shoot for Vogue Portugal (via Instagram).
Still, the impressively frank star has no issue going makeup-free, even revealing to Allure that she frequently removed "pounds" of makeup during the "Basic Instinct" shoot. Unsurprisingly, Stone still doesn't need it.
Sharon Stone keeps getting better with age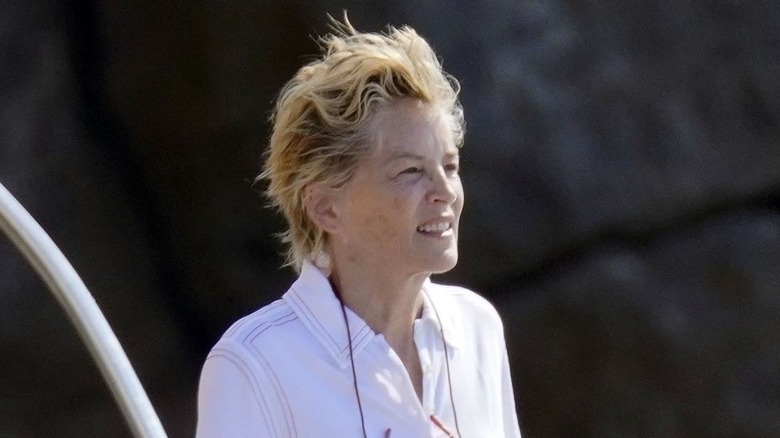 Backgrid
While most women in Hollywood are, sadly, focused on rolling back the years, regardless of the cost or pain associated with doing so, Sharon Stone is proud to show her age. "I don't want to be an 'ageless beauty,'" she told Shape. "This idea that being youthful is the only thing that's beautiful or attractive simply isn't true." 
She added: "I want to be a woman who is the best I can be at my age." Everybody wants to know "the secret" to Stone looking so good into her 60s, but she's the first to admit that being done up for photoshoots or work is very different than her day-to-day life by frequently — and very proudly — sharing makeup-free shots of herself on Instagram. 
Having said that, Stone does take excellent care of her skin behind the scenes. The actor told Allure she's been using Avon Rich Moisture Cream since the age of 12 because her mother worked for the company. "She said, 'Put this on morning and night and you'll thank me for the rest of your life,'" she recalled. And, indeed, she did, sticking with the product for the ensuing decades. As Stone told Redbook, "I'm still thanking her. It makes my skin look plumper and more radiant." 
Naturally, putting in all that hard work means that the "Basic Instinct" star doesn't have to worry about being papped without her slap on.