This Food Network Star Might Officiate Kristen Stewart's Wedding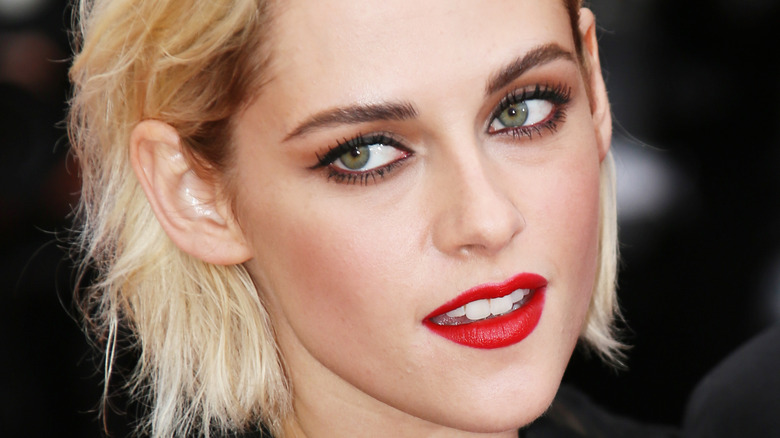 Denis Makarenko/Shutterstock
After quietly dating for two years, Kristen Stewart announced her engagement to her girlfriend Dylan Meyer on November 2 on Howard Stern's Sirius XM show (via Us Weekly). Stewart explained that she dropped hints about wanting to be proposed to, and Meyer came through like a pro. 
The actress may currently be earning raves playing Princess Diana in the new film "Spencer," but the wedding she has in mind couldn't be farther removed from Diana's grand royal nuptials to Prince Charles. Stewart told Stern, "I want to stay home. I want to be in L.A. so everyone can come and ... I want it to be pretty chill. I don't want anyone walking anyone down any aisles like we're just gonna stand, do vows" (via Newsweek). Nor will she be wearing anything even remotely resembling the princess's huge white confection of a wedding gown. Stewart plans to get married in "the best pair of Levi's ever [and] an old T-shirt with a tuxedo printed on it. I want to see [Meyer] laugh hysterically when she sees me in a faux tuxedo T-shirt."
One other important detail about the Stewart-Meyer wedding may soon be nailed down. Stewart also told Howard Stern that she has a particular Food Network celeb in mind to officiate at the ceremony — and he's all for it.
Guy Fieri may be adding flavor to Kristen Stewart's wedding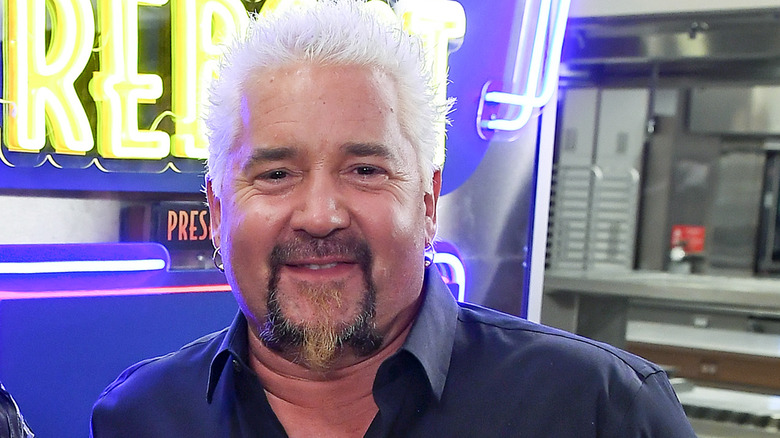 Steve Jennings/Getty Images
Some people go with a traditional clergy to perform their wedding ceremony; others ask a family member or good friend. Kristen Stewart and Dylan Meyer may be getting married by a mayor — the mayor of Flavortown, that is. Stewart confessed to Howard Stern that her ideal officiant would be Guy Fieri, the jovial host of such Food Network shows as "Guy's Grocery Games" and "Diners, Drive-Ins and Dives." Calling him a "sweet, spiky-haired man," she added that the idea of having him there "makes me laugh so much" (via them).
As the saying goes, be careful what you wish for. On November 4, Stewart appeared on the "Today" show, where hosts Hoda Kotb and Savannah Guthrie congratulated her on the engagement. Then they presented her with a surprise: A video from Fieri himself. "Hey Kristen, Guy Fieri here, and I heard through the Flavortown grapevine that you are looking for a sweet spiky-haired officiant for your wedding. I'm all in!" he said (via Today). 
Clearly shocked, the actress wondered whether the celeb chef was joking. Guthrie said, "No, I think he means it," and Kotb added, "Was yours a real offer?" Stewart said, "Absolutely!"
Looks like Fieri really is all in. Following the show's airing, he retweeted the clip and wrote, "Oh, that offer is legit!" That prompted Meyer to respond, "Wow, dreams really do come true."
Now the question remains: Will Fieri's burgers and Donkey Sauce be served at the reception, too?