Kendrick Sampson Reveals What It's Like Working On Insecure - Exclusive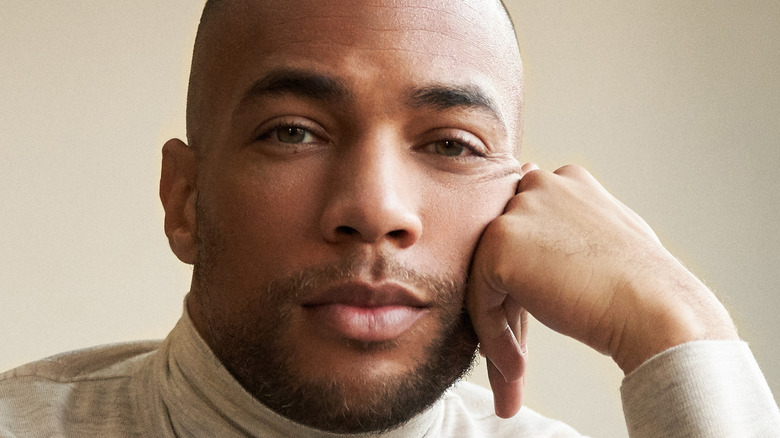 PHOTO CREDIT: JUSTIN VASEUR
While the HBO series "Insecure" has its fair share of laughs, ridiculous antics, and jaw-dropping moments, it certainly isn't short on thought-provoking scenes with depth and raw emotion. In fact, creator Issa Rae told Katie Couric on her series "Getting There" that her inspiration for the show came from her own childhood and experiences as a Black woman and a desire to create a character that girls and women like her could relate to. "You feel alone, you feel like, 'Am I the only one that goes through this?' And then, you realize you're not. And I think what I love about those moments is that they unite us all," Rae told Couric, adding that writing "Insecure" allowed her to create a character that even she looked up to — a woman who was literally a mirrored version of herself (via Bustle).
After five seasons of the fan-favorite show, it's finally coming to an end. But before it's gone forever, The List had the chance to sit down with Kendrick Sampson of the show — who plays heartthrob love interest Nathan — for an exclusive interview. He opened up about his love for playing the piano, the work behind his charity, BLD PWR, and of course, he dished all about the final season of "Insecure."
Sampson loved working with a predominantly Black cast and crew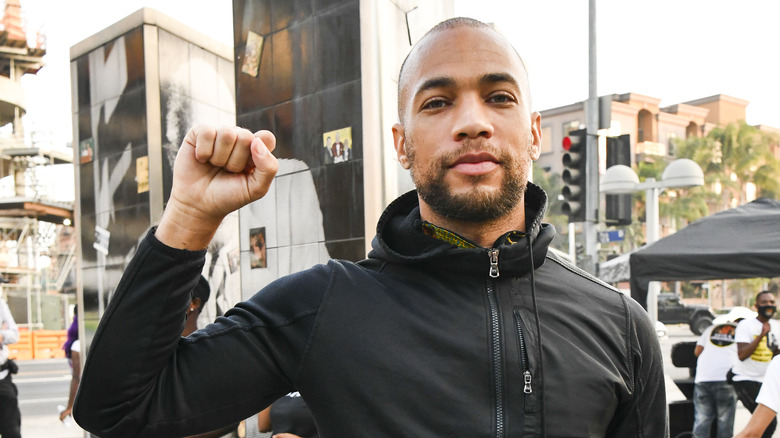 Rodin Eckenroth/Getty Images
Die-hard Kendrick Sampson fans know exactly where to find him on the small screen, from "The Vampire Diaries" to "How to Get Away with Murder" (via TVGuide). But if you ask the 33-year-old actor, he says that working on "Insecure" has been unlike any other show he's been involved with for a few reasons — with one especially big reason coming right to mind for him. "This is the Blackest show I've been on," he said, "which is wonderful." He explained that while he has worked with lots of "Black creatives" in the past, the cast and crew of "Insecure" was unlike any other show he's worked on. "I know more Black women directors now than, I think, any other demographic. And Black directors in general. Yeah, it's been a blessing. It's been different. In good ways."
But why is this so significant to Sampson? He explained that the chance to work with a crew of talented Black creatives was made even more special when those very same people were "protesting and organizing" by his side on the streets over the years. From this experience, he learned that "it's possible to have a career and be supported while standing up for the liberation of those who need it most [...] I do believe that it holds a very special place in my heart and definitely gave me a model that I want to replicate and enhance and do better with," he shared.
Sampson couldn't speak highly enough of his experience working with Issa Rae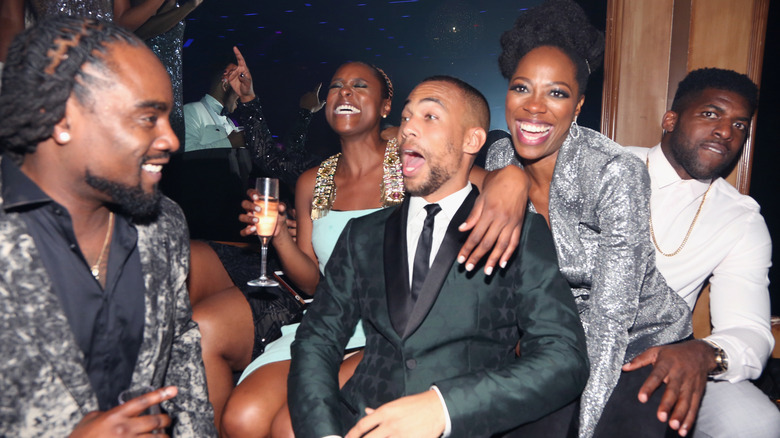 Maury Phillips/Getty Images
While working with the cast and crew of "Insecure" was an unquestionably special experience for Kendrick Sampson, there's another big reason that he found it to be so impactful: Issa Rae. Indeed, throughout our exclusive interview, Sampson couldn't help but gush about his love for Rae and the joyous experience of working with her. In fact, he even shared that working with her makes him feel like a child. "She's great. I think we are children around each other," he said, adding, "Just like big-ass kids and can't help it. And that makes it really comfortable and pleasant. She's a pleasant person, just funny and has a great smile, a great laugh." From the way the two interact, you would think that they had, indeed, known each other since they were children, but this is not the case. According to Sampson, he had never crossed paths with Rae until literally meeting her at the audition for "Insecure."
"She's a good boss, you know what I'm saying? She gives people their due. She makes sure that she lifts people up and gives people that aren't normally given opportunities. So I don't know what I could say outside of that."
"Insecure" airs 10 p.m. to 10:30 p.m. ET/PT on HBO. The ensuing episodes will arrive weekly and will also be available to stream on HBO Max, with 10 episodes in total.