Which E.l.f. Products Are Worth The Money?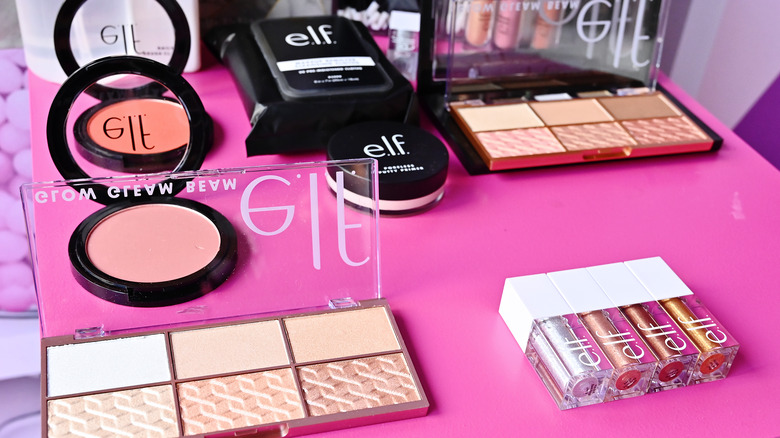 Astrid Stawiarz/Getty Images
If you're a beauty queen on a budget, then chances are you have heard about the much-hyped and affordable brand, e.l.f. Cosmetics. The brand was started in 2004 by Joey and Alan Shamah, a father-son duo (per Refinery29). When Joey's wife came back home from makeup shopping, Joey saw that five makeup products cost $200. Upset at the price markup, he set out to address the need for more affordable high-quality makeup products. Since then, the brand has grown to become loved by professional makeup artists, beauty gurus, and everyday makeup shoppers.
Two of the company's complexion products are especially going viral online and getting rave reviews from beauty enthusiasts: the Mint Melt Cooling Face Primer and the Halo Glow Setting Powder. The Mint Melt Cooling Face Primer is an $8 dupe to the cult favorite Milk Makeup Hydro Grip Primer, per Southern Living. The primer has a similar gripping formula that will lock your makeup in place. The antioxidants and peppermint extract in the formula will help refresh your skin with a cooling sensation, and the primer gives a dewy, fresh glow thanks to the hyaluronic acid in it, per e.l.f. Cosmetics. 
According to beauty guru Kelly Gooch, the Halo Glow Setting Powder is finely-milled, soft, and smooth (via YouTube). The end result is a blurred, filter look that is neither dry nor cakey. The powder is a setting and finishing powder in one.
Holy grail eye and lip products from e.l.f Cosmetics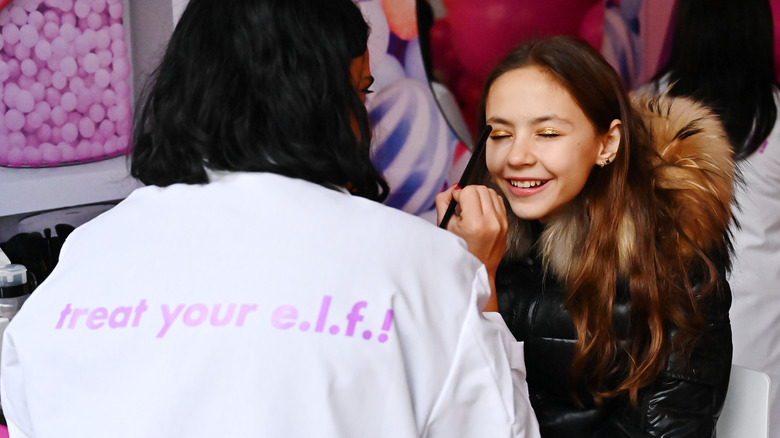 Astrid Stawiarz/Getty Images
Kelly Gooch also recommends the brand's Bite Size Eyeshadow Palette in Cream and Sugar (per YouTube). While it's only $3, the shadows perform on par with higher-end eyeshadow formulas. The shimmer eyeshadows pack a pigmented punch, and the mattes blend out easily. If you have sparse eyebrows, the Wow Brow Gel is a tinted formula with fibers that will make your eyebrows look full and voluminous (per Good Housekeeping).
There are plenty of lip products that e.l.f specializes in that will save you plenty of money and feel good on your lips at the same time. According to beauty product reviewer Jen Phelps, the Sheer Slick Lipstick offers sheer color in a juicy lipstick formula (per YouTube). Phelps especially recommends Golden Pear, a warm-toned orange-based nude and Black Cherry, which she recommends as a dupe to the popular Clinique Almost Lipstick in Black Honey.
If you are looking for a moisturizing lip balm with a hint of tint, Phelps recommends their Ride or Die Lip Balm. Her favorite is Tough Cookie, a nude shade with a bakery-inspired scent. Phelps compares the hydrating qualities to Bite Beauty Agave Lip Mask and the best part is the e.l.f one is only $5. And last but not least, if you're looking for the perfect lip gloss, makeup artist Robert Welsh recommends the e.l.f. Mint Melt Lip Gloss as a lip plumper that smells delicious (via YouTube). With these staple e.l.f Cosmetics products, you can look like a million bucks by using makeup items that are each under $10.