Why Aaron Rodgers' Punishment Has NFL Teams Seeing Red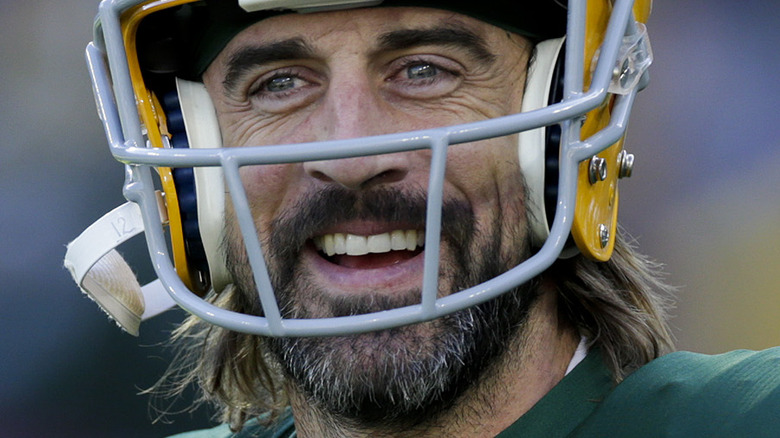 John Fisher/Getty Images
Green Bay Packers quarterback Aaron Rodgers hasn't gotten the COVID-19 vaccination, despite the NFL's having strict rules enforcing that players and coaches get the jab, per USA Today. After he tested positive for COVID-19 in the middle of the season, it came out that Rodgers chose not to get the COVID-19 vaccination. Rodgers stated he has an "allergy to an ingredient that's in the mRNA vaccines," per NBC News. Since then, the quarterback and his team have been fined. But according to the New York Post, other teams don't think the punishment went far enough. In fact, one source told ProFootballTalk that they have one word for the Packers' $300,000 and Rodgers' $14,650 fines: "bulls**t."
Compared to other COVID-related fines in the NFL, Rodgers' fine, as well as the team's punishment, seems like a slap on the wrist when compared to what other teams were fined. According to the New York Post, New Orleans Saints coach Sean Payton was fined $100,000 for not wearing a mask, for instance. The publication states that the team also paid $500,000 in fines and lost a draft pick after having a maskless gathering in Week 2 of the NFL season. 
It's worth noting that all the money made through fines goes directly to the NFL Foundation, which assists former players in need, per NFL Football Operations. But that doesn't mean other players are happy with Rodgers' seemingly light punishment.
Aaron Rodgers chose not to get the vaccine for reproductive concerns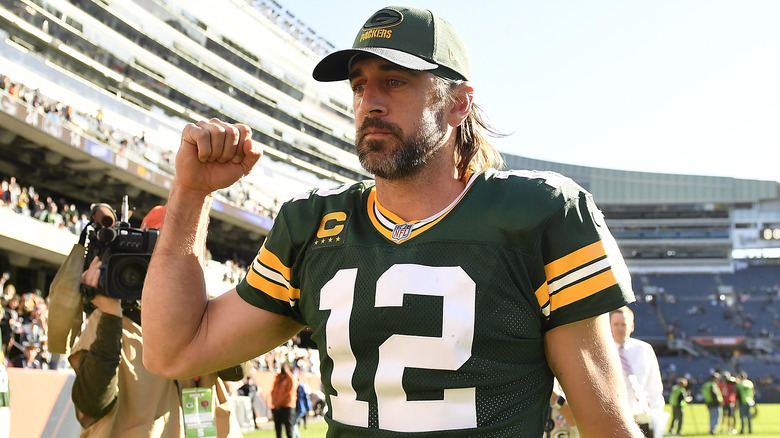 Quinn Harris/Getty Images
Per ProFootballTalk, other NFL members are miffed that Aaron Rodgers and the Green Bay Packers weren't given a heavier fine for Rodgers' actions. And some fans feel the same way. "Aaron Rodgers lied about being vaccinated and put everyone's health at risk...he gets an itty bitty fine. Colin Kaepernick takes a knee for social justice and gets black listed," one person tweeted. Still, as another person pointed out, the $14,650 fine for unvaccinated players who violate COVID-19 protocol was announced in July, per ESPN, long before Rodgers' COVID-19 diagnosis.
The fine isn't the only thing fellow players and fans are confused about, though. According to USA Today, originally, Rodgers said he was "immunized." Then, after he tested positive, it came out that Rodgers chose not to get the COVID-19 vaccination. It wasn't until after he was fined that he started speaking openly about his beliefs. "I am not a COVID denier," Rodgers said on "The Pat McAfee Show" (via USA Today). "I just wanted to make the best choice for my body." The quarterback also said he was "worried" about "fertility issues around the vaccines."
Regardless of his reasoning, many aren't happy with the amount Rodgers was fined.