Could This Be Meghan Markle's Best Look Ever?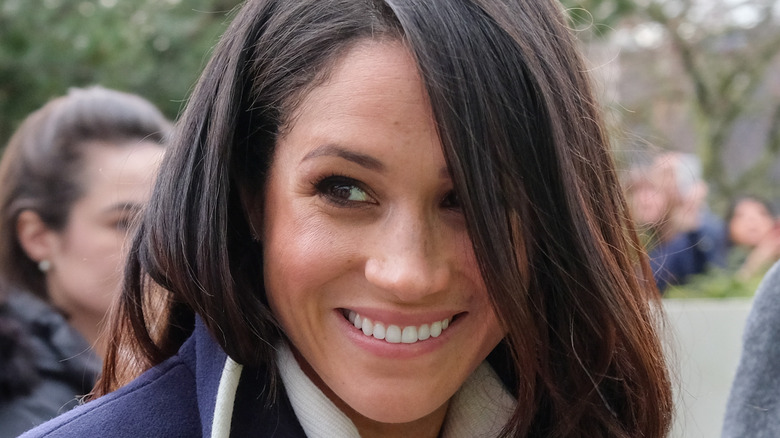 MattKeeble.com/Shutterstock
The life of Meghan Markle is certainly as fascinating as the love stories we see in movies. However, even before Meghan made the top headlines by dating a prince, becoming royalty, and then properly cutting ties with her royal in-laws, we were following this mother-of-two's evolution of style.
Pre Harry, Meghan had a much more laid back, actress on the go vibe when it came to her fashion choices. And then her role as the hip hugging designer-clad Rachel Zane in "Suits" started to influence her personal style. "I think it's really changed because my sensibility had always been relaxed California girl style, and on any given day I was in jeans, cut-offs and flip-flops," she said. "The fashion on 'Suits' is gorgeous, so it also became my education of designers and really knowing what fits my body well" (via Glamour).
Once Meghan kissed her character and previous life good-bye and made it official with the Duke of Sussex, we started to see her sport more elevated and refined ensembles. Now don't get us wrong, we love both California chill and modern royal looks on the children's book author. But recently, she arrived at an event looking so utterly breathtaking, it might be our all time favorite look of hers.
Red was made for Meghan Markle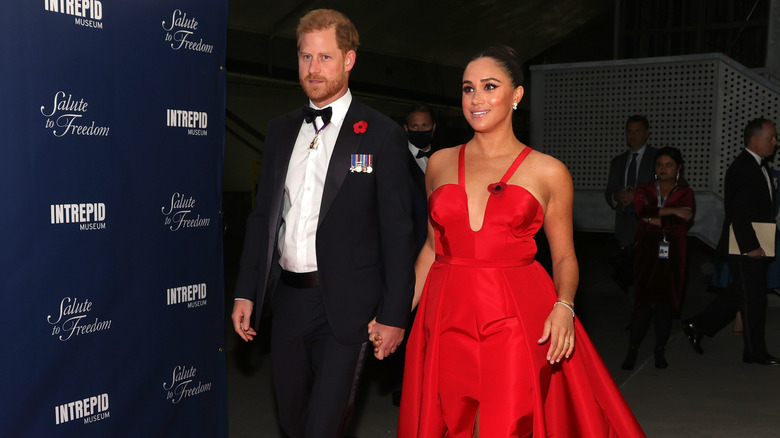 Dia Dipasupil/Getty Images
Prince Harry and Meghan Markle recently made an appearance together at the Salute to Freedom gala at New York's Intrepid Museum. And while we're saluting freedom, our highest salute is going towards the Duchess of Sussex's fashion choice for the evening. Meghan rocked a sleeveless gown by the designer Carolina Herrera (via Elle). Yes, the gown was sleeveless, and had a pearl clutching thigh-high slit up the leg. Yet the sheer volume of the crimson red gown gave Meghan's overall look more of an instant classic vibe, than a skin baring hot mess.
"I think the most important thing you can do is tailoring," Meghan said when discussing fashion. "No matter what you have in your closet, you think it's not going to make a big impact but if it fits you to a T, you look a million times better and I learned that working on Suits" (via Hello!).
It's nice to see the former actress is still using tips she learned from her acting days. The stunning red Herrera gown was tailored to perfection, and it has now entered in the running for her best look ever.