Suits Creator Opens Up About What Meghan Markle Was Really Like Behind The Scenes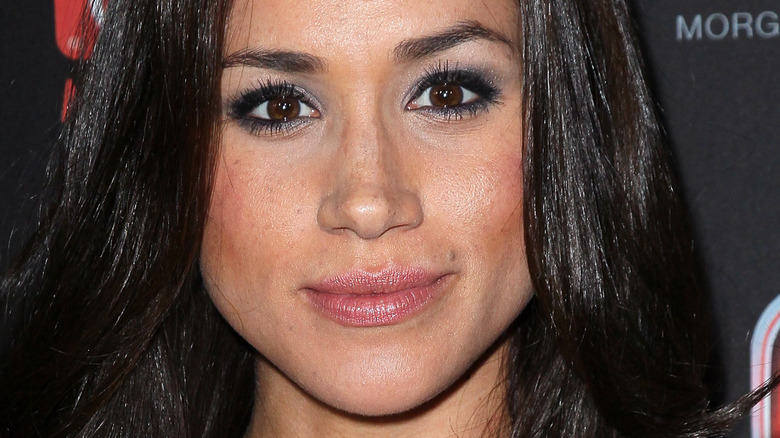 David Livingston/Getty Images
Before Meghan Markle was a member of the British royal family, she starred in the television show "Suits" as one of the main characters, Rachel Zane (via IMDb). The drama centered around a law firm in New York City, where Markle's character worked as a paralegal before passing the bar exam to pursue her dream of becoming an attorney.
Rachel was one of the most beloved characters on the show. When it was announced that she was leaving "Suits" ahead of its eighth season, fans were crushed. One fan tweeted, "While I'm pumped that Meghan Markle is getting married to Prince Harry, why can't she keep filming Suits? The world needs Rachel Zane," (via Evening Standard).
Markle, for her part, was grateful she was able to be part of a successful show for over seven years. During her joint interview with Prince Harry when the pair announced their engagement, the Duchess of Sussex was asked about her departure from the legal drama and from the world of acting as a whole. "I don't see it as giving anything up, I just see it as a change," Markle said at the time (via ABC News).
Markle has always spoken fondly of her time on the set of "Suits," but what was she really like behind the scenes? "Suits" creator Aaron Korsh opened up during a Twitter Q&A about what it was like to work with Meghan Markle on their hit show, and he didn't hold back on any of the details.
Suits creator Aaron Korsh said Meghan Markle was a pleasure to work with
Aaron Korsh, the creator and showrunner of "Suits," hosted a Q&A on Twitter where he discussed what Meghan Markle was really like behind the scenes. Though the pair worked on a drama show together, there wasn't any off-set animosity between them. Korsh only had kind things to say about Markle and continued to rave over her throughout the course of the Q&A.
"Among other things, I loved Meghan's enthusiasm both on set and off," Korsh said, via PureWow. He added, "She brightened the mood wherever she was." Korsh also revealed that Markle would thoughtfully write him a note at the beginning and end of each season expressing what she thought of the openers and finales. How sweet is that?
Korsh isn't the only person from the "Suits" set who is still singing Markle's praises. Rick Hoffman, who played Louis Litt for all nine seasons of the show, shared an adorable throwback snap of himself and the Duchess of Sussex that had royal fans rejoicing. The photo was presumably taken while the duo was still filming "Suits" and shows Markle laughing while Hoffman raises his glass to the camera. It was affectionately captioned, "Good ol' days" (via Instagram). It seems as though the bonds formed on the set of "Suits" are still going strong after all these years.