Why David And Kortney Wilson Compare Country Music To Flipping Houses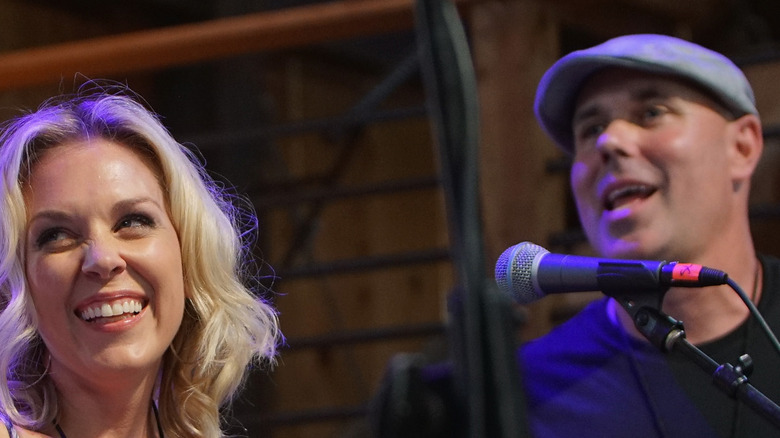 Anna Webber/Getty Images
"Masters of Flip" stars and former spouses Kortney and Dave Wilson obviously know their way around a home renovation. The Canadian reality stars were famous at home before moving stateside, to Nashville, where they quickly gained traction on the local scene for their stunning remodels. As River City Sisters noted, in a joint interview with them, the "Masters of Flip" stars caught people's attention because of their combined skills as real estate experts and smart interior designers, who can transform almost any property into a palace. 
However, Kortney and Dave didn't just move to Nashville for the property market. In fact, they originally hit up Music City to establish themselves as country artists. The Wilsons endured a flood and had to remodel as a result. They got a taste for house flipping in the process and, although doing home renovations on the side initially helped them fund their fledgling music careers, after a while it became clear flipping was going to be more profitable. However, the reality stars see a keen connection between the two jobs. 
Flipping houses is a similarly creative process
According to PopSugar, HGTV stars Kortney and Dave Wilson originally turned to house flipping because, due to being constantly in and out of music publishing deals, the couple found it tough to earn enough money to support their growing family. House flipping made sense, particularly from a financial perspective, but the couple also saw it as similarly creative to music. As Kortney explained, "It is a really creative process much like songwriting, and we work together like that. I do some of the more creative stuff, the design, and Dave manages all of our crews and keeps us sane." 
Even though their music careers stalled, the Wilsons were able to keep their creative juices flowing through various remodeling projects. In fact, Kortney doubled down on the analogy in an interview with The Tennessean, during which she also confirmed the couple fell for Nashville first and foremost because of the legendary music scene there. "Ultimately, renovating a home is like writing a song — there's a beginning and an end and then you enjoy it," she said. Clearly, it works pretty well for them.