Mary Berry Shares The Truth About Kate Middleton's Baking Skills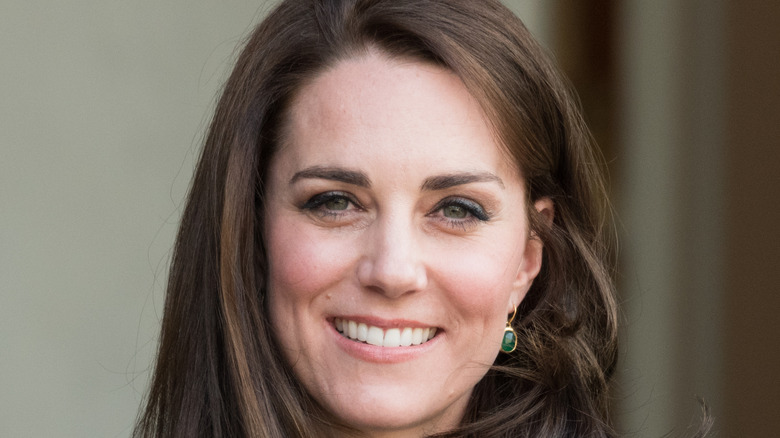 Frederic Legrand - COMEO/Shutterstock
There doesn't seem to be anything Kate Middleton can't do. While she spends most of her time serving various charities and representing the British royal family around the world, Middleton is also a talented photographer and an accomplished beekeeper who presented her homemade honey to schoolchildren in the summer of 2021 (per International Business Times). And when she's spending time with her three children — George, Charlotte and Louis — Middleton enjoys cooking with them.
"She was telling us how much her children love cooking and how they cook for her," Matthew Kleiner-Mann, chief executive of the Ivy Learning Trust told Express. "They made cheesy pasta the other day. One stirs the flour, one puts the milk and butter in. And they make salads and stuff." In fact, Middleton revealed that one of George's first words was "Mary" because the Duchess of Cambridge always had former "Great British Bake Off" judge Mary Berry's cooking books around the kitchen when he was little. "One of Louis' first words was Mary, because right at his height are all my cooking books in the kitchen bookshelf," Middleton said during the 2019 television special "A Berry Royal Christmas" (per Hola). "And children are really fascinated by faces, and your faces are all over your cooking books and he would say 'That's Mary Berry' ... so he would definitely recognize you if he saw you today."
And Berry herself has also boasted about Middleton's talent in the kitchen, including her baking skills.
Kate Middleton is a master at piping cupcakes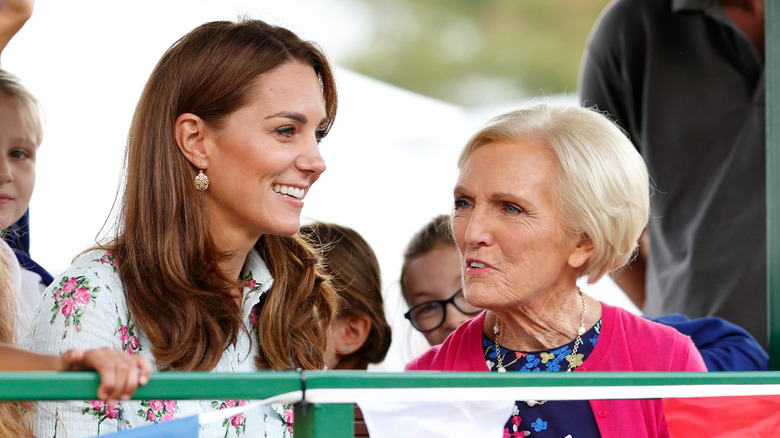 Max Mumby/indigo/Getty Images
Mary Berry has revealed that when it comes to cooking, Kate Middleton has some skills in the kitchen. "'She's confident and she's giggly and [says] "I don't think I can', but she does," Berry told the hosts of "This Morning." Berry added, "I remember we were down at the RHS at Wisley and she was bringing her garden from Chelsea, the children's garden and play center. She was piping cupcakes and they were just ... if not better than mine, they were beautiful and she was laughing away and enjoying it. I think she's a great person, she'll have a go at anything." (per Daily Mail) 
Berry received her Damehood for services to broadcasting, the culinary arts and charity from Prince Charles in 2019. In addition to being an inspiration to Middleton, Berry hopes that she inspires others to whip up something special for their loved ones. "I hope I encourage people to bake and to cook because my recipes are fairly simple," she said after the investiture ceremony. "I try to do recipes that the family will say, 'Ooh and ah, haven't you done well,"' she said (per Hola!)