Is Kendra Wilkinson An Actual Real Estate Agent?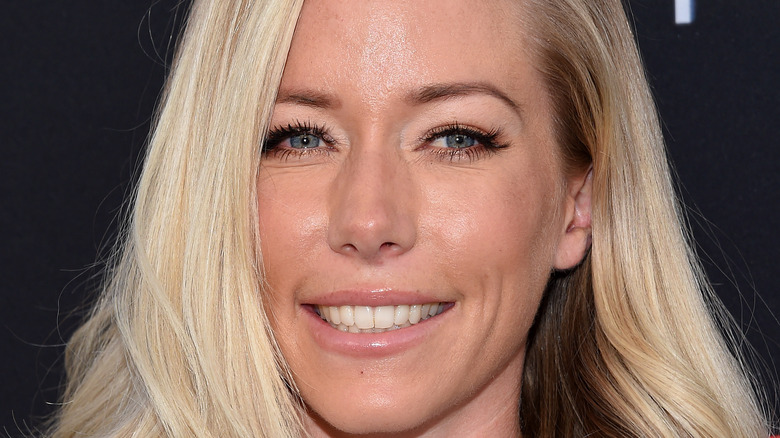 DFree/Shutterstock
Kendra Wilkinson is one of those celebrities who the public has seen go through countless phases. Everyone remembers a different Kendra Wilkinson era. Most might recall her memorable time on the hit reality show "Girls Next Door," when she was the wild and funny girl by Hugh Hefner's side at all times, while others enjoyed her most during her solo reality show "Kendra On Top," which explored her life in a completely different light as the wife to now ex-husband Hank Baskett and mother to their son Hank IV (via E!).
Whichever way she showed up on our screens, Wilkinson always provided elite content with her quirky behavior. Since the end of "Kendra on Top" in 2017 and the end of her marriage in 2018, the public hasn't gotten to see much of Wilkinson. However, she did briefly become a topic of discussion when it came to clapping back at fellow ex-playboy bunny Holly Madison, who chose to open up about the toxic environment at the playboy mansion (via People). Wilkinson seemingly shamed her by disregarding her story and simply commenting, "Dude... it's 2021," followed by a laughing emoji.
While people weren't happy about her approach, fans have still eagerly awaited the return of her chaotic energy to their TV screens, and it seems they're finally getting their wish.
Kendra Wilkinson works at Mauricio Umansky's agency and has a show in the works
Fans were definitely perplexed when Kendra Wilkinson took to Instagram on June 23, 2021, to share that she had spent her quarantine studying hard and had managed to pass her California real estate exam (via People). While people struggled to take her seriously, it quickly became clear that the reality star was being sincere when internet sleuths discovered she was officially working at a real estate agency. In true Wilkinson fashion, she didn't pick just any agency — rather, she chose to work at Kyle Richards' husband Mauricio Umansky's hugely-successful "The Agency" (via Yahoo!).
Umansky confirmed the news with a comment on his official Instagram account that read, "Welcome to the agency." According to Yahoo!, Wilkinson then shared the image, adding, "So excited to join The Agency!! Let's gooooo!!"
Wilkinson isn't stopping there when it comes to her new real estate agent hat, though. The ex-playboy bunny recently announced that she's making a reality TV comeback with a new docuseries titled "Kendra Sells Hollywood." According to ET, the docuseries will include six episodes that follow Wilkinson's career as a real estate agent in LA. In a press release for the show, the star said, "I've been on TV, on magazine covers and shared all of the ups and downs of my personal life with my fans. Now people can follow along on my newest adventure as a real estate agent. This 'girl next door' is ready to compete with the big guns!" (via ET). We can't wait to come along for the ride.