What We Know About Hunter Biden's First Art Show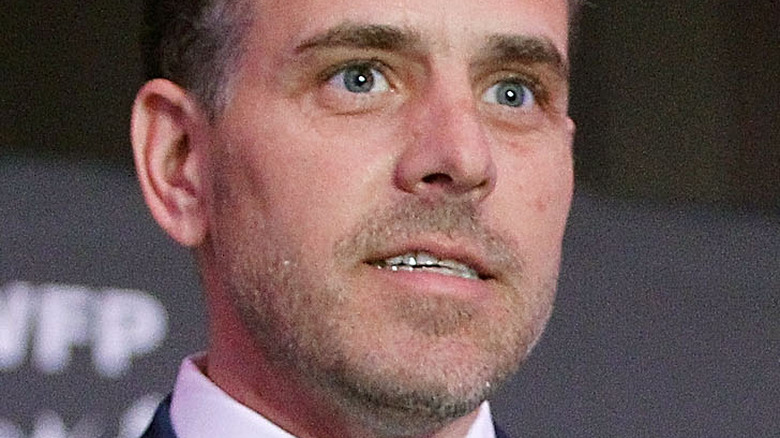 Paul Morigi/Getty Images
Opening night is an exciting, nerve-wracking affair for any artist, but it is probably more so for President Joe Biden's son Hunter, who opened his first solo exhibit "The Journey Home" at a Manhattan art gallery on November 10. The New York Post reports that 60 guests were at the event, which took place at the Georges Berges Gallery in SoHo. Curtains kept curious passers-by from being able to sneak peeks to see what was happening inside, but we do know the event was attended by Hunter's aunt Valerie Biden Owens, and that the president and First Lady Dr. Jill Biden didn't attend.
Art critic Donald Kuspit, who had earlier reviewed Hunter's work, called the opening "a social event" and said that it wasn't about selling any pieces, per the Post. Still, Kuspit also said of Hunter, "He's a serious artist. The work is terrific" (via the Post).
Artnet, which managed to get a sneak peek at the exhibit, says the show is made of 25 different works executed on canvas, metal, and paper. Many make use of deep, vibrant colors, and are seen to hold elements of mythology, symbolism, as well as revelations into the artist's personal life — doubtless a reflection of Hunter's art philosophy, which is that "painting is much more about kind of trying to bring forth what is, I think, the universal truth," as he told Artnet in June.
Hunter's art under fire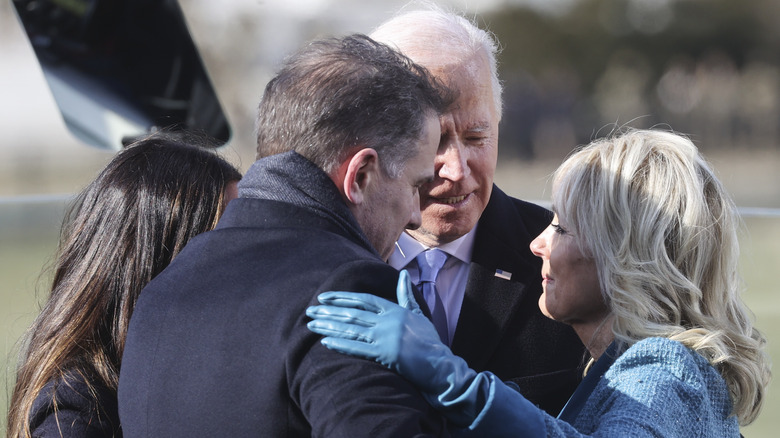 Pool/Getty Images
Hunter Biden has come under a considerable amount of criticism from his father's political opponents, who claim buyers will pick up the expensive art in order to gain access to President Joe Biden himself. The guidelines for the sale of Hunter's artwork are being handled by gallery owner Georges Berges, who says he is vetting potential buyers, and as a result, he is in the position to turn down unusual-looking bids. Berges has said that because he is a private dealer, he is obligated not to disclose the identities of those looking to acquire Hunter's paintings, but he says most are his long-term clients and people he can trust, per The New York Times.
Berges says that the price tag for a Hunter Biden piece could shoot past $100,000, although none are expected to hit a half million, as the New York Post has claimed. Berges seems to have a great deal of confidence in his client, saying to the Times, "Hunter will go down as a great artist for this century. If anything, his father will be known as the father of a great artist."
While the initial plan was to have a public exhibit, the New York Post reported in a separate article that the original plan has been scrapped and that only those with appointments can view Hunter Biden's artwork. No surprises here, as the gallery owner, Georges Berges has said he's been threatened, and the gallery vandalized.