LeBron James Shares Harsh Words For Kyle Rittenhouse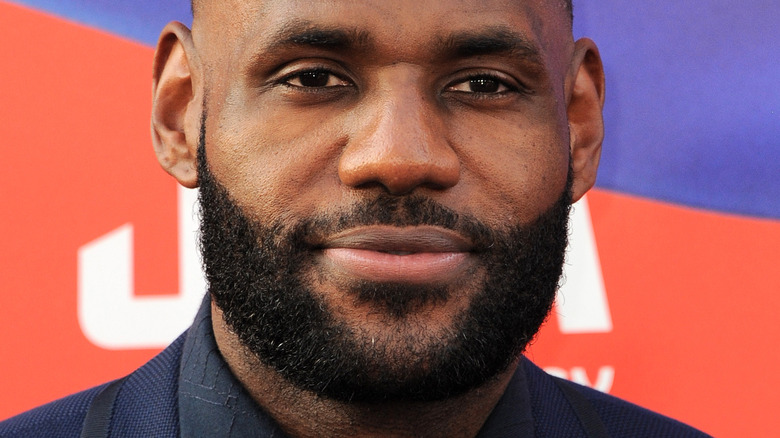 Tinseltown/Shutterstock
The summer of 2020 was marked by anguish and protests over the deaths of George Floyd, Breonna Taylor, and Jacob Blake, all Black individuals who died at the hands of police officers, per USA Today. One protest resulted in even more tragic deaths: Kyle Rittenhouse, then 17, killed two men and seriously wounded another during a Black Lives Matter protest in Kenosha, Wisconsin, per Reuters.
Rittenhouse is currently standing trial on two counts of homicide and one count of attempted homicide. His defense lawyers are arguing that the teen came to Kenosha in an attempt to help first responders and that he shot his victims in self-defense after they attacked him, per CNN. The prosecution counters that Rittenhouse was illegally armed and lived out of state, per the Associated Press. This, they say, suggests that he traveled to the scene prepared to fire at people who posed a threat.
When Rittenhouse took the stand in the final days of testimony, he grew emotional as he defended his actions. "I brought the gun for my protection," he said (via NBC News). "I didn't think I would have to use the gun and end up defending myself." Video of the defendant crying has gone viral, causing his supporters to sympathize — and his critics to roll their eyes. Among those critics is basketball legend LeBron James, who threw major shade on what he calls a phony act.
LeBron James doesn't believe Kyle Rittenhouse was really crying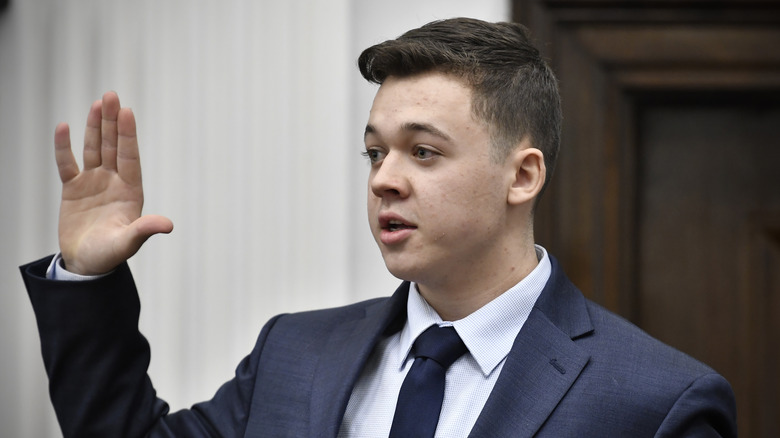 Pool/Getty Images
In a tweet that has garnered more than 250,000 likes and 37,000 retweets, LeBron James reposted a clip of Kyle Rittenhouse crying. "What tears????? I didn't see one. Man knock it off! That boy ate some lemon heads before walking into court," he wrote. While some of James; followers agreed with him, others responded by posting photos of James crying over in-game injuries. Florida congressional candidate Lavern Spicer wrote, "Lebron, go play ball and let Kyle live his life. This is a classic case of self defense and you know it."
James isn't the only one who believes Rittenhouse was putting on an act. One Twitter user posted photos of Rittenhouse on that August night, carrying his rifle. "THIS is who he is," she wrote. "Gloved, armed, crouching and taking aim. Don't let the crocodile tears fool you." Other stars also criticized Rittenhouse's crying, with actor Dave Bautista tweeting, "F*** that kid!" And "Top Chef" host Padma Lakshmi tweeted, "Time for America to redefine what it means to be a 'promising young man.'"
MSNBC journalist Ja'han Jones also posted an essay calling Rittenhouse's outburst a calculated appeal for mercy. "Rittenhouse's waterworks were an essential part of the act, painting him as a reluctant killer instead of a boastful one," Jones wrote.