The Truth About The Cancelled Law & Order: Trial By Jury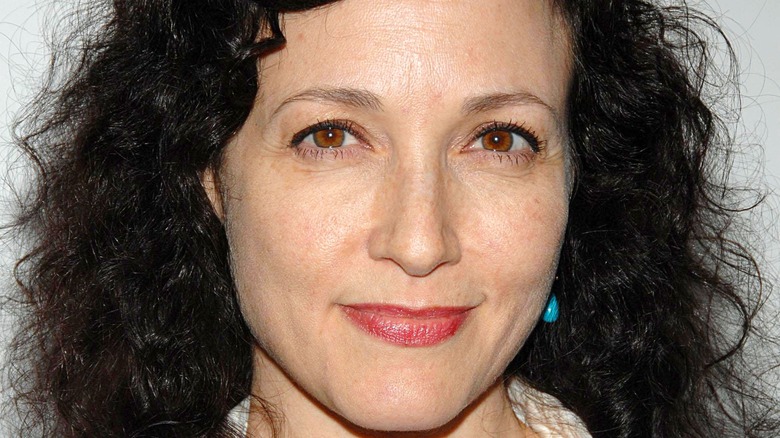 Everett Collection/Shutterstock
"Law & Order" instantly took over network television when it began airing in 1990, and it naturally spawned several spinoff series as the franchise's flagship series grew in popularity. In fact, the series was so popular that "Law & Order" revived New York's TV industry. However, it hasn't always been sunshine and rainbows since. Perhaps its most popular spinoff, "Law & Order: SVU" has had episodes never released, and one of its spinoffs, "Trial by Jury," was cancelled after just one season.
No television franchise can experience unabashed success. Even the current "One Chicago" franchise saw one of its series, "Chicago Justice" cancelled after just one season. Such was the case for "Law & Order: Trial by Jury," whose 13-episode season aired from 2005-2006, per IMDb. Pioneering this spinoff was Bebe Neuwirth as Tracey Kibre, Amy Carlson as Kelly Gaffney, Kirk Acevado as Hector Salazar, and Fred Thompson as Arthur Branch, all of whom appeared in all 13 episodes. Scott Cohen joined them as Chris Ravell in 10 episodes, with the rest of the show's cast ranging in appearances from a single episode to four episodes. Worth noting is Jessica Chastain, who appeared in three episodes of the procedural but went on to make a massive name for herself.
"Trial by Jury" was a victim of circumstance
The Dick Wolf-created "Law & Order" franchise is exciting because it's rooted firmly in reality, and it makes people feel better about their own lives. "Trial by Jury" only got to do this for one season. According to Entertainment Weekly at the time, the "Law & Order" installation couldn't remain on air because of NBC's scheduling rather than issues with the series itself. EW reported that the series garnered over 11 million viewers each week, an admirable feat for a freshman series which was no doubt due to its franchise name.
Instead, Saturday was a dead night for television and Sunday had recently been commandeered for football, so the network's executives couldn't justify four out of its five remaining nights being "Law & Order" nights ("Trial by Jury" was the fourth series at the time). So, it got axed.
This series was refreshing because it showed the trials, including preparations and the trials themselves, where other "Law & Order" series couldn't. They instead showed the catching of criminals which would lead to off-screen trials (via TV Series Finale). This premise could've led to infinite crossover possibilities if not cut short. "You have a historical mother lode of information on how these ["Law & Order"] shows go up in their second year," Wolf said at the time, per Entertainment Weekly. Still, NBC didn't budge.
The original "Law & Order" was cancelled over a decade ago but is headed back to living rooms across the world with its unprecedented, late renewal for a 21st season, per Collider. Who knows? Maybe the franchise will see new life for "Trial by Jury" in the future.