If You Have Dry Lips, Try This Milk Makeup Lipstick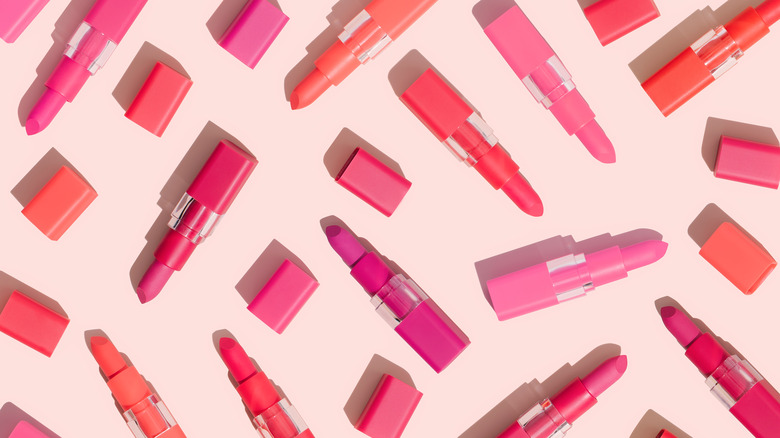 Sasha Medvedeva/Shutterstock
Matte lips are a timeless classic. Whether it was a bold brown lipstick in the '90s or you choose a staple fall lip color today, matte lipsticks are something every makeup lover needs in their arsenal. A true blood-red lip just isn't the same if it isn't matte. But for anyone who suffers from dry lips, matte lipsticks can be a nightmare. Every time, you manage to end up a flaky, patchy mess with lipstick crumbs falling down your chin. Not a good look.
Fortunately, there are a few trusty tips you can employ to ease your way into things. It's all about building the perfect foundation. Piling an already-drying matte formula onto cracked lips covered in a thin layer of your base makeup is kind of asking for it. Instead, prep and prime your pout.
Before beginning your makeup, apply a thick lip balm or treatment and let it soak in while you wrap up your makeup. Then, when you're ready remove it with tissue paper and give your lips a good scrub to remove any excess flaking. Finally, apply a thin layer of lip balm as your base. Just like that, even the driest of lips can buy themselves a couple of hours before the flaking comes back with a vengeance.
Luckily, all that prep doesn't have to go to waste if you use the right formula. There are matte lipsticks on the market that not only won't dry your lips out, but will even keep them hydrated.
Milk Makeup's Lip Colors will keep your lips hydrated
As the name would imply, Milk Makeup's Lip Colors ($24) provide just that: a part matte, part hydrating formula. One of Milk Makeup's first few launches, the lipsticks have stood the test of time and remain a staple for many. They come in a range of nine shades varying from bold red lips to everyday nudes. What's so special about these lipsticks, though, is the formula.
Providing the pigmentation and smooth even color of a typical matte lipstick, these lip colors also pack a punch when it comes to hydration. According to the description, each lipstick contains shea butter, coconut oil, and rapeseed oil, which will "instantly absorb, boost hydration and soften lips while locking in moisture" (via Milk Makeup). 
Not only will these lip colors give you the longevity and boldness of matte color, but they'll also keep your lips hydrated and flake-free. You can finally have it all with these matte lipsticks that are a must-have for colder months.