The Queen Missed Remembrance Sunday. Here's What We Know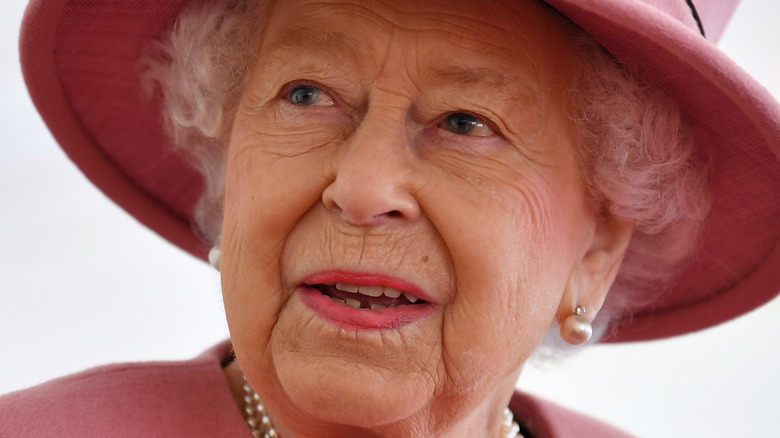 Wpa Pool/Getty Images
There has been much concern in recent months about the state of Queen Elizabeth's health. With mounting cancelled public appearances and hospital visits increasing concern, public fears are that she may be worse off than led to believe. Most recently, the Queen missed Remembrance Day; an event she has only been absent from a handful of times in her long life. 
Buckingham Palace released a statement about the Queen's absence at the Remembrance Sunday Service in central London, explaining that she has sprained her back and is therefore unable to attend. "The Queen, having sprained her back, has decided this morning with great regret that she will not be able to attend today's Remembrance Sunday Service at the Cenotaph. Her Majesty is disappointed that she will miss the service," the statement said, per CNN. The annual event is held in honor of those who died in conflicts and Queen Elizabeth is regularly there. However, since she was unable to make it this year, Prince Charles laid a wreath at the Cenotaph on her behalf. 
Before hurting her back, the Queen had every intention of attending Remembrance Day. "Remembrance Day is coming up and is sacred in her diary," royal expert, Dickie Arbiter told "Good Morning Britain," per Express. "To suggest she'll back down is patronizing and fighting fire — the queen will instead ask her officials to pace her engagements more," he stated. Queen Elizabeth has only missed six other Remembrance Day events in her long reign. 
Queen Elizabeth's failing health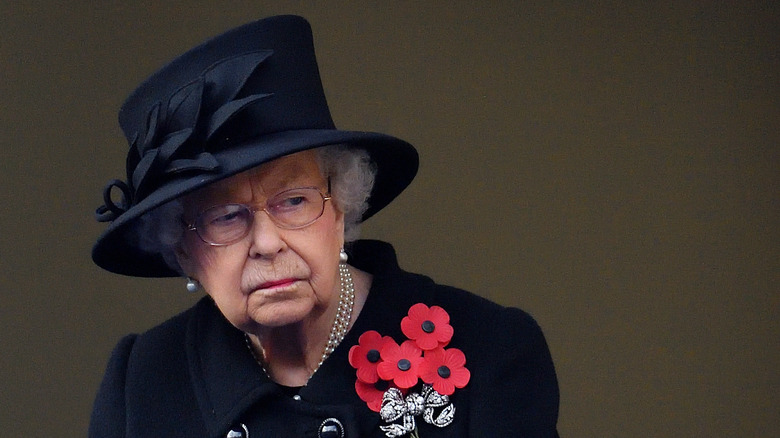 Pool/max Mumby/Getty Images
Queen Elizabeth's ongoing health concerns have caused her to cancel more than one recent event. She is going on more than three weeks without attending a public event, per the BBC. Her last public appearance was when she hosted a reception for business leaders at Buckingham Palace prior to the COP26 climate conference in Glasgow. Following the reception, she cancelled an upcoming trip to Ireland due to an overnight visit to the hospital for "preliminary investigations" and tests. 
In light of her recent health struggles, the Queen has been taking it easy and following her doctor's orders. Per Elle, she has been spending her time resting at Windsor Palace and working when she feels up to it through video conferences and phone calls. After she missed the Remembrance Day ceremony, Prince Charles issued a statement regarding her wellbeing. "Following on from their recent advice that the Queen should rest for a few days, Her Majesty's doctors have advised that she should continue to rest for at least the next two weeks," the statement read. 
Before straining her back, palace officials reported that she was suffering from overexertion, per The New York Times. Following the death of her husband, Prince Philip, many were concerned that the Queen would struggle to resume her regular duties. She shocked the public by taking on a full schedule of public appearances, and it seems the stress has taken its toll.