If You Love The OPI Nail Color Bubble Bath Give This Neutral Color A Try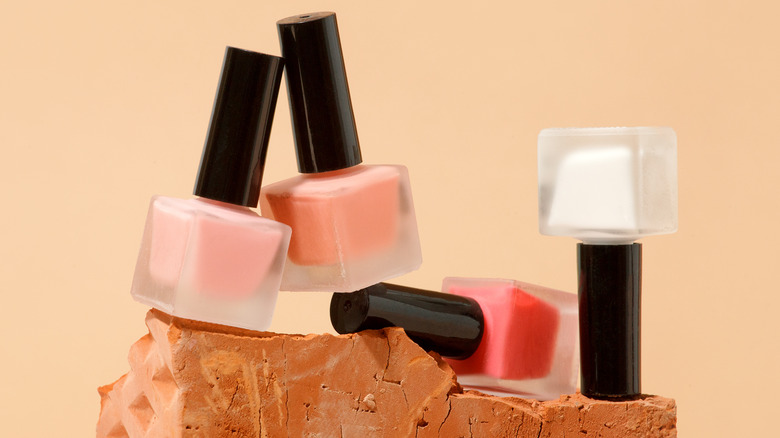 Katerina Morozova/Shutterstock
We may receive a commission on purchases made from links.
While it's true that each season brings its distinct tones of nail polish with them, there really is nothing like the perfect yearlong neutral. You know, that tried and true shade that you easily grab when you're in a hurry or can rattle off to your nail tech without worrying if you'll like it. As Southern Living found, OPI has some seriously incredible go-to neutral nail polish shades out there. If you're a fan of the brand's Bubble Bath light pink neutral, there's another neutral shade that you're going to love.
While nail polish shades are constantly changing, a good neutral will never go out of style. Enter, OPI's Put It In Neutral nail polish. The brand has a handful of incredible neutrals out there, but this is one that will work no matter your skin tone, the season, or the occasion. Get ready for a trip to Ulta, my friend, because this color is pretty much guaranteed to be your new favorite as well.
Put It In Neutral will be your new everyday nail polish
When it comes to finding the right color for everything from running errands to special events, it can be extremely overwhelming. However, OPI has come to the rescue with the shade called Put It In Neutral. The punny-named shade is quirky, of course, but there is nothing unconventional about the color. As Southern Living put it, this shade is "less pink than [OPI's] Bubble Bath but not as white as [Essie's] Ballet Slippers."
For those of you not familiar with every brand's neutral line-up, the publication is suggesting that it has a slight pink to it. While it is technically colored, the color isn't enough to mask the true shade of your nail. Basically, it's your nail color but better.
The little bottle of lacquer is available at Ulta, at the time of publication. According to the brand's website, Put It In Neutral is sold online exclusively at Ulta and will cost you $10.79. That's a small price to pay for such a versatile shade.
OPI has incredible neutral nail polish shades
Don't be fooled by how this looks in the bottle. At first glance, this shade looks bubble gum pink. However, it's much more neutral when it goes on the nail. The slight hue makes for the perfect shade for everything from running errands to standing at the altar. It's the kind of color you can throw on and not have to think about.
OPI has a ton of incredible other neutral colors out there, too. According to Instagram swatches, OPI's A Clay In The Life gives off the same shade as Put It In Neutral, but with a much more opaque, not see through color, if that's more your thing. 
These are perfect substitutes for OPI's tried and true Bubble Bath, which is an in-between opaqueness of the two shades mentioned above. According to Instagram, this color is perfect for french manicures. No matter what your personal style is, though, it's always nice to have a good neutral nail polish on hand!