The Actual Lip Color Emma Caulfield Wore As Anya In Buffy The Vampire Slyer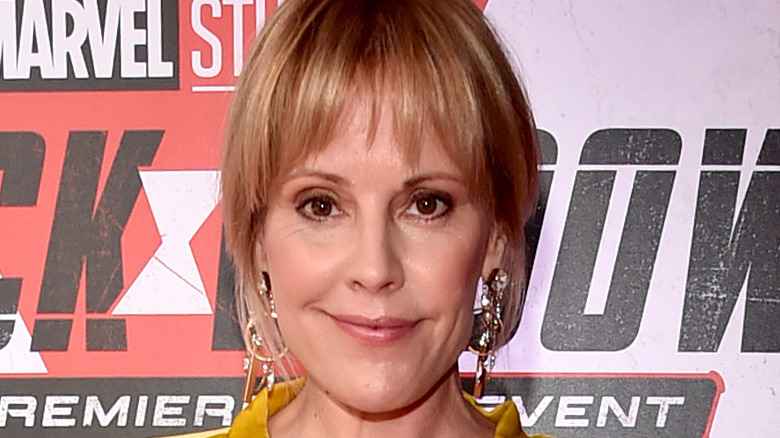 Alberto E. Rodriguez/Getty Images
"Buffy the Vampire Slayer" was filled with tortured characters, from Buffy's vampire lover Angel to the lady herself, who was tasked with protecting the world from the forces of evil while also dealing with the trials and tribulations of being a typical teenager. Joss Whedon's beloved fantasy show continues to be reassessed even decades after it went off the air, with Vulture opining "its larger cultural influence is inarguable" as recently as 2017. Moreover, although many similar shows followed in its wake, there were "none as expertly acted, beautifully layered, and memorable as 'Buffy the Vampire Slayer.'" 
Lead Sarah Michelle Gellar understandably gets much of the attention nowadays, alongside the likes of Michelle Trachtenberg, Alyson Hannigan, and Seth Green who all went on to have major careers elsewhere. When it comes to actor Emma Caulfield, she may not have ascended to the heights of the main cast but her impact on "Buffy" is undeniable. Demon-turned-human Anya was one of the show's most compelling characters, not least because of her will they, won't they romance with the quippy Xander. Caulfield imbued Anya with strength, resilience, and a deep sadness.
This is the exact lip color the actor wore to break our hearts as the most lovable demon in Sunnydale. 
Anya's lip look was a subtle, peachy nude
Anya may have been a centuries-old demon, but her look was quintessential nineties cool girl. She typically rocked a "peachy nude lip," as MUA and TikTok user Brittany Cale noted in a video. If you're wondering exactly which products were used to create this timeless look, Cale revealed makeup artists on "Buffy" reached first for Lancôme lip pencil in the shade "Fraichelle," which you can buy online for $27. They topped it up with MAC lipstick in the "grapefruit pink" color "See Sheer," which is available for $7.60 from their online store (typically $19), and finished with a slick of Kiehl's lip-balm #1, which is $10. 
Although actor Emma Caulfield has enjoyed a lengthy career, taking roles on "90210" and "WandaVision" among many others, per IMDb, Anya clearly still means a lot to her. The actor opened up to Digital Spy about filming the beloved fruit punch scene for the hit show, revealing, "I don't want to burst your bubble, but I just had to go to the bathroom. That was all I was thinking about the entire time I was shooting that — just how full my bladder was. I was so uncomfortable." Acknowledging "there were too many tears and not enough tears," she admitted trying to get it right while desperately needing to pee. 
Thankfully, it all worked out and the moment has since become one of the all-time favorites among "Buffy" fans.