One Chicago Crossovers We Can't Get Enough Of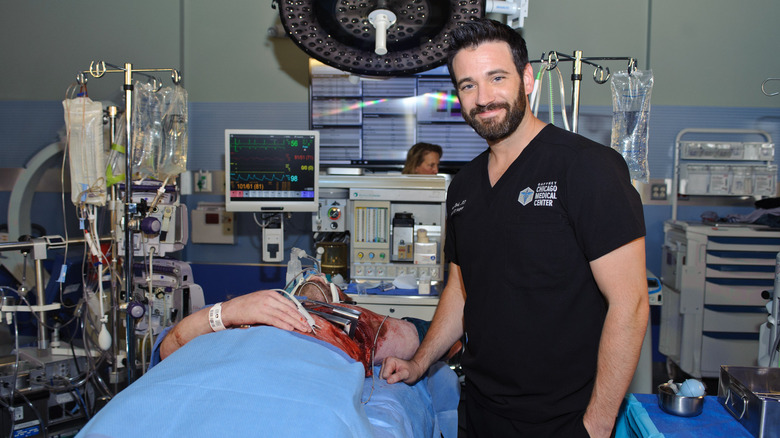 Timothy Hiatt/Getty Images
If you're a super-fan of the "One Chicago" franchise — A.K.A. the family of shows that "Chicago P.D.," "Chicago Fire," and "Chicago Med" all fall under — you've likely noticed how they all tie together in some way. According to CinemaBlend, all of the "One Chicago" shows take place in the same universe. That means your favorite characters from the series are technically working together to keep the city of Chicago safe, which is a fun concept!
The show has had several crossovers in the past, and another was scheduled to debut in 2021 but has been canceled due to the COVID-19 pandemic (per Showbiz Cheat Sheet). Showrunner Derek Haas talked to TVLine about the ordeal. "I feel bad because we had one planned, and we had it all talked out with the showrunners of the other two shows, and we know what we're going to do, and it's enormous," he said, "but the Delta variant kind of forced our hand."
Although a new crossover isn't on the horizon just yet, there are a few from previous seasons that we can't get enough of.
The One Chicago fire and police departments work together often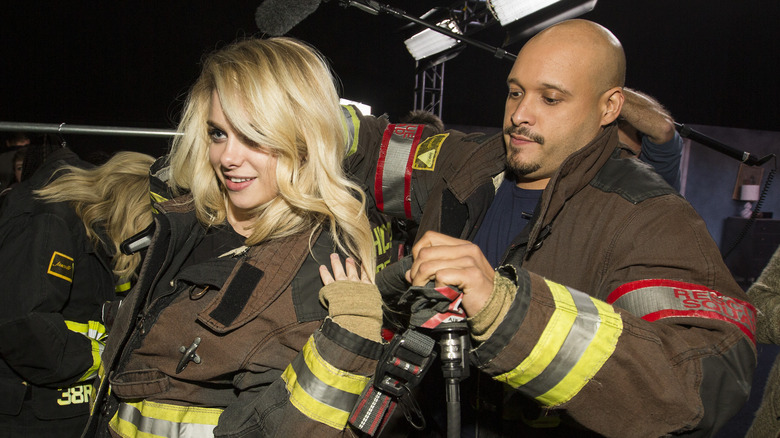 Barry Brecheisen/Getty Images
The teams in the "One Chicago" universe occasionally collaborate to help each other out. A perfect example of this can be found in the episodes "Three Bells" ("Chicago Fire" Season 3, Episode 13) and "A Little Devil Complex" ("Chicago P.D." Season 2, Episode 13), per Monsters & Critics. In these episodes, the police department and the fire department work together to help out a fallen friend.
The episode shows Gabby Dawson brainstorming about who she thinks could've been responsible for a fire that killed Leslie Shay, a beloved "Chicago Fire" paramedic (via IMDb). Since arson is considered to be the cause of the fire, the police department also gets involved.
In comes the crossover between "Chicago Fire" and "Chicago P.D." Dawson phones her brother, Antonio, with the Intelligence Unit for help. The episode shows occasional tension between the two units, but they're ultimately able to work together to bring about justice for Shay.
All three series worked together to fight an infection taking over the city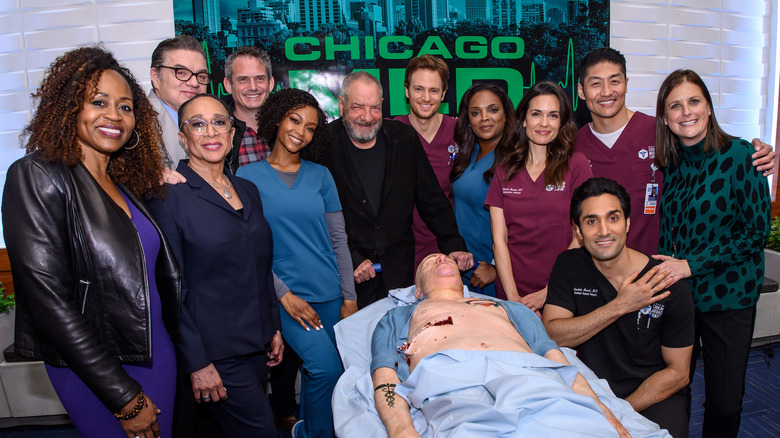 Timothy Hiatt/Getty Images
If you want to see all three of the "One Chicago" series work together on an issue that hits a little close to home in 2021, you have to watch "Infection," which is comprised of "Chicago Fire" Season 8, Episode 4; "Chicago Med" Season 5, Episode 4; and "Chicago P.D." Season 7, Episode 4. This episode is a three-part investigation into a flesh-eating bacteria case that leads to a scene similar to what many of us experienced during the COVID-19 pandemic lockdowns (via Monsters & Critics).
However, unlike the pandemic we all endured (and are still enduring!), the "One Chicago" teams figured out that the flesh-eating bacteria seen in their patients was actually bioengineered, and there was a doctor in the city who was purposely infecting patients (via TV Fanatic). The police work on finding him while the medics attempt to find a treatment for the illness.
While the "One Chicago" series seem to do these crossovers annually, many fans find this specific episode to be the best crossover in the history of the franchise. We can't wait to see what joint adventures the characters will get up to next.