Halloween Decor That You Can Reuse For Thanksgiving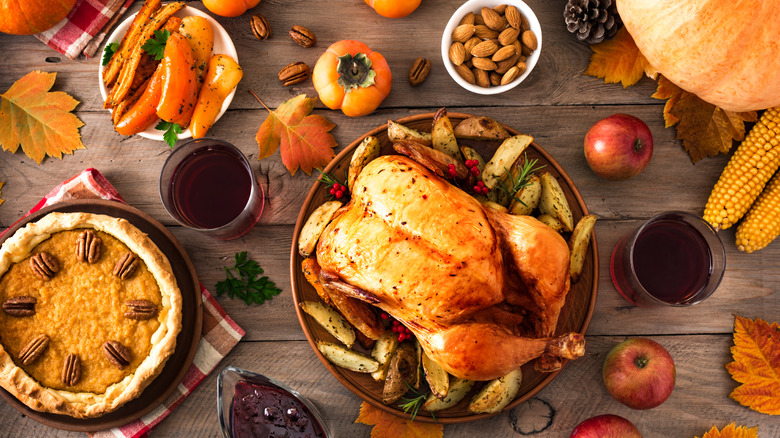 Oksana Mizina/Shutterstock
Are you not ready to bid farewell to your Halloween decor as Thanksgiving quickly approaches? Thankfully (no pun intended), there are several items in your Halloween decor collection that can carry over into the next holiday. Since Halloween and Thanksgiving share a similar autumnal color palette, keeping some of your less spooky decorations on display can liven up your Thanksgiving table (via LTD Commodities).
If you're hoping to leave out your favorite witch or Frankenstein decorations up when your family comes over for Thanksgiving dinner, more power to you, but SheKnows recommends sticking with a more universal fall theme. Keeping a neutral color palette while focusing on themes the two holidays share will make for an easy transition from spooky season to thankful season. 
Therefore, you should think twice before you pack up your orange-colored items or pumpkin-themed decor. Many decorations you put out during October can easily stick around during November, too!
Don't throw away your pumpkins just yet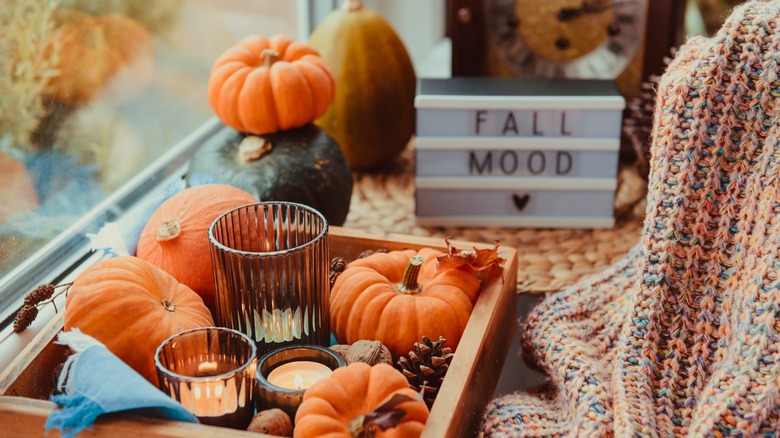 Okrasiuk/Shutterstock
It's definitely time to throw your carved jack-o-lanterns into the trash, but do you have any pumpkins laying around that are still in perfectly good condition? If so, you can repurpose them for Thanksgiving! According to Barton Hills Farms, pumpkins can last up to 12 weeks before they start to rot. So if you have any leftover pumpkins, keep them out on display. Who doesn't want to enjoy a piece of pumpkin pie with a view of beautiful Halloween pumpkins?
Of course, keeping pumpkins around doesn't just go for the real ones sitting on your front steps — it also extends to the decorative pumpkins you had on display indoors. For example, pumpkins make for excellent Thanksgiving table centerpieces. Whether you have cute pumpkin pillows or plastic pumpkins lining your bookshelf, these decorative pieces make for an effortless transition into the Thanksgiving holiday (via SheKnows).
Pumpkins are the perfect decor for Thanksgiving, but so are any of the muted, fall-toned pieces you may have. A doormat with leaves on it? Perfect for Thanksgiving. Orange accent pillows? Keep them around! Anything that screams fall without any fake blood for Dracula fangs on it should transition with ease into your Thanksgiving decor scheme.