The Best Pumice Stones For Softer Feet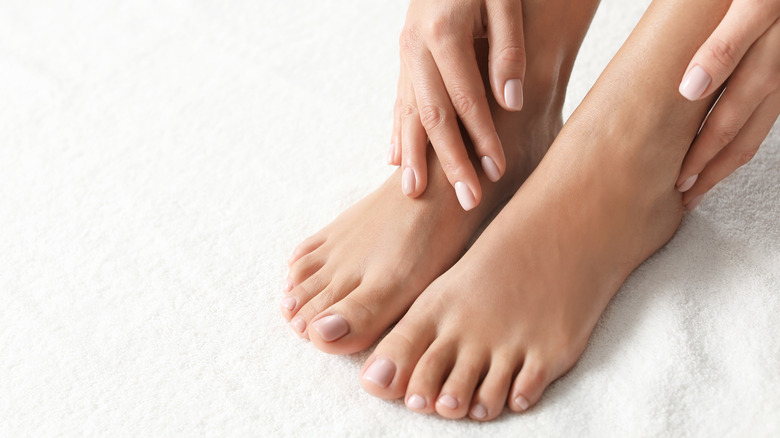 New Africa/Shutterstock
We may receive a commission on purchases made from links.
As you amp up your heater and take a last swig of your pumpkin spice latte, it's become clear: winter is very close. Prepare yourself for hundred-layered outfits, cosy mismatched socks and hipster beanies. But also, prepare yourself for dry skin, itchy spots and lots of dead skin. Winters can be drying and your body will be due for some TLC.
Your feet are especially susceptible to dry skin as they have no oil glands, per Nivea, and are under pressure throughout the day. According to Healthline, you could immerse your feet into an oatmeal or an epsom salt bath and lock in the moisture with lotion. But if your feet emerge with flaky skin and cracked soles, a pumice stone might be the answer. Made with lava (yes, lava!) and water, a pumice stone can help exfoliate your feet by removing dead skin and softening calluses, per Healthline.
They're also a great way to start an at-home pedicure, which is always a plus. So, which specific stones should you invest in?
Pumice stones are great exfoliators — and these ones are particularly helpful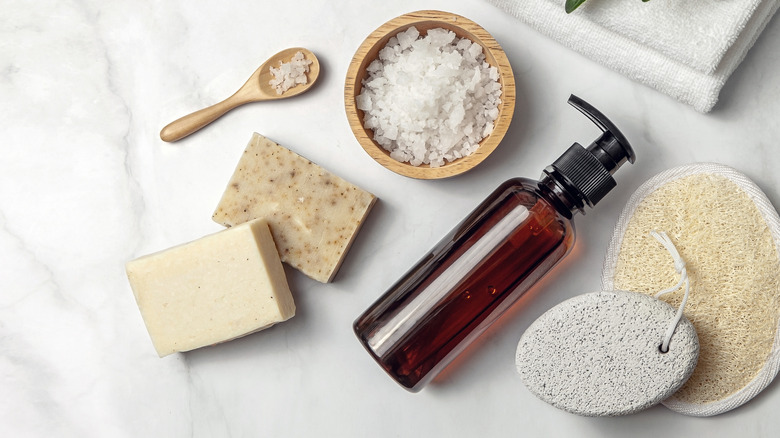 imagehub/Shutterstock
Pumice stones are usually porous, which make them great exfoliators but it also improves blood circulation in your feet, according to Swirlster. To use one, you just need to soak your feet and your pumice stone in a warm bath (add an essential oil if you're feeling extra dry). Once the pumice stone's wet, rub it onto the soles of your feet to exfoliate the dead skin. Make sure you moisturize after as pumice stones can be harsh on your skin.
You can usually find many on Amazon, but the Onyx Professional Double-Sided ($6.99) stone might be your best bet. Across sellers on Amazon, the Onyx stone has 4.5 stars out of 5 from reviewers — and it comes with a nail file (it's also made from recycled glass, but don't worry — it's anything but sharp). Oon the days you want a little less exfoliation — the Maryton Foot Pumice Stone ($8.99) offers two levels of coarseness. It's also a best-seller on Amazon, with 39,000 reviewers. For a pumice stone that looks the part, the foraged volcanic rocks in the Mt. Shasta Pumice Scrub ($10) from Bathing Culture is a great option. However, if holding onto a wet stone isn't your vibe, the CAREHOOD Foot File ($8.29) has a handle and brush you could use. Either way, a pumice stone is an affordable but great tool to add to your feet care routine.