Are Liz Cheney's Criticisms Of Donald Trump Hurting Her Political Career?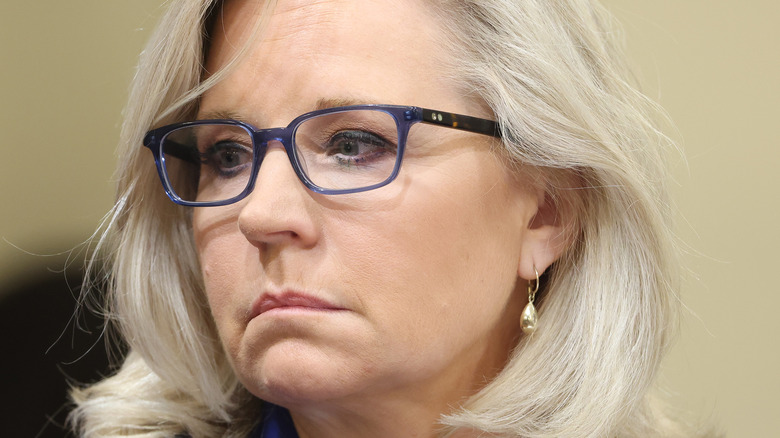 Bloomberg/Getty Images
Wyoming Representative Liz Cheney is nothing if not a dyed-in-the-wool conservative. She has repeatedly said she believes that the policies espoused by the Democrats and President Joe Biden are "dangerous" for the country, and she continues to push back against those who would meddle with gun rights and those who support abortion (via CBS News). She has voted against progressive bills including Biden's American Rescue Plan and the John Lewis Voting Rights Advancement Act (via Vote Smart). But Cheney's conservative voting record doesn't stand a chance against her repudiation of former President Donald Trump, and because of this, her state's Republican leadership voted to no longer recognize her as one of their own (via Casper Star Tribune). 
Wyoming's GOP central committee could not have been more clear in its repudiation of Cheney, the former GOP princess who The Washington Post says was only 12 when she first campaigned with her father, former Vice President Dick Cheney, during his election for a seat in the House of Representatives. The committee's resolution said: "Previously mentioned in the resolution of censure, Representative Liz Cheney 'cast her vote in favor of impeachment without any quantifiable evidence of High Crimes or Misdemeanors. As to date, no quantifiable and or undisputed evidence has been offered Representative Liz Cheney to defend her questionable decision."
Cheney broke with Wyoming GOP representatives because of Trump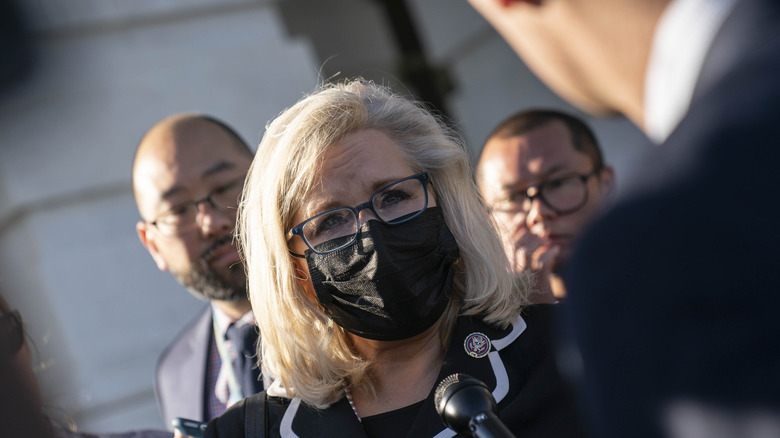 Bloomberg/Getty Images
The recent censure marks the second time the state's party elders have formally come after Cheney for pursuing Donald Trump. The first time was in February, when Cheney was censured for voting to impeach the former president for his role in the January 6 insurrection. The consequences of the first motion mostly involved money: the state GOP would not raise money for her, and it asked her to pay back any donations made to her 2020 campaign, if it was requested (via CBS News). 
But Cheney was not deterred. As her spokesman Jeremy Adler pointed out, "It's laughable to suggest Liz is anything but a committed conservative Republican. She is bound by her oath to the Constitution. Sadly, a portion of the Wyoming GOP leadership has abandoned that fundamental principle, and instead allowed themselves to be held hostage to the lies of a dangerous and irrational man" (via Casper Star Tribune).
Wyoming's House race has become complicated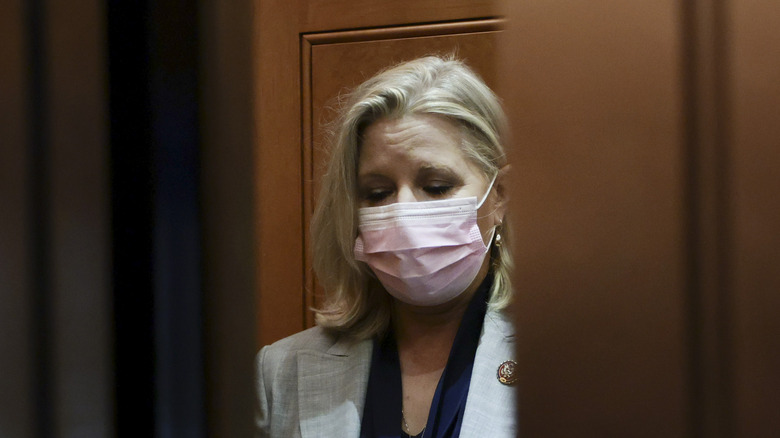 Anna Moneymaker/Getty Images
The battle for the hearts and souls of Wyoming's Republican voters will neither be as simple or as cut and dried as censuring Cheney and cutting her loose. While Trump has already endorsed a challenger, Harriet Hageman (via CNBC), Cheney continues to enjoy the support from the more traditional faction of the GOP. In September, George W. Bush held a fundraiser for Cheney, whose father also served as his vice president. Other people who were present included Karl Rove, former Senator Kay Bailey Hutchinson, and former Texas House speaker Joe Straus, and the Wyoming race is shaping up to be the battle between the Trump and Bush factions of the Republican Party (via The Dallas Morning News).
Back in May, Cheney had warned her party in a Washington Post op-ed that "The Republican Party is at a turning point, and Republicans must decide whether we are going to choose truth and fidelity to the Constitution." With the 2022 elections a year away, we have yet to see whether her repudiation of Trump will cost Cheney her political career, or whether it might take it to new heights.