TikTok's 'Immediately, No' Audio Explained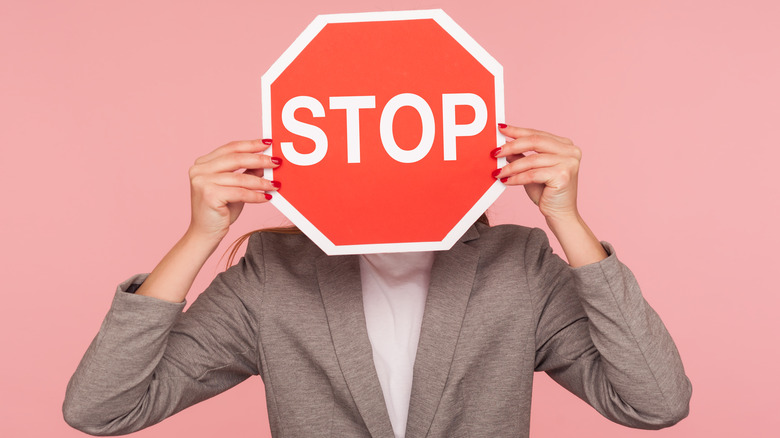 Khosro/Shutterstock
There's a universality in the way Monday mornings, wet socks, and bitter coffee make us feel. And that feeling is perfectly encapsulated in one of TikTok's trending audios: "immediately, no." It's the absolute aversion to a situation you cannot be in right now; an involuntary reflex that makes you turn your back to it.
The audio, presumably used first by a dog account on TikTok earlier in August, repeats the words "immediately, no" on a video of the pup in a raincoat refusing to go on a walk in the rain. Captioned, "My feet are wet. Walk is over. Take me home," the video of the German Shorthaired Pointer Odafin has over 2.5 million views — as relatable as a dog can get. Now, the sound has 25,000 videos using it for a variety of situations: a man asking to split the bill on a first date, buying Kylie Jenner's widely-panned swimwear line, or having to watch a boring tutorial longer than a minute. 
The viral audio is relatable, but it may also sound familiar — after all, it comes from a huge pop artist you've probably streamed on Spotify.
Justin Bieber's resounding 'no' is viral on TikTok
As it turns out, the viral TikTok sound comes from none other than a "Carpool Karaoke" segment with Justin Bieber. On "The Late Late Show with James Corden," the talk show host famously drives around musical guests in the fan-favorite segment, while simultaneously singing their greatest hits with them. And in 2020, Bieber sat in the passenger seat of Corden's car, where they talked about his marriage to Hailey Baldwin, sang a few Bieber songs, and fueled the imagination of TikTok's audio trend.
Fittingly, it happened when Corden contemplated creating a TikTok dance for Bieber's Ed Sheeran collaboration, "I Don't Care." He began moving as white men do and Bieber interjected with, "Immediately, no. Immediately, no. Like instantly, I was like, 'Yeah, no.' The singer further joked, " ... Ever see these kids on TikTok? They don't want to see that." After Corden retained his composure and ego, Bieber suggested making a "definitive 'Yummy' choreography" for TikTok together — but shot down Corden's second attempt at dancing with a simple "nope."
Thankfully, the dances never made it back to the app, but the audio sure did. Although at this point, it's not just a TikTok audio — it's an anthem.