Why Royal Fans Are Seriously Concerned About Prince Charles' Health
Pool/Getty Images
The members of the British royal family are legendary for their ability to refrain from engaging in any PDA. While Meghan and Harry aren't exactly shy about being affectionate in public, the same can't be said of his older brother William and sister-in-law Catherine, although they appear to have become more relaxed about it. Even more rare are any signs of affection between their father Prince Charles and his wife, Camilla, Duchess of Cornwall.
Royal fans didn't start off being too keen on the idea of Charles and Camilla, in part because many took the side of Charles' first wife Diana, during what was then called by the tabloids as "War of the Waleses." But that appears to have changed for many after Diana died, as newspapers like The Washington Post began painting a more sympathetic image of Charles.
So fans were thrilled when, during Charles and Camilla's trip to Jordan, photos showed Charles not only reaching out for Camilla's hand but holding onto it, too. "In the early days of Charles and Camilla, I didn't like her. But over the years and with more adult eyes, I guess. You can see how much they love each other. She is so quirky and awkward but it works for her. She looked stunning with Catherine on the Bond premiere. She's grown a lot. I don't necessarily agree with her becoming Queen Consort but, that is for the UK to figure out," one person commented on the Instagram fan page The Mountbatten-Windsors.
Eagle-eyed fans spotted Prince Charles' "sausage fingers"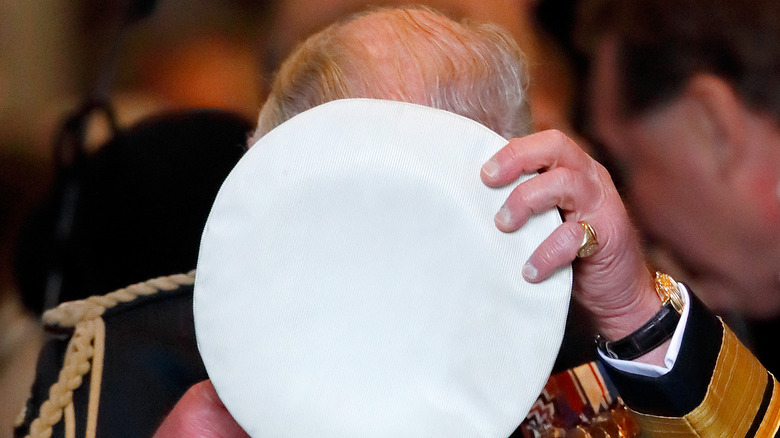 Max Mumby/indigo/Getty Images
Up there with the "oohs" and "aahs" triggered by fans seeing Prince Charles and Camilla Parker Bowles engage in a bit of public handholding were statements expressing concern over the state of the Prince of Wales' hands. "Charles has so much swelling in his hands in the picture holding Camilla's hand. That is not a good sign, hope [he] is in good health. I'm a healthcare worker I noticed this right away," one social media user commented on Instagram. Another person agreed, commenting, "I noticed that in other photos of him? I thought it was just me, can't understand what this could be?"
This isn't the first time Prince Charles' swollen hands and fingers have caught the attention of his observant subjects. According to Cornwall Live, the Prince of Wales actually made a reference to his own hands — which he called "sausage fingers" — when he was on a trip to Australia in 2012. 
And in case you're wondering, the condition isn't just limited to his hands — his feet get puffy, too. During a trip to India in 2019, images of Charles with no shoes began appearing on media sites like Metro, showing equally swollen feet. It was then said that the problem tends to surface when he is traveling overseas and when it is particularly hot. But it appears to happen more frequently than that because his hands also appeared quite puffy during the funeral for his father, Prince Philip, back in April.
Royal fans are all too familiar with Prince Charles' fingers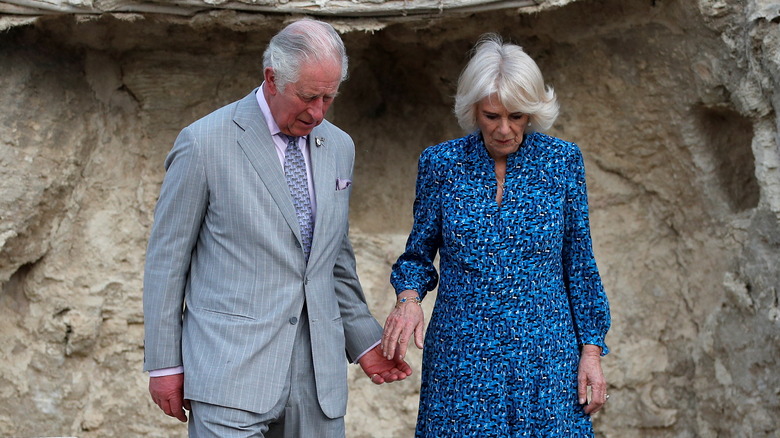 Pool/Getty Images
Because Buckingham Palace tends not to comment on the health of individual members of the British royal family, fans have moved the search needle to try and work out why the hands of the heir to the throne look the way they do. As a result, two of the most popular Google searches in the UK are "Prince Charles sausage fingers" and "Prince Charles fingers." It may not make Prince Charles' fans feel better to know that, according to Dr. Google, one most common illness associated with "sausage fingers" is dactylitis, or an inflammation of the finger and toe joints, which can leave both looking like sausages. Sausage fingers can also be caused by psoriatic arthritis, which can get worse as a person ages, per Woman and Home.
Charles' fingers are said to have inspired Britain's National Health Service (NHS) to release a note about the causes and remedies for swelling of the hands and arms. The syndrome, known as edema, can be triggered by a number of factors, including being in one position for an extended time or eating food that's high in salt. The NHS also said the condition can be triggered when you take medicines for certain sicknesses, from blood pressure medicine to steroids, per Wales Online.
The NHS says there are different ways to deal with the problem, including lying down and raising the swollen area; gentle massage; drinking plenty of water; and doing gentle exercises.