Why Tucker Carlson's Claim About Kamala Harris' Citizenship Has Twitter Confused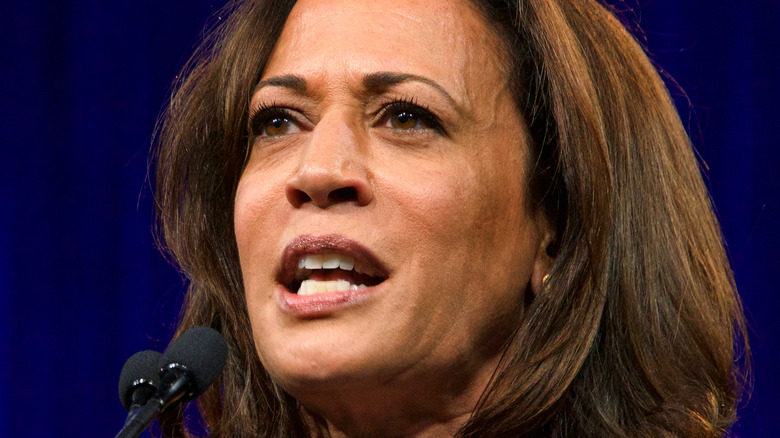 Sheila Fitzgerald/Shutterstock
When Joe Biden first announced then-Senator Kamala Harris as his running mate in 2020, it looked like another birther controversy would dominate the campaign. 
Just like many — including Donald Trump — claimed Barack Obama was Kenyan just because his father was born there (Obama was born in Hawaii, and his mother was born in Kansas), Trump and other conservatives floated the idea that Harris wasn't American. Her father was born in Jamaica, and her mother was born in India and came to the United States, according to CNN. In fact, Harris was born in Oakland, California, which makes her qualified to be vice president.
Now, Fox News host Tucker Carlson started talking about whether Harris is a real American or not, nearly a year into her term as vice president. While Carlson doesn't claim that Harris' parents' birthplaces disqualify her from being president, he did call into question how American she is.
Tucker Carlson makes a claim about Kamala Harris' schooling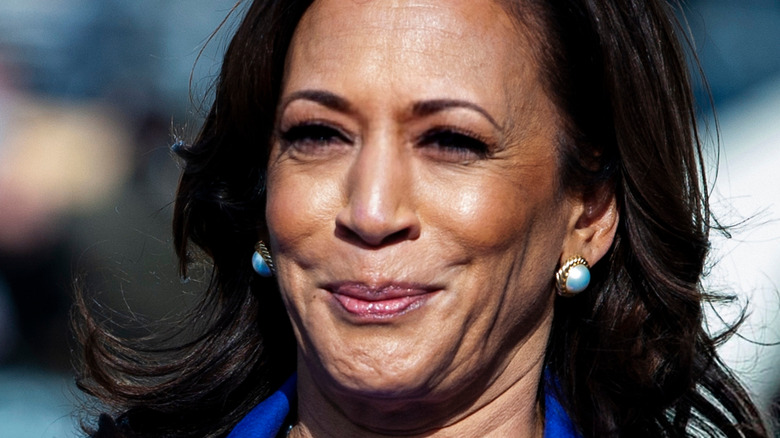 BiksuTong/Shutterstock
On the Nov. 15, 2021, episode of "The Tucker Carlson Show," Carlson chose to give a negative critique of Kamala Harris — but not of her performance as vice president. Instead, he questioned how authentically American she is because of where she went to high school.
"There's a lot we don't know about Kamala Harris. Most people probably don't know she really grew up in Canada," Carlson said. "It's where she went to high school. She's not from this country in that sense, or she's certainly also from Canada."
While it is true that the American-born Harris did attend high school in Canada because her mother got a job north of the border, she returned to the U.S. soon after and attended college at Howard University in Washington, D.C., where she studied political science and economics. She later went on to earn her law degree from University of California Hastings College of the Law (via Politico).
The host received backlash for his Kamala Harris comment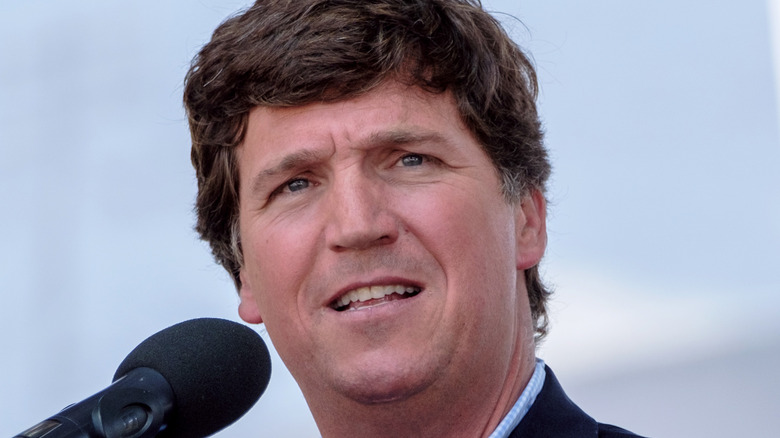 Janos Kummer/Getty Images
Tucker Carlson's comments about Kamala Harris also led Twitter users to question how Carlson could say a thing like that, considering that he also attended school outside the United States, as he was once a boarding school student in Switzerland (via Insider).
One person tweeted: "Tucker Swanson Carlson went to super rich only private schools. In that sense public Canadian HS is more 'American.' And her primary & middle schools were California ... She's a natural born American. John McCain did HS in Canal Zone FCS." 
Another tweeter recalled the Revolutionary War and how this country was founded. "​​Well, the first several presidents were born under British rule so I guess they're not from this country either," they said.
Yet another tweeter wondered if the comments were made because of Harris' race. "Another Birther theory from Fox News. Oh yes, I know why — VP Harris is black and this worked for them for a while with President Obama. There is no limit where Tucker and Fox News will go, just like the previous President."