Is This How Much Meghan Markle's Ellen Interview Outfit Really Cost?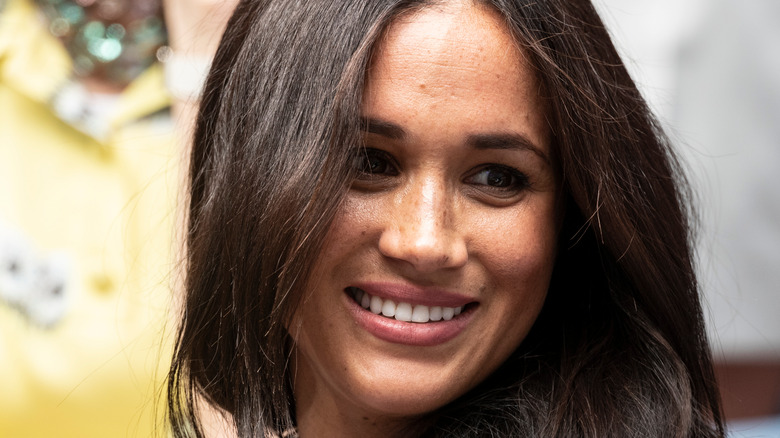 lev radin/Shutterstock
Meghan Markle has stayed out of the spotlight after the infamous interview she and Prince Harry did with Oprah back in 2020. Well, aside from a pre-recorded message that aired during the Global Citizen VAX live concert (via the Mirror). In that live message, she shared, "We've gathered tonight because the road ahead is getting brighter, but it's going to take every one of us to find our way forward." She continued, "As campaign chairs of Vax Live, my husband and I believe it's critical that our recovery prioritizes the health, safety, and success of everyone — and particularly women, who have been disproportionately affected by this pandemic."
Other than that message of hope in the midst of the global pandemic, Markle has stayed away from public appearances. She even chose to skip the funeral of Prince Philip because she didn't want to be the center of attention (via Daily Mail).
However, she has now broken her silence with a surprise interview with Ellen. While fans and critics alike were interested in seeing her return to television, many have focused on what she was wearing. Just how much did her outfit cost?
Markle stunned in a white blouse
In her first major television appearance after the shocking Oprah interview, Markle sat down and spoke with Ellen DeGeneres (via Daily Mail). She opened up about being a struggling actress before becoming a member of the Royal Family, sharing that she used to drive onto the lot DeGeneres films her show on to audition for shows. "I would park on gate three and I would scoot on over and the security guards here would always say, 'break a leg, I hope you get it.' So driving today was very different."
While she reminisced on life as an actress, fans were more focused on what she was wearing. She looked stunning in a white top and black pants, but the price tag had people talking. According to PopSugar, the white top she wore was by designer Oscar de la Renta. The blouse she wore on the "Ellen DeGeneres Show" stage costs $1,775! She has clearly graduated from her days as a struggling actress.