The Best Sandals If You Have Long Toes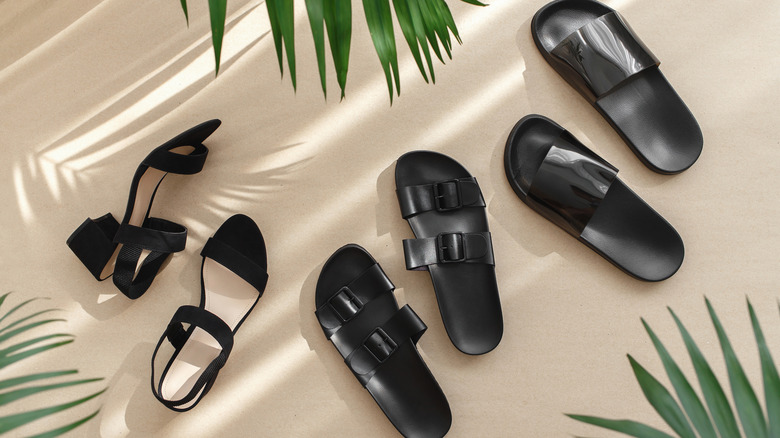 Nesolenaya Alexandra/Shutterstock
We may receive a commission on purchases made from links.
First things first. It's always sandal season if you're strategic with your styling. Summer has endless options, of course, but you can wear an open, strappy shoe year-round. The bigger question is, which sandal is right for your feet? If your long elegant toes spill over the front of your shoe (a.k.a. sandal slippage), we've got you covered. Here are some pro tips for the best sandal shapes and designs for people with long toes.
Knowing that the length and shape of long toes play a role in how your sandals fit, we suggest a sandal with a sole that compliments your assets. A footbed with a tapered front may not offer enough wiggle room. Instead, play around with wider soles like these vegan beauties from Reformation. 
Gravity is an open invitation to sandal slippage, so unless it's a stiletto or bust kind of outfit, dial down the heel height. A snakeskin print, in any height, always has enough oomph to amp up any outfit. Finding sandals that fit well can be a challenge if you have long toes, but it's not just about style. Inflammation and poorly fitting shoes can lead to painful issues, according to WebMD, so a flat or low-heel are great sandal options if you have long toes.
And the shoe gods know, we don't need an excuse to bring together pom-poms and gladiators, but bonus points that these festive Chinese Laundry flats are long-toe friendly. We also know that sometimes you just need to kick it in a pair of super-chill, go-with-everything flats or flip-flops, so look for well-fitting sandals with a bit of arch support like these flip-flops or these sling-backs from Merrell.
When all else fails, opt for foot security as well as style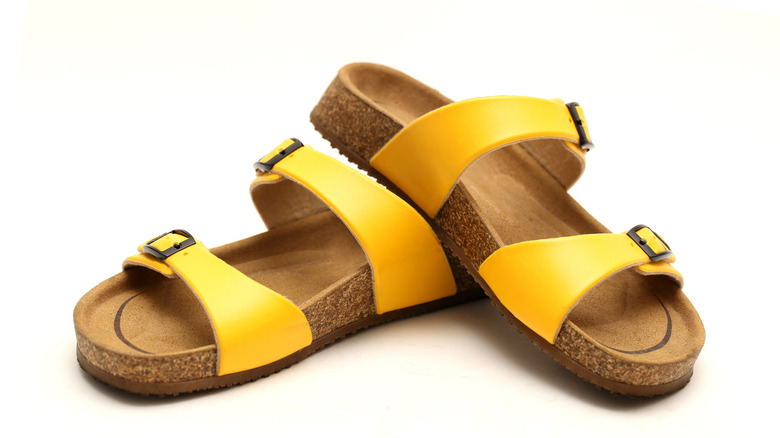 Muhammad Imam Mudzakir/Shutterstock
Gravity aside, if you've got long phalanges (fancy talk for toe bones), look for sandals that offer resistance to better anchor your foot in place to prevent sandal slippage. When in doubt, holster that big toe. Often called a toe ring design (and a refining search term if you're look at options at Macy's), sandals like this punchy plum-colored Zodiac option are perfect. Of course, a scene-stealing closed-toe sandal is an absolute go-to as well — and perfect when you're overdue for a pedi. This pair from Crown Vintage should do the trick. 
Just because you have long toes doesn't confine you to just fabulous kitten heels or flats. Sometimes that 3-inch heel is just too zhuzh-y to resist, and you've got to go all in. When you feel the need to indulge, hedge your bets with an inexpensive non-slip insole pad like this one from Amazon, and you should be good to go.
Whether you choose to showcase your elegant toes in a full reveal or dabble in peep-toe and beyond, sandals come in an endless variety. Whether you go full or no-toe, be sure to choose the sandals that are a great fit. "It should just immediately feel comfortable — like a perfect match," said Jane Andersen, a podiatrist in Chapel Hill, North Carolina (via Prevention). Now get out there and rock the style that works best for those gorgeous long toes.