Top 10 Gladiator Sandals Of 2021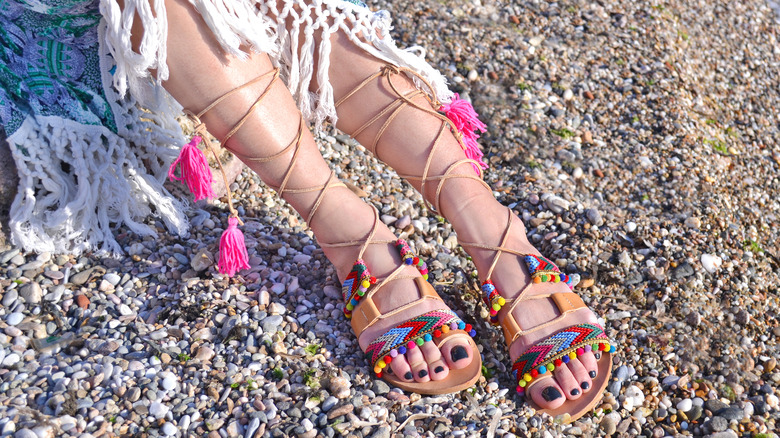 Shutterstock
We may receive a commission on purchases made from links.
Gladiator sandals have been around for years and years, as Greeks and Romans wore them during battles (via sandalsdigest.com). In today's time, people wear them to the beach, during social outings, and even with dressier outfits, as there are more elegant versions now.
Characterized by straps that go around the foot and up the leg, these shoes are versatile, comfortable, and fashionable. Those who are looking to jump in on the trend or add yet another pair of gladiator sandals to their wardrobes should consider the 10 listed out here, which are some of the best of summer 2021.
First up, there are options with accents like studs and pairs that only go up to the mid-calf (in case someone doesn't want to fully commit to a knee-high pair just yet), such as the Sam Edelman Eaven Studded Leather Gladiator Sandals and the Free People Anya Gladiator Sandal (via Footwear News).
There are gladiator sandals with varying heels, prints, colors, and styles
Some more stylish variations of gladiator sandals include Rockport wedges with cork soles, Dirty Laundry's pair with a chunky heel, and a block-heeled version from KYLER, which show that these shoes can be worn with more formal ensembles, such as with a date night look (via Elite Daily).
Kids can get in on this summer trend, as well, with pairs like the bebe Girls Strappy Gladiator Sandal. Those who want to add extra oomph can go for embellished sandals like Hinyyrin's. There are some with an exciting animal print, too: the AOKASII Flat Sandals for Women.
Most commonly, gladiators go up to the knee, and plenty of these options exist, including a pair from SANDALUP. Perhaps the most popular version of gladiator sandals in 2021, though, is the Dr. Martens Women's Nartilla Sandal, which provides a funky, modern, and even more fashionable take on this classic accessory (via Sandals Digest).