The Truth About Blake Shelton's Iconic Mullet
When Blake Shelton first hit the country music scene with his single "Austin," which became his first No. 1 hit on Billboard's Hot Country Songs chart in the early 2000s, you probably remember him with a long flowing brunette mullet with waves. He sported that iconic '90s hairstyle as a teenager in Ada, Oklahoma. Often, he'd wear a black cowboy hat atop his enviable hair. According to Country Music Family, interviews resurfaced of the country music superstar from early in his career revealing that his record company didn't love his hairstyle. 
In the recording, which happened before a concert in 2001, a reporter interviewed Shelton, and he discussed his mullet. "You've got to cut your hair. People are going to make fun of you and laugh at you. That's so out of style," the singer revealed his record label said. "And you know me, being myself. 'Screw 'em, you know. Guess what I just gave you a number one hit.'" Ultimately, the singer did cut his flowing locks about five years the release of "Austin." Since then, he's had quite a bit to say about the iconic hairstyle, and he even styled his hair into a mullet again for a while. Read on for the details.
The hairstyle advice Blake Shelton would give to his younger self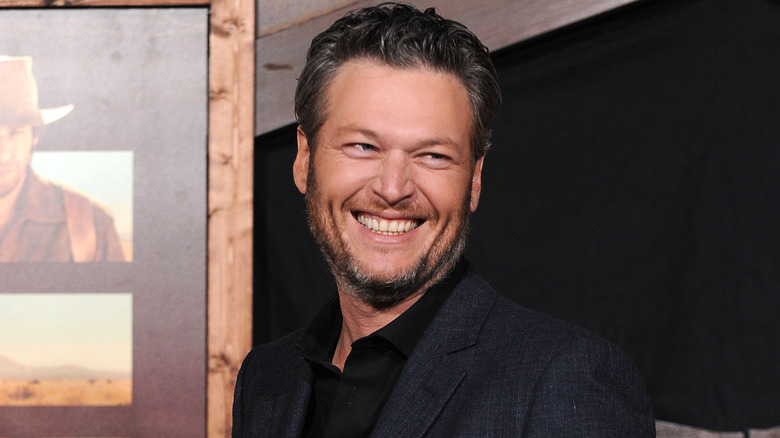 DFree/Shutterstock
After a few years of stardom, Blake Shelton cut his mullet, opting for a shorter hairstyle. When his first No.1 hit reached the 20-year mark earlier in 2021, the "Austin" singer talked to People about advice he would love to give the younger version of himself two decades ago. "I would have told that kid, 'Hey man, the mullet's not as cool as you think it is.'" Not surprisingly, the singer also had some additional advice for himself that many 40-somethings would probably love to tell their younger selves. "I would have told myself to get more rest back then. When I started I was 24 and lived life to the max back then. It's probably why I ran out of battery so soon."
These days, Shelton spends time as a coach on "The Voice" and in Oklahoma on his Ten Point Ranch with his wife, Gwen Stefani. Wide Open Country reported the couple tied the knot on July 3, 2021, on the stunning 1,300-acre property in Tishomingo, Oklahoma. While he didn't sport a mullet at their wedding, in 2020, his then-girlfriend supported Shelton regrowing his iconic mullet. Read on to find out what happened last year. 
Here's why Blake Shelton went back to his iconic mullet for a while
Blake Shelton took to Twitter in March 2020 to make a stunning hairstyle announcement. In an effort to give people hope, he decided to regrow his iconic mullet. "I have an announcement. With basically EVERYTHING I had scheduled being canceled for the foreseeable future, @gwenstefani and I have made a decision together. I am growing my mullet back as a symbol of hope or some s— like that ... Anyway it's coming back! For real. Stay tuned ..." (via Twitter).
About a month later, Shelton appeared remote from Oklahoma on "The Tonight Show Starring Jimmy Fallon" (via YouTube). During the segment, his then-girlfriend, Gwen Stefani, gave Shelton a mullet, and she shaved the late-night host's initials into the side of his hair. 
Now that things are back to normal, Shelton's recent appearances on "The Voice" show him without the party in the back hairstyle, so for now, it's all business. Perhaps he'll regrow the locks of his youth someday, though.