What Did Donald Trump Say About The Kyle Rittenhouse Verdict?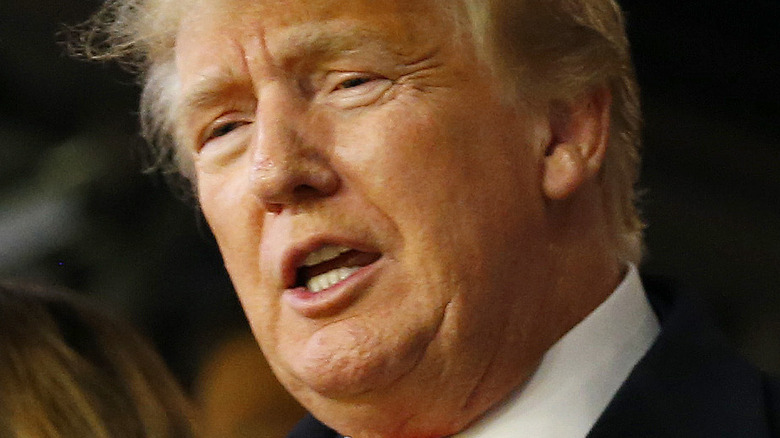 Michael Zarrilli/Getty Images
After a controversial trial, a Kenosha, Wisconsin jury found Kyle Rittenhouse not guilty on all counts of homicide on November 19, per CNN. The 18-year-old had been facing multiple charges following his fatal shooting of two men and the serious wounding of a third in the summer of 2020.
Reactions to Rittenhouse's verdict came quickly. President Biden's statement on the Rittenhouse verdict tried to find a middle ground, saying that "the jury system works and we have to abide by it," even as he added that he was among those who felt "angry and concerned" over the results (via USA Today). 
Former President Donald Trump, on the other hand, fell squarely on the side of the defense. In a statement he released on November 19, shortly after the news broke, the former president issued a statement (via The Hill). "Congratulations to Kyle Rittenhouse on being found INNOCENT of all charges," he wrote. "It's called being found NOT GUILTY — And by the way, if that's not self defense, nothing is!" 
Donald Trump supported Kyle Rittenhouse from the start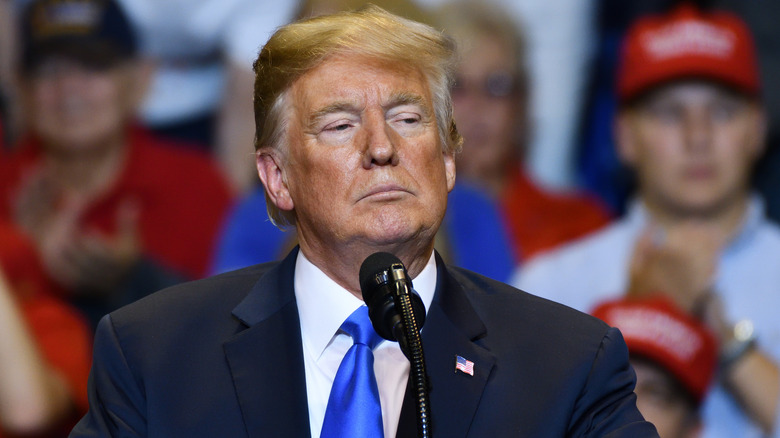 Evan El-Amin/Shutterstock
In a case that centered on Kyle Rittenhouse's reasons for carrying and firing an assault rifle, former President Donald Trump's stances aligned with Rittenhouse's defense attorney's arguments. At the trial, prosecutors argued that Rittenhouse brought an assault rifle to a scene of unrest, while the defense pointed out that one of the victims was allegedly reaching for Rittenhouse's gun, per CNN.
Following Rittenhouse's arrest, Trump was asked to comment on the events in August 2020. The then-president said that it appeared the teen was firing in self-defense. "I guess he was in very big trouble," he said in a press briefing at the time (via NPR). "He probably would have been killed."
Rittenhouse's case comes after police in Kenosha, Wisconsin, shot and paralyzed Jacob Blake Jr., a Black man, during an arrest for an outstanding warrant in August 2020, per the Associated Press. At that time, former President Trump threw his support behind the police as protests erupted, per BBC News. Rittenhouse, who was 17 at the time, traveled from Illinois to Kenosha with an AR-15 rifle he'd gotten from a friend. According to his testimony, he intended to help protect businesses and provide medical aid. Instead, he fired his weapon at protesters Joseph Rosenbaum, Anthony Huber, and Gaige Grosskreutz, killing the former two, per CNN. 
Rittenhouse might be pleased to hear the former president's congratulations; in the past, he has posted pro-Trump sentiments on social media, per NBC News.