Tori Spelling Dropped A Hint About Her Holiday Plans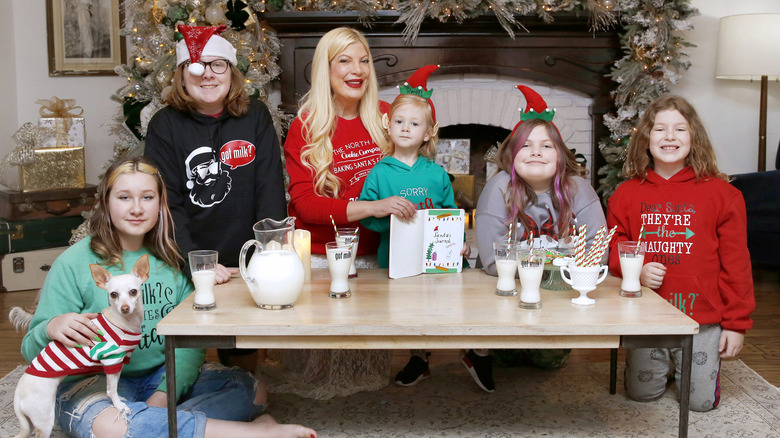 Rachel Murray/Getty Images
Ignoring the rumors about the status of her marriage to Dean McDermott, Tori Spelling is taking the high road and keeping her social media feed as upbeat as possible. She frequently shows photos of happy family times, such as the one she shared with her Instagram followers on November 20. It shows Spelling and four of her five children (oldest son Liam was elsewhere) posing by two of the Christmas trees on display at the Traditions holiday store in Canoga Park, California, while holiday shopping. "Christmas should be 365 days a year ... We found a place where it is," Spelling announced. The shop's variety and styles of decorations, she added, were especially impressive. "And, we got ornaments of all our animals," she wrote. "Not easy to find but they had a whole animal section!"
Spelling was equally charmed by the family who owns the store, saying, "You now have an even bigger extended family in us," adding that the post wasn't a paid promotion — just an enthusiastic endorsement from a new customer.
The former "Beverly Hills, 90210" star's fans were enchanted. "Ooh! I have to check [the store] out!!!" said one. Others admired Spelling's platform boots and noted how mature her oldest daughter, 13-year-old Stella, looked. A fan from New York wished the shop had an East Coast branch; Spelling pointed out they take online orders. Then one follower asked an important question: "Not celebrating Hanukkah, too?" Spelling assured her, "Of course we are!" with a heart emoji.
Tori Spelling is teaching her children two traditions
Tori Spelling is the daughter of producer/director Aaron Spelling, the son of Jewish immigrants from Poland and Ukraine (via Kveller). Despite being severely bullied for his religion as a child, he maintained his love for his faith and passed it on to his children. Tori has shared pictures of her family celebrating Jewish holidays, such as this Hanukkah post from 2019 featuring a festive table with homemade challah bread, sugar cookies, and the traditional candelabra known as a menorah. "While I was born Jewish we were raised to celebrate all holidays as a way to come together as a family and start traditions and make memories," she wrote. "With my own family we celebrate Christmas and Hanukkah as well. I want my children to celebrate and appreciate the amazing teachings and traditions that come with each holiday."
Hanukkah — which begins on November 28 this year — is a joyous eight-day holiday celebrating the Jews' victory over the Syrian-Greek Army in the second century. When the Jews rededicated the sacred Temple in Jerusalem, it's said there was only enough oil to keep the sanctuary's candelabra lit for one night. Instead, the oil lasted eight nights — enough time for more oil to be pressed (via History). The celebration includes food, gift giving, and lighting the menorah, with one candle added each night.
In case you were wondering, yes, the Traditions holiday store sells Hanukkah decorations along with the Santas and reindeer.