The Trendiest Fall Boots Of 2021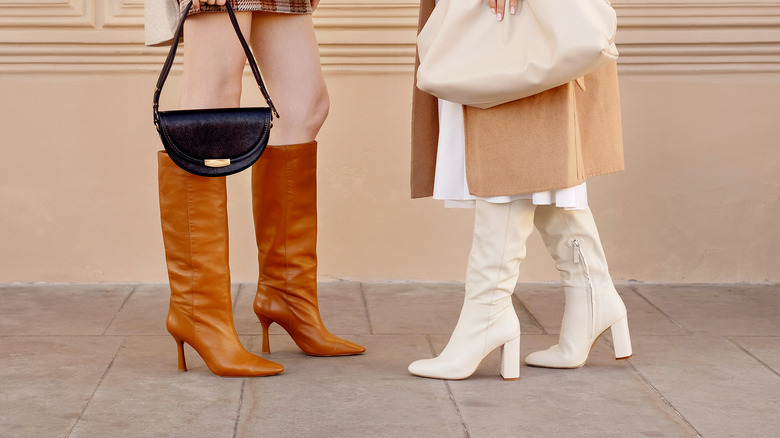 Viktoria Minkova/Shutterstock
Fall is just around the corner and you know what that means — plenty of PSLs and colorful leaves. Whether you are rushing over to Starbucks for some coffee or enjoying the cooler weather on a hike, finding the right boot style that is on-trend is key to strutting in style. Luckily there are plenty of boot styles you can expect to see in stores that will work for any fall-related occasion. But if shoe shopping sounds overwhelming and you can't keep up with the changing trends this fall, keep reading our guide below on all the latest fall 2021 boot trends.
Over-the-knee boots were popular last season, and are continuing as a trend (via PopSugar). However, the trend is starting to fade and knee-high boots are making a strong comeback, per Jo-Lynne Shane and PopSugar. Jo-Lynne Shane recommends pairing knee-high boots with fall dresses or wearing them over skinny jeans. Whether you are team over-the-knee or team knee-high, one thing is for certain this fall — there is one boot style that is taking over as a trend.
The ultimate guide to trendy fall 2021 boot styles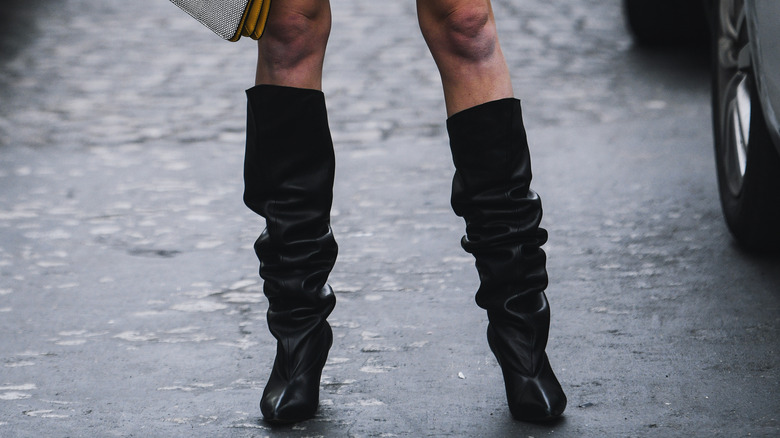 Creative Lab/Shutterstock
Slouchy boots will be the ultimate boots trend. Slouchy boots are boots where the leg of the boot is loose and gathered. According to PopSugar, it's the perfect blend of boho-chic and rockstar that will add glam to any look. Marie Claire states that slouchy boots can help elevate any look, including leggings. So make sure to stock up on at least one pair of slouchy boots in whatever length you prefer. 
In what seems like a nod to the '60s go-go boots trend, platform boots are predicted to make a comeback. Marie Claire suggests looking for dark leather boots, as they were seen all over the fashion show runways this year. And if you're an outdoors enthusiast, the good news is that combat-style boots are also trendy right now, per Jo-Lynne Shane. You can also expect to see Western-inspired cowboy boots in several department stores this fall. Look out especially for styles that incorporate embroidered leather, block heels and pointed toes.
If you are someone who prefers the comfort of ankle boots, Chelsea boots are the perfect trendy fall boot style for you. According to Jo-Lynne Shane, Chelsea boots are ankle boots with elastic panels on the sides that make it so you can just pull the boots on effortlessly. So whether you're a glam go-go boot kind-of girl, or a girl on-the-go, there is a trendy fall 2021 boot style for you.