The Surprising Guest That Had Adele In Tears During Her Concert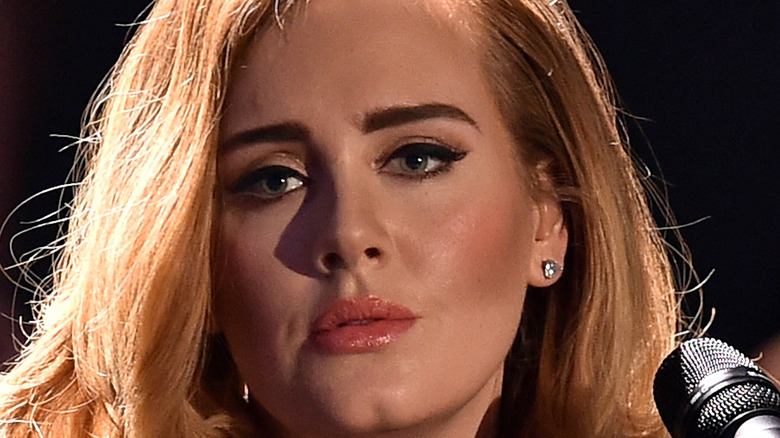 Sascha Steinbach/Getty Images
Only a few days have passed since the release of Adele's newest album. The tears have yet to dry. The wounds remain wide open. But, Adele isn't quite done coming for everyone's emotions. On November 21, 2021 Adele revived an ITV special tradition that has been dead since 2011 with Barry Manilow by hosting an "An Audience With..." evening where she performed for a room filled with fans, her nearest and dearest, and some exciting celebrities all under one roof (via The Guardian). Emma Watson, Samuel L. Jackson, Emma Thompson, and even Stormzy were in attendance. Adele's live performance for her beloved friends at the London Palladium aired exclusively on ITV.
Adele performed songs from her new album "30" as well as a selection of some of her classic iconic hits such as "Send My Love (To Your New Lover)" which she urged the audience to dance to in an effort to lighten the mood of her more tear-inducing music. The night featured fun moments and audience interactions with celebrities as well as more solemn moments enjoying her first full live performance of the album.
While Adele moved the audience and viewers at home, a surprise guest flipped the script and moved the singer to tears herself.
Adele's teacher Miss McDonald surprised her to tears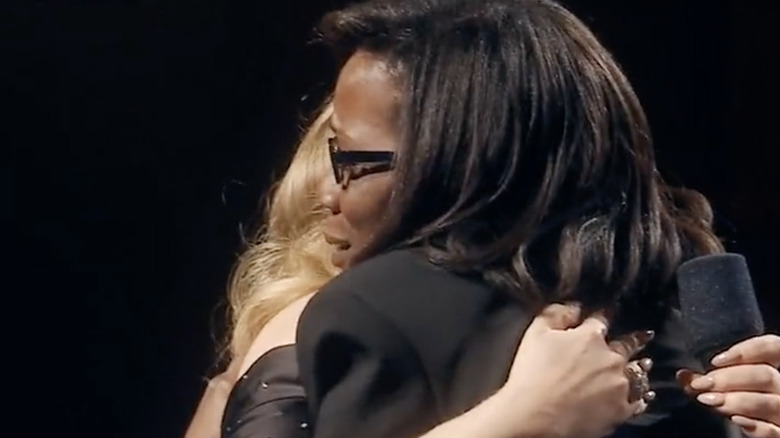 ITV
On November 14, 2021 Adele's eagerly-anticipated special "Adele One Night Only" aired on CBS. The special featured her live performance to an intimate crowd at The Griffith Observatory (via LA Times). Apart from the general excitement of it being her first live performance in years, the mini-concert also featured a touching moment when Adele helped a fan propose to his girlfriend in the middle of it all (via Harper's Bazaar). When it came to the London performance, Adele was at the receiving end of a touching surprise rather than planning it.
Adele was asked by Emma Thompson who her childhood inspiration was growing up, and while Adele began to share how moved she was by her English teacher Miss McDonald, it became clear what was coming next (via Stylist). As seen in a touching video on Twitter of the encounter, Adele crumbled to tears as she realized her favorite teacher was there to surprise her. 
The singer was so moved to tears by the reunion, that she had to take a break after embracing Miss McDonald repeatedly to have her makeup touched up. Adele called up Alan Carr to give a pitchy rendition of "Make You Feel My Love" and help lighten the mood as the entire room was brought to tears alongside her, as per Stylist. Adele's Tweet about the night even highlighted the reunion, "And my teacher Ms McDonald was there, it was just heaven."