A New Photo Of Donald Trump Is Raising Eyebrows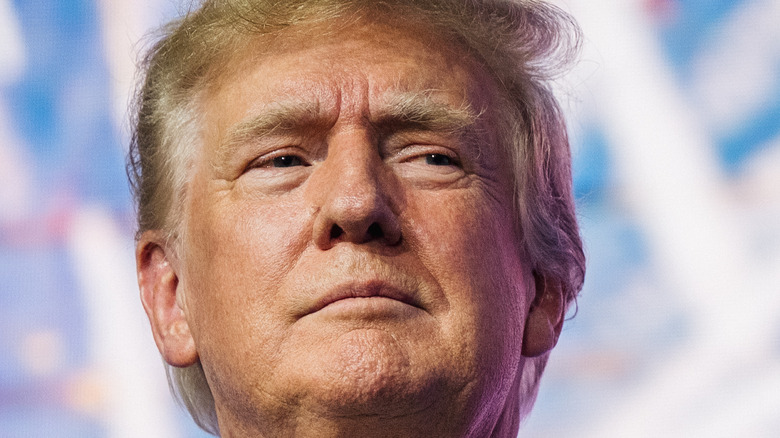 Brandon Bell/Getty Images
In August 2020, then-17-year-old Kyle Rittenhouse brought a gun to a large protest of the shooting of 29-year-old Jacob Blake by a Kenosha police officer in Kenosha, Wisconsin. His intent was to defend those businesses that he supposed would be at risk from damage and looting from protesters. Cameras caught Rittenhouse shooting and killing Joseph Rosenbaum and Anthony Huber, while another altercation caused Rittenhouse to shoot and wound Gaige Grosskreutz, per CNN. Rittenhouse was eventually charged with reckless homicide for the death of Rosenbaum, intentional homicide for the death of Huber, and attempted intentional homicide for wounding Grosskreutz. On Friday, a jury found Rittenhouse not guilty on all charges after deliberating for 25 hours, according to NBC News.
After the verdict in the trial was revealed on Friday, Rittenhouse became a hero of sorts for many conservative people and politicians. Since being cleared of his charges, legal defense funds have been formed in his name, memes have portrayed him as a hero, Republican members of Congress have offered him internships, and former President Donald Trump has even voiced his approval of Rittenhouse, per Politico. "If you're talking about innocence based on self-defense, this was the poster boy," Trump told Fox News' Laura Ingraham on Friday, per Newsweek. "I think he would have been dead if he waited a quarter of a second when that gun was pointed at his head. That guy was gonna pull that trigger."
A new photo shows that Rittenhouse met with Trump
On Tuesday, former President Donald Trump's son, Donald Trump Jr., posted a photo to his Twitter of his father meeting with Kyle Rittenhouse. The photo, which Trump Jr. labaled "GOATs," shows both Trump and Rittenhouse holding a thumbs up symbol. That same day, Trump told Fox News' Sean Hannity that he met with Rittenhouse at Mar-a-Lago in Florida. Trump described Rittenhouse as "really a nice young man." "He wanted to know if he could come over and say hello ... Just left Mar-a-Lago a little while ago and he should never have been put through that. That was prosecutorial misconduct, and it's happening all over the United States right now with the Democrats," Trump told Hannity, according to Politico.
Many Twitter users reacted quite negatively to Trump Jr.'s tweet with the photo from his father's meeting with Rittenhouse. "Yes, let's celebrate the fact they both made decisions that led to the death of fellow Americans [and] neither one of them thinks they did anything wrong," one Twitter user replied to Trump Jr.'s tweet, perhaps alluding to the deaths that resulted from the January 6 riot, per the New York Times. "I am sorry but this is wrong," another user tweeted. "Rittenhouse was absolutely innocent, his intent pure, and his trigger control fantastic. Do we really need to celebrate someone that shot 3 people ... regardless of the reason? What good comes from turning this kid into a political mascot?"