The Strange Item Dave & Kortney Wilson Found Inside One Of Their Flips
Former spouses and colleagues, Dave and Kortney Wilson, have an extensive background in house flipping. A skill that helped the Canadian duo score their very own HGTV show "Masters of Flip" after moving to Nashville. 
Prior to the show, the pair had originally been chasing country music careers. During an interview with Rivery City Sisters, Dave and Kortney revealed that they had no intention of getting into the business of home renovation, but decided to make a career out of it after successfully remodelling their own Nashville home. According to House Beautiful, "Masters of Flip" ran for four seasons in total, and although only the first two were shown in the United States, Kortney and Dave were considered major reality stars in their native Canada. 
Before separating, the Wilsons worked together on their new show "Making it Home with Kortney and Dave," which premiered in 2020. The lovable duo had already successfully flipped more than 150 properties at the time and began turning their attention to helping families create their own dream homes as a result. Typically, Kortney and Dave renovated spaces at low cost to make them feel more homely. They've seen it all over the years, but one particularly grisly discovery stands out. 
Nothing could've prepared them for this grisly discovery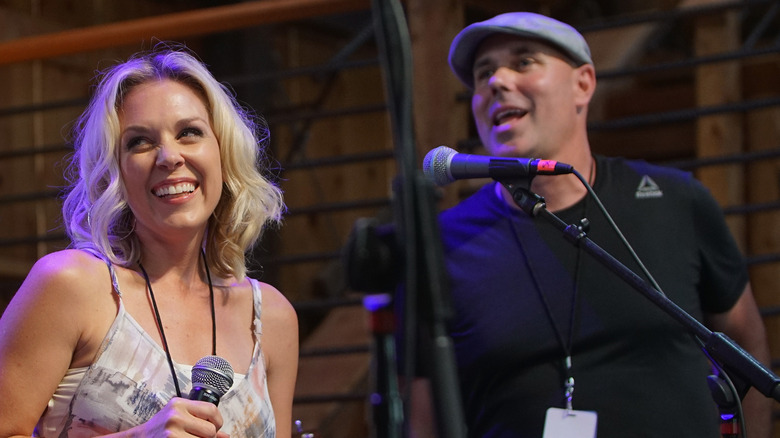 Anna Webber/Getty Images
In a joint interview with PopSugar, HGTV star Kortney Wilson revealed that she and former husband Dave once discovered a mummified possum carcass inside the wall of a home they were renovating in Reno, Nevada. "It was jumping inside in the wall [when it died], and is now forever and ever and ever mummified," Kortney recalled. "Lucky for me, David found it and then chased me with it." 
Kortney is the first to admit that she fell into house flipping completely by accident, and isn't classically trained by any means. In an interview with 29 Secrets, the former actor revealed, "When we flipped our first house I couldn't afford a designer. I had a decent eye for design and I figured I could do it on my own."
In the years following, Kortney has been steadily learning with every new project she and Dave take on. As she explained, Kortney has been "following trends and trying to incorporate them with things that are going to stand the test of time, that are classic enough that people won't have to change in a few months or years ... now here I am and now I feel like I have a certain expertise having flipped over 100, but I am constantly learning." 
The only thing she can't incorporate, though, is a dead possum. Regardless of how funny David might find it.