The Real Reason David Eigenberg Might Be Leaving Chicago Fire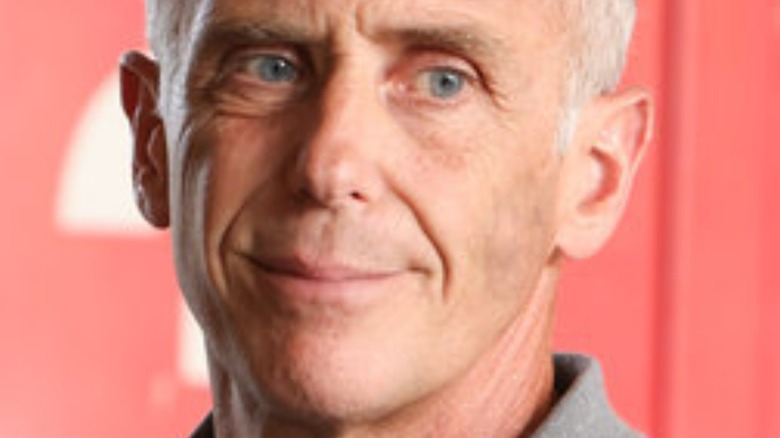 Adrian S. Burrows Sr./NBC
David Eigenberg has starred on NBC's mega-popular "Chicago Fire" since the show premiered in 2012. The actor's run as Christopher Herrmann played out over the course of more than 200 episodes. It's the longest amount of time he's spent in any role, according to One Chicago Center. Although Eigenberg is a show staple, like other original cast members Taylor Kinney (Kelly Severide) and Jesse Spencer (Matthew Case), rumors have been swirling about how much longer he plans to stick around.
Fans were concerned when filming began for the tenth season of "Chicago Fire." As other castmates gathered in Chicago to put the show together, Eigenberg was tied up with another role in New York, per One Chicago Center. Thankfully, the hard-working actor was able to balance his schedule and make both jobs possible. Although he's been appearing in new episodes, fans were still concerned. That was especially the case after one plot episode put his character's future at risk, per One Chicago Center.
Thankfully, it seems those concerns are unnecessary at the moment. In November, Eigenberg appeared in a teaser on the "Chicago Fire" Instagram. The photo announced that the show's mid-season break would come on December 8. That seems to imply he'll be back again and will be around at least for the remainder of Season 10. But what offer is so good that fans think Eigenberg is going to leave "Chicago Fire" in the first place?
David Eigenberg is balancing Chicago Fire and the Sex and the City reboot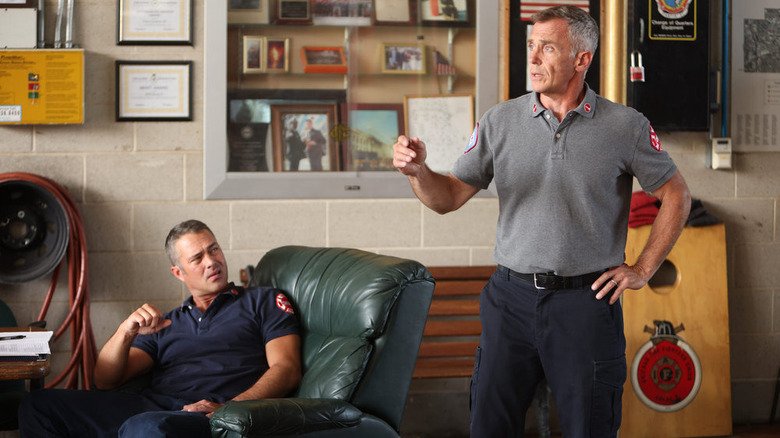 If David Eigenberg looked familiar when he joined the cast of "Chicago Fire" way back when, you may have recognized him from another iconic show. The actor appeared alongside the likes of Sarah Jessica Parker and, more importantly, Cynthia Nixon, in "Sex and the City." He brought the character Steve Brady, Miranda's husband, to life. Although the show's original run ended years ago, it still managed to threaten Eigenberg's gig with "Chicago Fire."
How so? He was cast in the "Sex and the City" reboot "And Just Like That..." earlier this year, per Deadline, and filming for the HBO Max series interfered with "Chicago Fire." Eigenberg was somehow able to work it all out and is now a star in two simultaneous shows. "And Just Like That..." hits the public December 9, per Deadline. At the moment, we don't know much about Eigenberg's role, but he did spill a bit of tea.
Chiefly, he gushed about Nixon, his on-screen wife, in a September interview with E! News. "I can tell you that she's looking pretty fine," he told the network. He also revealed that one time, the show contemplated chartering a private jet to get him back to Chicago when "And Just Like That..." filming ran over schedule. While he'll be appearing in the anticipated reboot, Eigenberg's loyalties appear to lie with "Chicago Fire."
He has nothing but good things to say about his Chicago Fire family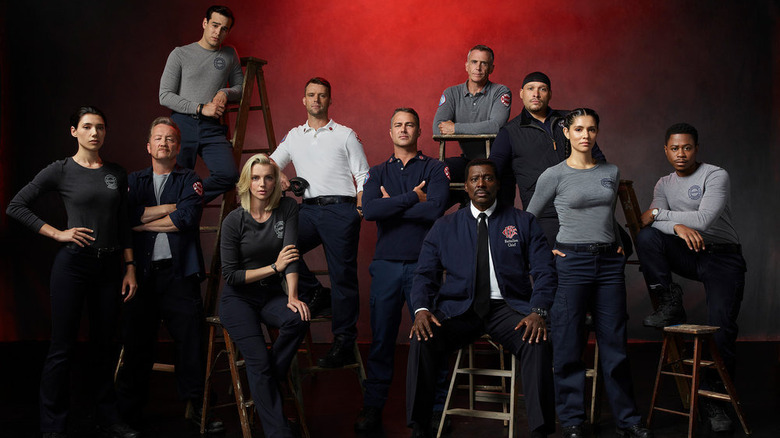 Art Streiber/NBC
David Eigenberg is balancing two iconic roles at the moment. However, it sounds like he doesn't intend to leave "Chicago Fire" behind anytime soon. Back in March he gushed about the role and revealed how important it was to him. "My heart and my soul is here in Chicago," he told Us Weekly. "With the stories here and my colleagues."
He had nothing but positive things to say about the series and its cast when "Chicago Fire" celebrated its 200th episode in October. "There was a family sensibility about this show, because [the cast] really in a ridiculous way became friends that cared deeply about each other," he told NBC Universal (via Yahoo).
He also reflected on both roles in an October interview with The Day. "I had a very long, long time coming to 'Sex and the City,'" he said. "I had 15 years of really grinding it out with day jobs to get to decent employment, which I always wanted to get." Eigenberg added that there was a rough time between "Sex and the City" and "Chicago Fire," but he rode it out. "I'm not averse to going through hard times. They come," he said. "And my wife and I, we've rolled through them. Hearts break and things happen and not so much about acting work, life rolls on us, and we have to learn to adapt and learn from that."