Kate Middleton Stuns In The Perfect Look For Colder Weather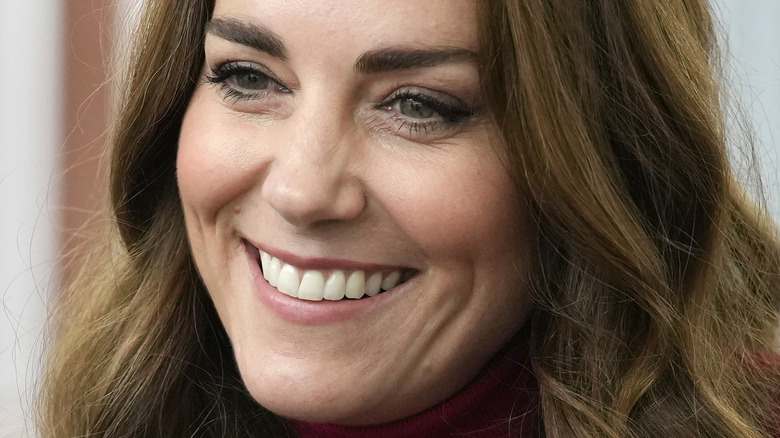 Wpa Pool/Getty Images
When it's cold out, and the weather threatens to wreck your blowout and streak your mascara in the time it takes to get from the car into your office, it can be hard to put forth any extra effort while getting ready for the day. 
Oftentimes, our overall look in the winter reads dowdier than dazzling when cozy fabrics like fleece and wool are all we want to live in. But there are those lucky few who seem to keep their chic exteriors despite the freezing temps. We're looking at you, Kate Middleton.
The Duchess of Cambridge has charmed us with her head-to-toe ensembles before. She can work a monochrome outfit as well as any Kardashian can, and her never-boring blazers are always worn with sophisticated but glam accessories. Lately, we're starting to notice that Kate's fashion choices are reading a bit more mature — but in the very best way.
Kate's fuchsia and black trouser combo warms up the cold weather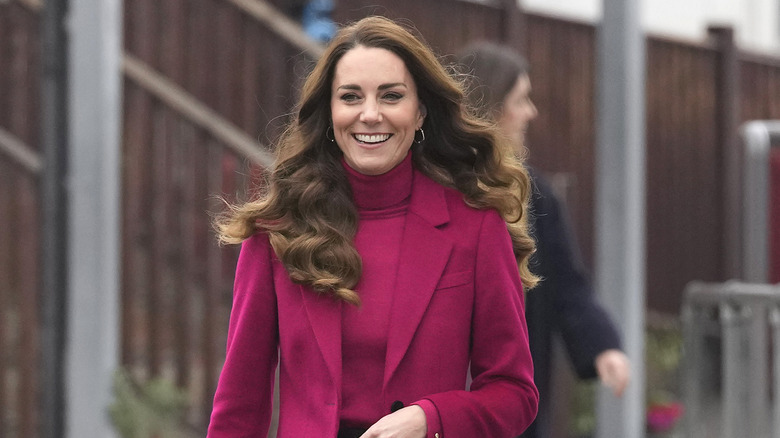 Wpa Pool/Getty Images
Recently, Kate Middleton strutted through the chilly streets in straight-legged black trousers, matching heels, and an eye-catching fuchsia turtleneck and matching coat, per InStyle. And we're here for it!
"She has started wearing many more trousers, which lots of women, when they become more professional and confident in themselves, experiment with," Bethan Holt, fashion news and features director at The Telegraph, told Vanity Fair. "She's adding in interesting new things that signal she's getting a bit older, a bit more sophisticated, and a bit more senior. Like any of us, we hope in our careers that we become more senior as we get older."
There it is. Maybe we're loving this look so much because Kate's trousers bring a new level of sophistication that balances so well with the fun and youthful fuchsia top and matching coat. Or maybe we just love the outfit because it's easy to duplicate. And until we can get our hands on an exact replica of her Alexander McQueen wedding dress, we'll continue to be inspired by this sophisticated fuchsia number for our next chilly-day outing.