Royal Expert Says The Queen May Do This To Make Peace With Meghan And Harry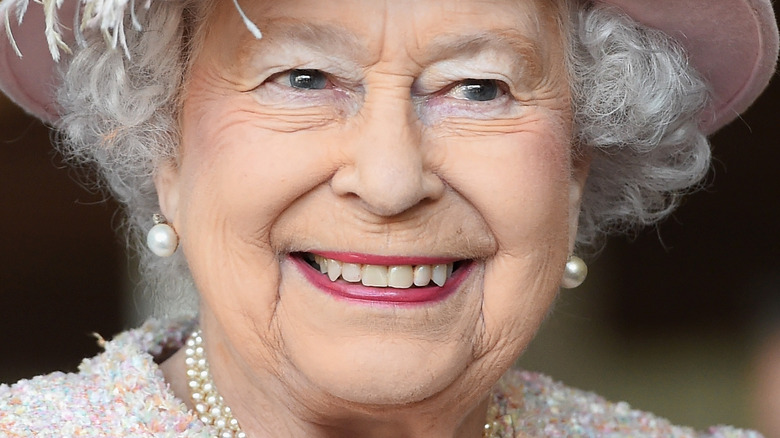 Stuart C. Wilson/Getty Images
As the monarch of the United Kingdom, Queen Elizabeth II has to maintain diplomatic relations with a variety of people. But she probably never expected having to make peace within her own family. Her relationship with Princess Diana, for example, was complicated. The young princess needed an older confidant, while the queen expected her daughter-in-law to keep her marital troubles to herself, per Reader's Digest. Then, after Diana's tragic death, the queen faced criticism for taking five days to make a formal address, per PopSugar.
In recent years, the queen has contended with the drama surrounding Prince Harry and Meghan Markle. While she was reportedly supportive of their decision to step back from their positions as working royals, per Fox News, she was less pleased with their claims about the palace in their infamous interview with Oprah Winfrey. Still, it's said that the queen's fondness for her grandson remains constant. And this Christmas, she could make her feelings known in a special way.
There's no definitive word as to whether Harry and Meghan will be joining the other royal family members for Christmas at the queen's beloved Balmoral country estate. One expert speculates that the Sussexes will stay in California, either because of their busy schedules or because they don't want to make the holidays awkward for the royal family. But other reports say the opposite: that Harry is anxious to see his ailing grandmother and introduce her to Lilibet Diana, the namesake great-grandchild whom she has yet to meet.
The queen could subtly include the Sussexes in this annual event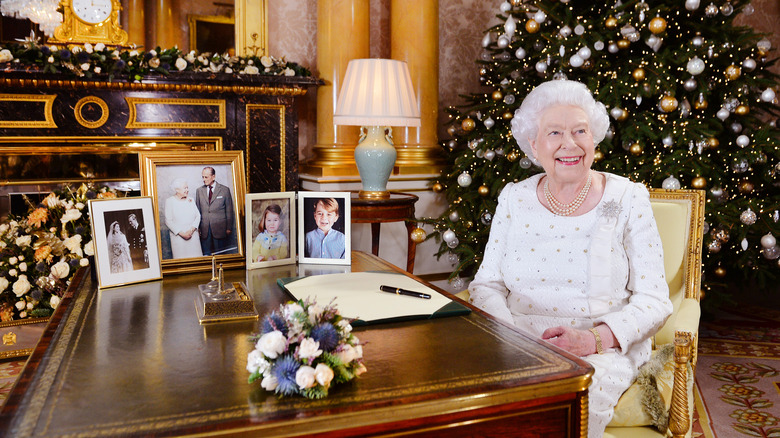 Wpa Pool/Getty Images
Faithful royals fans know Queen Elizabeth II rarely does anything at random. Her signature bright wardrobe colors are chosen to make her recognizable at public events, and she uses her purse to send subtle signals about closing a conversation, per British Heritage. At public events, she'll often accessorize with a brooch that has sentimental meaning as well.
Accordingly, the queen may opt to start mending fences with Prince Harry and Meghan Markle in a subtle but special way. Royal expert Daniela Elser told Express in November that it would be wise for the queen to add a portrait of the Sussexes to the collection she displays on her desk during her annual holiday address. "What is interesting today is the fact that the queen must realize that she could use such photo ops as a means of extending a regal olive branch to her granddaughter-in-law if she wanted," Elser said. Including the family members in the display "would be a significant and powerful gesture after so much tumult and drama."
In her 2019 address, the queen generated buzz for not including a picture of Harry and Meghan in the assortment. However, another royal commentator explained to Oprah Daily that the pictures she used were of the direct heirs to the throne. This year, a picture of the Sussexes truly would say a thousand words. We'll have to wait and see whether the queen opts to send that supportive message.
Meghan and Harry may spend Christmas in California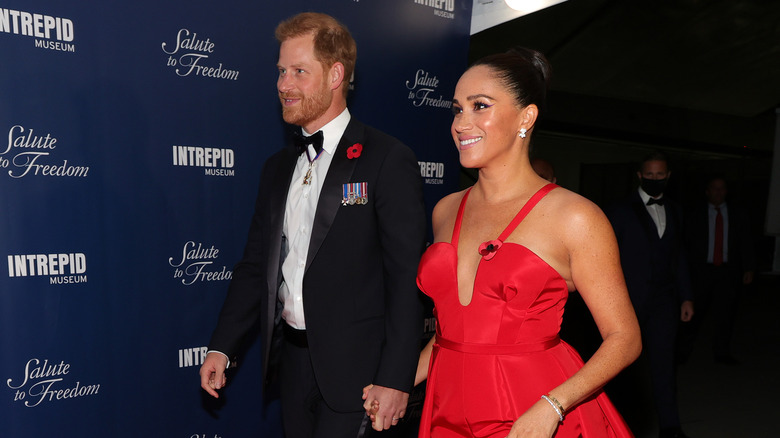 Dia Dipasupil/Getty Images
While Queen Elizabeth II could extend an olive branch to the Duke and Duchess of Sussex by including their photo in her holiday address, Prince Harry and Meghan Markle might opt to spend the holiday season in the United States, as at least one royal expert has speculated.
Speaking on "Royally US" (via Express), author and royal expert Stewart Pearce told Christina Garibaldi why the Sussexes' holiday plans may not include a visit to the United Kingdom. "So Harry and Meghan won't be able to because of their own particular arrangements," Pearce said to Garibaldi. "They're very, very busy with the next project or the series of projects because there's a lot going on."
While the Sussexes may not be in attendance, it's likely that Prince William and Kate Middleton will spend the holiday season with the queen in Sandringham. This marks the first holiday season since Prince Philip's death in April, Pearce noted, and the royals may want to rally around the queen.
And despite questions about the monarch's health, it seems like she wants this holiday season to be as normal and joyous as possible. "This year, more than ever, it is incredibly important to Her Majesty to be surrounded by her loved ones ... Her Majesty is resting under doctors' orders with the intention of being able to fully enjoy the company of her extended family over the holiday period," a royal source said to the Mirror in October.