How To Apply Press-On Nails For An Easy Manicure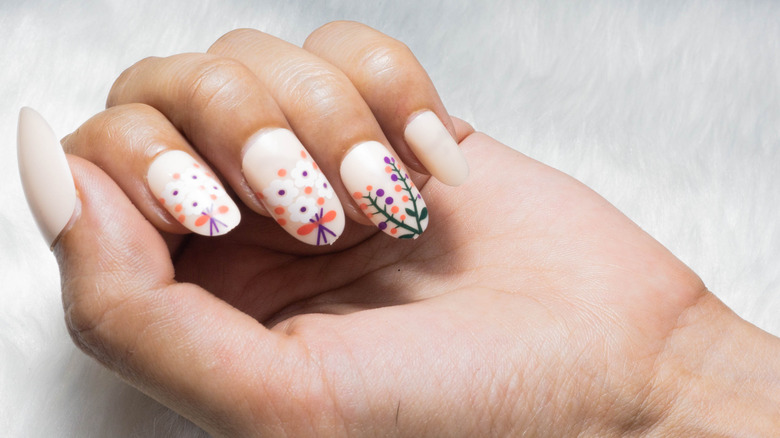 quick.turtle/Shutterstock
Who said a manicure has to be expensive? Not all good nail art comes from a salon, you know. There's such a thing called press-on nails that are just as good, if not better, than a salon manicure.
Bonus, they're easy to apply too — you only need a few steps. Per Bustle, first, pick out the press-on nail brand. There's good ole Sally Hansen, ManiMe, and more. Though most press-on nails have a one-size-fits-all approach, nails and fingers are unique, meaning you can trust that your fake nails will fit your nail bed. So, pick the brand and nails carefully.
Once you decide on the brand, Harper's Bazaar said to start prepping your nails. When you're getting your nails professionally done, the nail tech usually buffs, files, and cleans your nail in preparation for application. The same process applies to press-on. Thus, the outlet added, you must push back the cuticles (any cuticle pusher from the drugstore works). "Prep the nail bed and, if necessary, gently trim the dead skin around the base and edges of the nail to create a clean, smooth surface for application," Jooyeon Song, co-founder of 3D press-on nail brand ManiMe, told Bustle.
Next, wipe down each nail bed with an alcohol wipe, so all oils are stripped away. That way, the glue and/or adhesive will last longer. Once the prep is completed, now it's time for gluing the nails down.
How to ensure your press-on nails last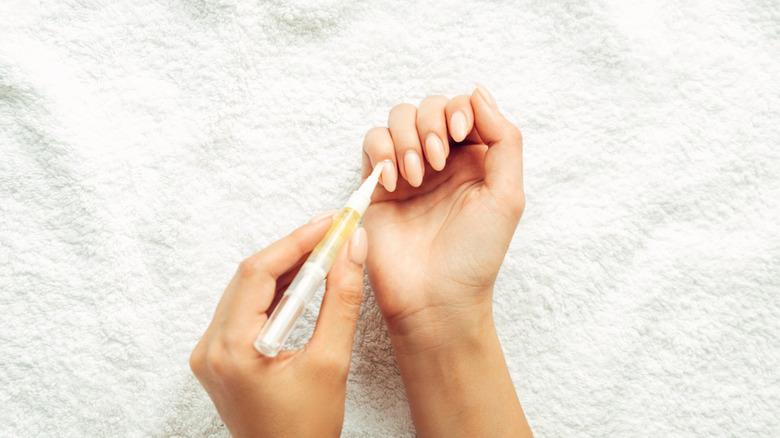 Igor Rain/Shutterstock
Remember: a detailed prep will ensure your press-on nails last long, Bustle added. So, after prep is completed, you can either add the sticky tape — what comes inside the press-on nail package — or a dab of nail glue. Celebrity nail artist and KISS brand ambassador Gina Edwards told Harper's Bazaar that applying both the sticky tape and glue will keep your nails for at least 10 days.
Bustle, on the other hand, encouraged applying a base coat before the glue as the coat will not only protect your natural nails, but prolong the press-on nails' longevity. In our opinion, why not do both procedures?
The next important process in the application is how you're putting on your nails. You can't just slap them on your nail beds and expect them to stay. No, there's a certain art. Per Harper's Bazaar, apply the nails at a downward angle. Then, go ahead and file, but not before each nail has been applied. "Always contour the nails from the sidewalls to taper them for an even more natural look," Edwards said. "Everyone's nail beds are different and contouring is key for super natural-looking nails."
Go ahead and put on some topcoat, let it dry, and you'll have good, long-lasting press-ons.