Donald Trump Jr.'s Video Of His Father Dancing Is Absolutely Turning Heads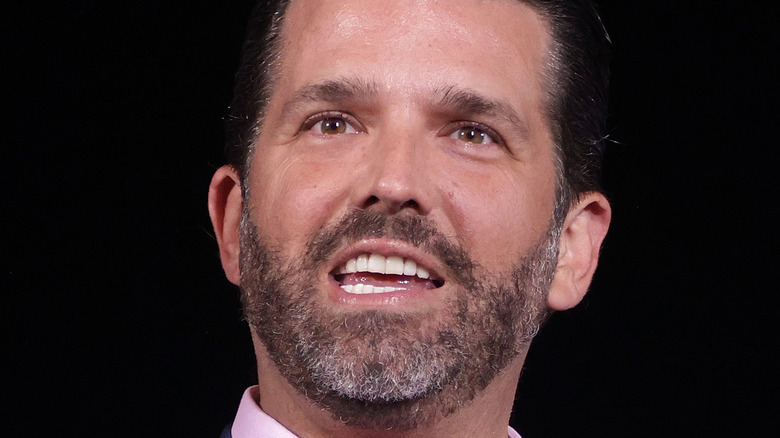 Alex Wong/Getty Images
Rather than simply wishing his followers a "Happy Thanksgiving," Donald Trump Jr. opted for something a bit more creative this year. He ended his Thanksgiving festivities with a slightly confusing video of his father super-imposed over a clip of the movie "National Lampoon's Christmas Vacation." He shared the strange video to his Twitter and Instagram, and it has since gone viral and racked up millions of views. While some seemingly enjoyed the clip, others raised questions about whether or not it was the family's best use of their time on during the holidays. However, the big question is whether or not the video was a sort of sneaky announcement for a Trump 2024 presidential run. 
The clip from the 1980s movie features lead character Clark cutting into the much-anticipated turkey while his family sits around him at the table. But in Trump Jr. 's version, President Joe Biden's face takes the place of Clark's, while Vice President Kamala Harris, House Speaker Nancy Pelosi, Representative Alexandria Ocasio-Cortez, Representative Ilhan Omar, Representative Adam Schiff, and Senate Majority Leader Chuck Schumer are gathered around him, (per Newsweek). 
And rather than revealing Clark's painfully overcooked turkey, Biden reveals former president Donald Trump who bursts out of the Thanksgiving turkey and begins dancing to the song "YMCA" by the Village People. As The Independent pointed out, this is the song that Trump danced to during his campaign rallies. "I think we're in for a very big treat," Biden says immediately before revealing the prior POTUS. 
Donald Trump Jr.'s Thanksgiving video received mixed reviews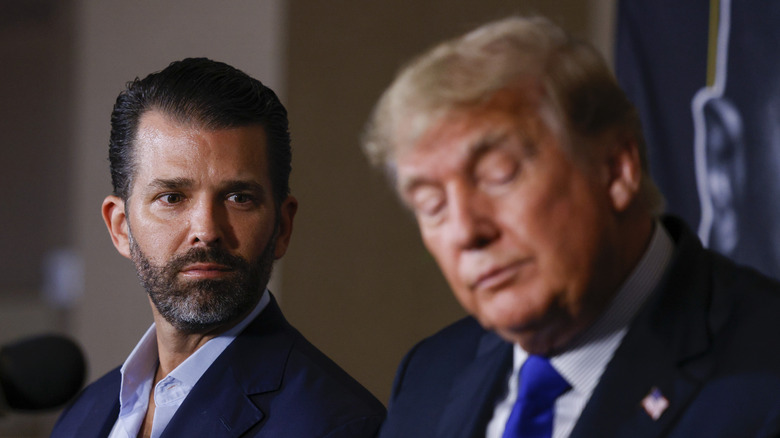 Douglas P. Defelice/Getty Images
Donald Trump Jr.'s video received mixed reactions on Instagram and Twitter. Many users responded with "Let's Go Brandon!" a message that has taken on the meaning of "F*** Joe Biden" for many Trump supporters. Others mocked the Trump family for indulging in social media hi-jinx while President Joe Biden was out serving Thanksgiving meals to military service members, per Yahoo! News. But perhaps most interestingly, some took the message to be a sort of announcement for Donald Trump's rumored 2024 presidential run; messages like "Trump 2024" were common.
Speculation about Donald's plans for 2024 has skyrocketed since he start dropping hints that he may be heading to the campaign trail yet again. In his own Thanksgiving message, shared to Twitter by his spokeswoman Liz Harrington, Donald's campaign slogan made an appearance as well. "A very interesting time in our Country, but do not worry, we will be great again — and we will all do it together," the tweet read, per Fox News. "America will never fail, and we will never allow it to go in the wrong direction. Too many generations of greatness are counting on us. Enjoy your Thanksgiving knowing that a wonderful future lies ahead!"
Donald has made no formal announcements about his plans for the 2024 presidential run, but many close to him have come forward to say that he will be throwing his hat in the ring yet again.