The Truth About Jimmy Kimmel's Relationship With Jennifer Aniston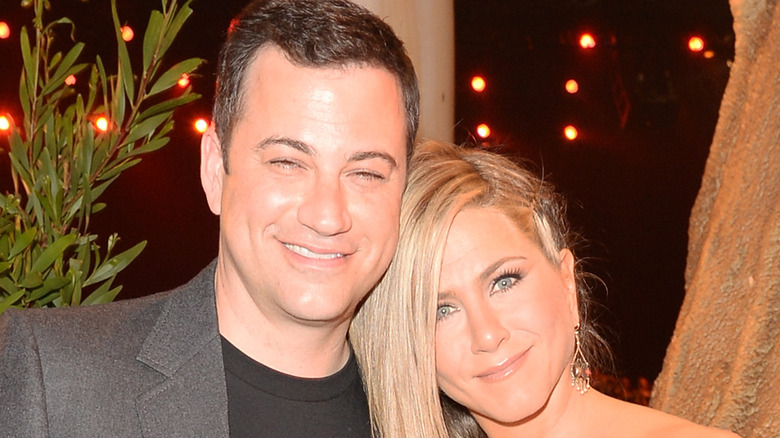 Jason Merritt/term/Getty Images
For 10 years, Jennifer Aniston portrayed Rachel Green on "Friends," a television show about, well, friends. As the show's co-creator Marta Kauffman famously put it, "The show was about the six of them; it was about that time in your life when your friends are your family" (via Marie Claire).
On the show, Rachel Green was a grown-up version of the most popular girl in high school, struggling to make it on her own in the big city. And while Jennifer Aniston is probably not much like Rachel in real life — having had a more difficult childhood — one thing she does have in common with her fictional character is her popularity (via USA Today).
It's well-known that Aniston is best friends IRL with her "Friends" co-star Courteney Cox — even serving as godmother to Cox's daughter, Coco — but also amongst Aniston's close friends are Sandra Bullock, Laura Dern, Jason Bateman, and even ex-husband Justin Theroux (via Evening Standard).
Recently, Aniston has been collaborating on-screen with another close friend of hers, Reese Witherspoon, on the Apple+ TV show "The Morning Show."
"My pain in the a** little burst of sunshine sister and I are working together again. But this time, we'll be much kinder to one another. (Hmm, then again, we'll just have to wait and see about that...)," Aniston posted on Instagram, in reference to both "The Morning Show" and Witherspoon's appearance on "Friends" as Rachel's little sister.
Aniston's friendship with Jimmy Kimmel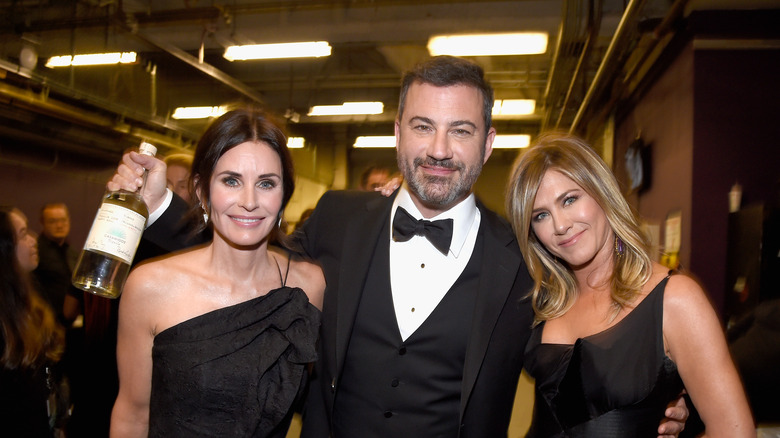 Kevin Mazur/Getty Images
Given the circles Jennifer Aniston socializes in, it's perhaps not surprising to learn that she also calls late night host Jimmy Kimmel and his wife, Molly McNearney, her close friends as well (via Evening Standard, CNN).
Kimmel, of course, is known for being a jokester, and Aniston isn't off-limits. On his show "Jimmy Kimmel Live!," Kimmel took Aniston to task for serving a Thanksgiving meal at her annual Friendsgiving, which she holds every year on the evening before Thanksgiving.
"On Thanksgiving, I cook a lot of stuff — the normal turkey, yams, the whole deal — but at your event, we had all of those things," Kimmel revealed. "So then, I'm making the same thing everyone had the night before, again." He suggested she serve a different type of cuisine, and in order to placate Kimmel, Aniston followed suit. She began serving enchiladas at her Friendsgiving dinner — per her Instagram, she even dubbed them "Jimmy's F****** Enchiladas."
All jokes aside, Kimmel and Aniston clearly share a special friendship — the comedian even officiated Aniston's 2015 wedding to Justin Theroux.
Other late night hosts have taken notice of Aniston and Kimmel's relationship: When Aniston appeared on "The Tonight Show," Jimmy Fallon admitted he was jealous of Aniston's trips with Kimmel and Howard Stern (via YouTube). Could this be the start of the next late night war?