The Strange Altercation That John Oliver Will Never Forget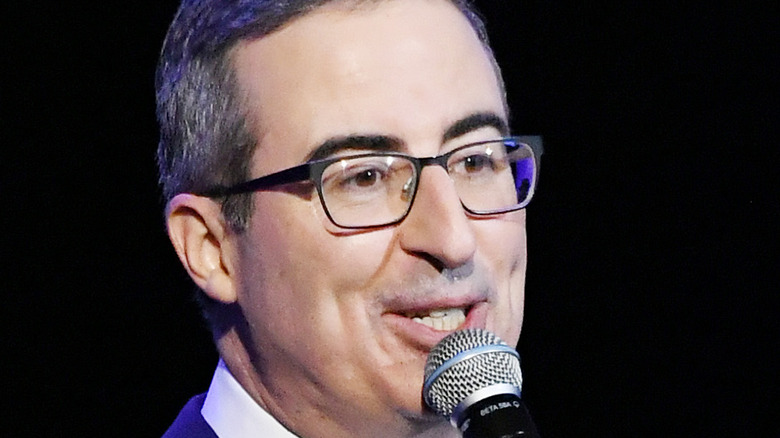 Mike Coppola/Getty Images
When "The Daily Show" first began in 1996, its network Comedy Central was still in its infancy and no one expected that the program, created by Lizz Winstead and Madeleine Smithberg would become a cultural mainstay (via Los Angeles Times). Though the show was initially hosted by Craig Kilborn, it was when Jon Stewart took over in 1999 that the show really began to find its footing (via The New York Times).
But Stewart is far from the only big time alumnus to come out of "The Daily Show." A number of other boldface comics got their start as correspondents on the show (via Entertainment Weekly). Samantha Bee, Stephen Colbert, Steve Carrell, and Ed Helms are amongst those who were on "The Daily Show" before later going on to anchor their own shows. Perhaps the biggest success story of "The Daily Show," though, is John Oliver, who today hosts the Emmy-winning show "Last Week Tonight" on HBO.
While Oliver has enjoyed his fair share of success over the years, he doesn't care about fame. "I don't really want to be famous," he told Rolling Stone. "I understand that there are things that need to happen for the show, like have a stupid billboard over the Gristedes sign. But the whole world of it is not something that I find appealing in any way. I like doing this. I like working, doing the thing, and then leaving."
John Oliver's (sort of) Ali G connection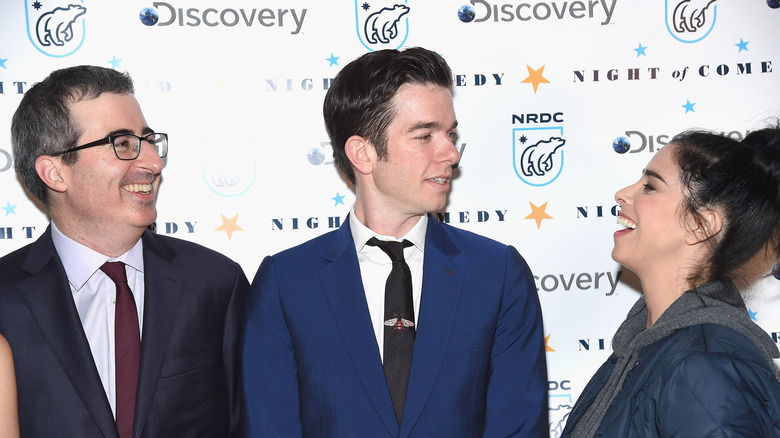 Gary Gershoff/Getty Images
One often unfortunate occupational hazard of being a comedian is having to watch other comedians perform, and sometimes, you may not like their act. Many years ago, Oliver and his future "Bugle" podcast co-host Andy Zaltzman fell prey to this while performing at a student union — and it certainly ruffled Oliver's feathers (via Rolling Stone).
"This guy did a short spot at the student gig just impersonating Ali G," Zaltzman explained. "He was basically using someone else's jokes, and this guy totally died on his ass, and he was trying to promote some other gig there. And then John went on and said, 'Obviously don't go see that. That's just a man using someone else's jokes.'" Obviously, the Ali G impersonator was not happy about Oliver warning the audience away from his show.
"So John was confronted by this man who was ... threatening him with an extremely violent altercation," Zaltzman continued. "He says to John, 'Have you never died at a gig?' And John said, 'Yes I have, but I've done it as myself, using my own work.' This was broken up before it ended in a fight, but it was a fairly comic sight, seeing John face-to-face with a short man dressed as Ali G who was in a state of considerable anger."
While Oliver was incensed by this impersonator, it seems likely to reason that he has another enemy out there: The real Ali G, aka Sacha Baron Cohen, himself.