Eric Trump Claims He Raised $25 Million By The Age Of 30 During A Twitter Argument. Here's Why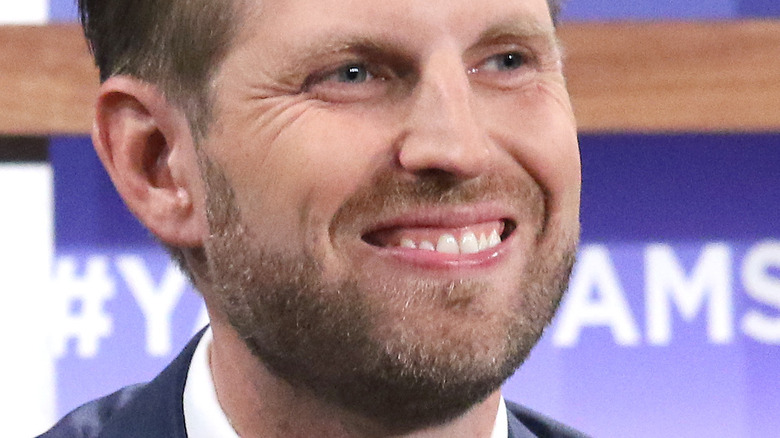 Jim Spellman/Getty Images
In a series of tweets on November 24, Eric Trump took on the news outlet The Palmer Report, threatening to take legal action against it in response to claims made about his alleged role in the January 6 uprising when Trump supporters stormed the capitol building. Branching out from these allegations, Trump launched into claims about funds raised by his charity, the Eric Trump Foundation. He stated that the charity raised $25 million for sick children. Let's break it down. 
Sharing a Rolling Stone article about burner cellphone use surrounding the January 6 raid on the capitol, The Palmer Report tweeted that "Eric Trump and Lara Trump reportedly used burner phones to communicate with January 6th organizers, meaning didn't want the planning to be traced back to them, something you do in a criminal plot." However, the Rolling Stone report said that January 6 organizers allegedly used burner phones to contact Eric and Lara, not that the Trumps had used burner phones themselves.
Trump responded to the tweet by threatening to "sue for defamation," per Newsweek. "This will be fun," he tweeted. He went on to compare himself to the son of President Joe Biden, writing, "I'm an incredibly honest, clean guy — unlike Hunter, no drugs, healthy lifestyle, not the 'burner phone' type." The back and forth went on for some time, with one user tweeting, "'incredibly honest, clean' people don't steal money intended for children with cancer.'"
Eric Trump claims he raised $25 million for St. Jude Children's Research Hospital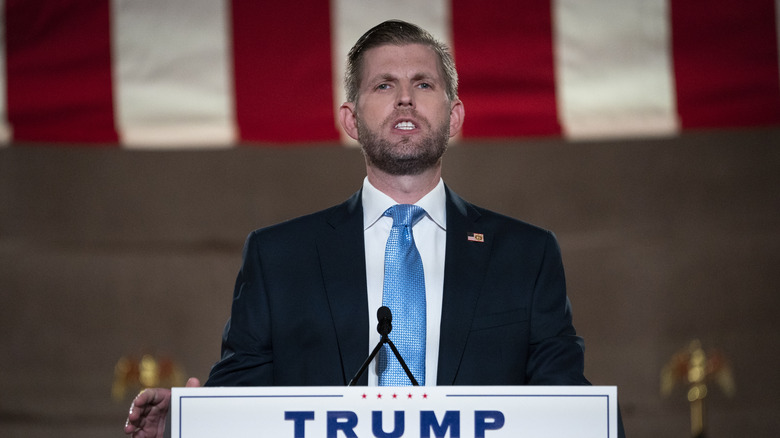 Drew Angerer/Getty Images
The November 25 tweet appears to reference allegations that Eric Trump's foundation has been funneling charitable donations into the Trump Organization when those giving believed that they were supporting the St. Jude Children's Research Hospital in Tennessee, per The Washington Newsday. Trump reshared the tweet, adding, "By the age of 30, I raised 25 million dollars (at a 9.2% cumulative expense ratio) and built the most state-of-the-art Intensive Care Unit & Surgery Center, dedicated to children, on earth." He also added, "Don't ever attack philanthropy especially when you have probably done sh*t in your life." 
This isn't the first time that questions have been raised about where the hospital funds were going. In response to one journalist's criticism of his management of the charity, Trump called the author of the tweet "disgusting" before adding, "We raised nearly $25 million for St Jude before the age of 30 at one of the lowest expense ratios of any charity in the United States (9.2% to be exact). We built them the largest and most cutting edge ICU in America which wears our name to this day. Spare me."
Politifact reported finding only $16.3 million raised by The Eric Trump Foundation for St. Jude, which is substantially lower than the $25 million he claims to have raised. However, the outlet also reported that following a rebranding under the name Curetivity, Trump's foundation has continued to raise funds for St. Jude.