All You Need To Know About The New Bar In Trump Tower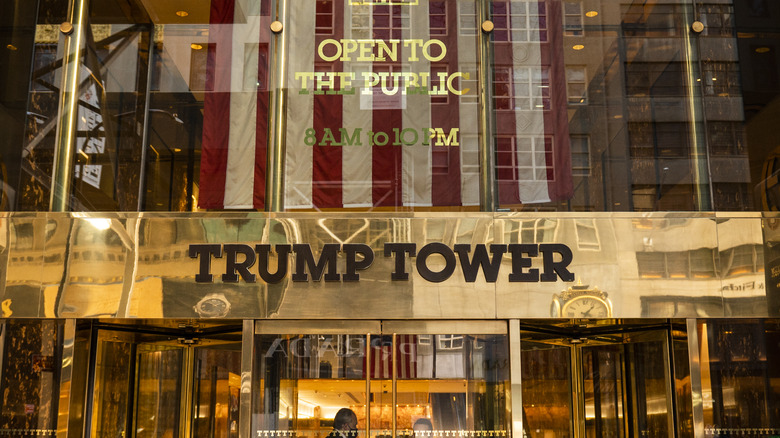 Bloomberg/Getty Images
Before he became the 45th President of the United States, Donald Trump was perhaps best known as a real estate mogul with his name on a number of hotels, resorts, and golf clubs. One of the flagship properties, and where Trump lived before moving to Mar-A-Lago, is the 5th Avenue Trump Tower (via The New York Times). And that property is now home to a new bar called 45 Wine and Whiskey.
From the bar's Instagram, it's clear that the bar really is all about Trump: "Welcome to 45 Wine & Whiskey — an exclusive bar located in Trump Tower featuring handcrafted cocktails, innovative bar fare, and iconic memorabilia celebrating our 45th President of the United States."
There's a nod to some of the former president's favorite menu items. Trump is known for liking Diet Coke and hamburgers (via The New York Times). And the $45 Forty Five beverage on the specialty cocktail menu includes a side of Diet Coke and two American beef sliders. 
Trump's time in office is commemorated in the Trump Tower bar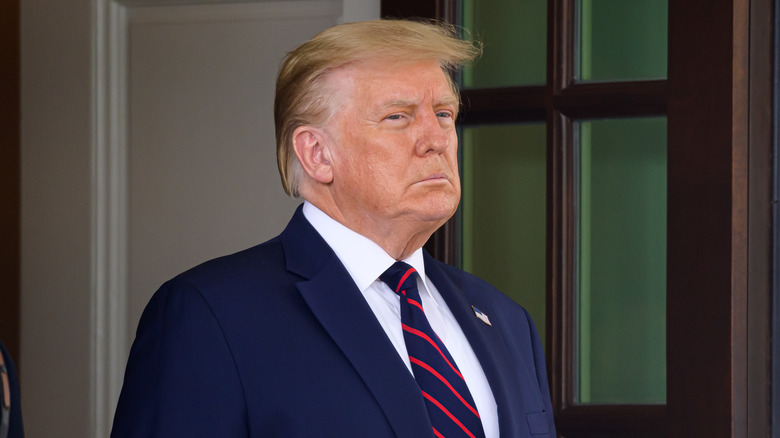 noamgalai/Shutterstock
Along with Donald Trump's favorites, the the specialty cocktail menu also features American wines and whiskeys, including Trump Winery wine. The Trump rosé is combined with St George Gin, Rose Water, Rose Garnish in the $27 Rose Garden cocktail and Trump blanc de blanc in the $29 The Flotus cocktail.
The décor of the bar, per the bar's Instagram, includes walls packed with black and white photos in gold frames of Trump's time in office. One photo is of him in the Situation Room when an ISIS leader was killed by U.S. forces (via Forbes). There's dark wood and maroon velvet chairs with marble topped tables, and the logo for the bar is a 45 surrounded in stars, reminiscent of the presidential seal.
While the bar is all about Trump as the former president, Trump himself won't be there partaking in any of the booze himself since he doesn't drink or smoke, saying it's because his father died of alcoholism (via Miller Center).