The White House Christmas Decorations Have Twitter In A Tizzy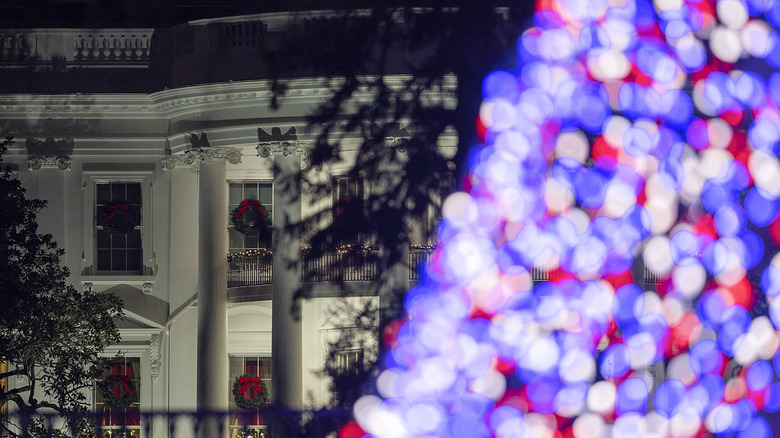 Tasos Katopodis/Getty Images
President Joe Biden and First Lady Jill Biden have revealed this year's Christmas decorations in the White House.
A Christmas tree first appeared in this iconic residence in 1889, thanks to President Benjamin Harrison. It has been the first lady's responsibility to decorate the White House's official Christmas tree since the Hoover administration in 1929. And decorating in themes was started by Jacqueline Kennedy in 1961 (via Town & Country).
However, not everyone has been a fan of how the White House was decorated the past few years. In 2017, Melania Trump went with bare white branches. The next year, there was a hall of red trees. While her last two years were more traditional, with themes of "Spirit of America" and "America the Beautiful," a recording was released in which she asked "who gives a f*** about Christmas stuff" anyway (via The Independent).
Mike Sington, a former NBC executive, turned to Twitter to say, "After four years, thanks to First Lady Jill Biden, a normal, happy Christmas returns to the White House. It's the end of Melania Trump's dark, dystopian Christmases."
Social media users share positive thoughts on 'the return of joy and tradition to the White House'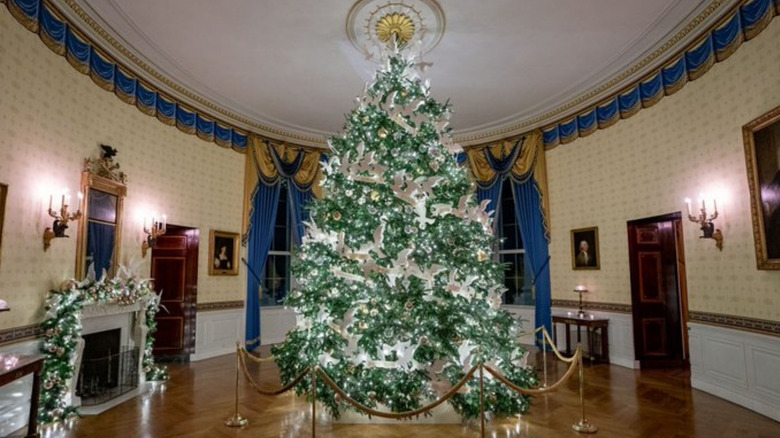 On the morning of November 29, Dr. Jill Biden tweeted, "Excited to share that the Official White House Christmas tree is up in the Blue Room!" The replies to this announcement made it clear that many people enjoy seeing warm, festive, and traditional decorations in the White House, rather than sleek and modern designs, which, as seen by Melania Trump, can come off as cold.
"Thank you for sharing the return of joy and tradition to the White House," read one reply. "Nice to see something that looks joyful. I was getting tired of being creeped out!" said another. "Simple and timely," another Twitter user said of the decor.
This year's theme is "Gifts from the Heart" and includes 41 Christmas trees, 6,000 feet of ribbon, and over 10,000 ornaments, as well as a gingerbread version of the White House, which honors front-line workers, and the official Christmas tree: an 18-foot Fraser fir, themed around peace and unity (via USA Today).