Meghan Markle's First Impression Of The Queen Has Fans Talking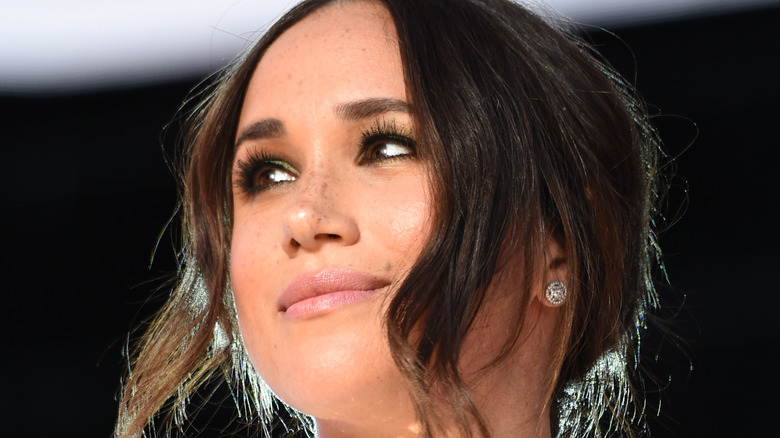 Kevin Mazur/Getty Images
Four years ago, Meghan Markle and Prince Harry announced their engagement. The pair had an exclusive interview with BBC about their engagement and Meghan's introduction to the royal family, Marie Claire reported.
In the interview, you can see the excitement and happiness on the couple's faces as they remark about the upcoming nuptials and the kindness of Prince Harry's brother, sister-in-law, and the queen herself. Markle was so enamored with her first impression of the queen that fans still remember her words of admiration four years later. "'It's incredible ... to be able to meet her through [Harry's] lens, not just with his honor and respect for her as the monarch, but the love that he has for her as his grandmother, all of those layers have been so important for me so that when I met her I had such a deep understanding and of course incredible respect for being able to have that time with her," Markle said in the interview. "And we've had a really ... she's an incredible woman."
Despite the drama that's followed between the family — loyal fans all know about Megxit and the fallout — Meghan's words still remain true. In fact, just a few months ago, Meghan told Oprah that she looks up to the queen and that their relationship remains respectful as ever (via Oprah Daily). "The queen has always been wonderful to me. I've loved being in her company," she said. "She's always been warm, welcoming, and inviting."
Meghan Markle was extremely nervous when meeting the queen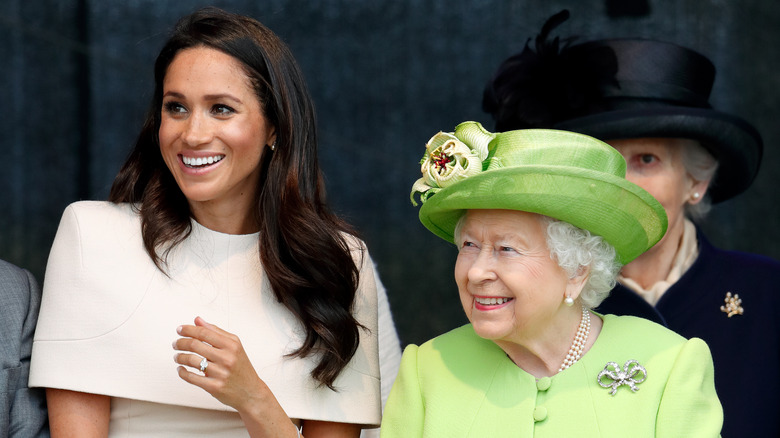 Max Mumby/indigo/Getty Images
Aside from her words of admiration, Meghan's first impression of the queen is a funny tale. Meghan's introduction to the monarch of Britain wasn't a planned affair. One day, the queen decided to meet the girl who charmed her grandson, and as we know, what the queen wants, she gets. "Harry and I are in the car, and he says, 'Okay, well, my grandmother says you're going to meet her,'" Meghan said (via Harper's Bazaar). "I loved my grandmother, I used to take care of my grandma, this is great." And it remained great, at least until Harry asked her, "Do you know how to curtsy?"
Of course, Meghan, an American, didn't know how, as curtsying is not something that's exactly common in American culture, so she had to learn quickly before meeting one of the most respected and distinguished leaders in the world. "I learned [how to curtsy] very quickly right in front of the house," Meghan told Oprah Winfrey during the tell-all interview in March, per Elle. "We just practiced and then walked in ... And I met her and apparently I did a very deep curtsy — I don't remember it — and then we just sat there and we chatted. And, um, it was lovely and easy and I think, thank God I hadn't known a lot about the family. Thank God I hadn't researched. I would have been so in my head about all of this."
Kate Middleton found Queen Elizabeth to be just as warm and friendly during their first meeting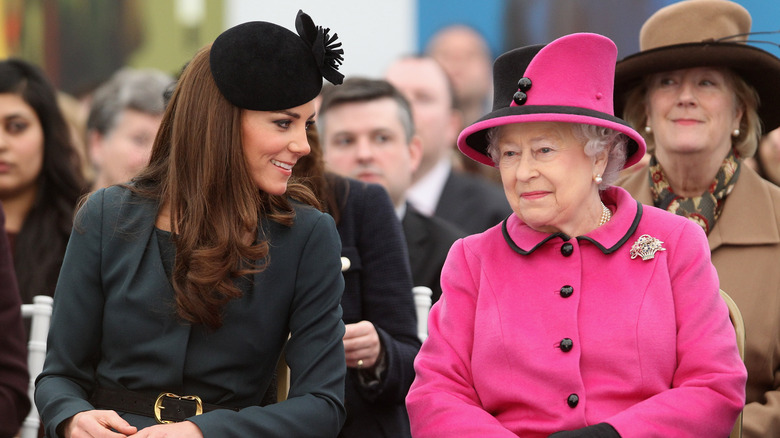 Oli Scarff/Getty Images
Unsurprisingly, Kate Middleton, the Duchess of Cambridge, was just as fond of Queen Elizabeth II during their first meeting. During Prince William and Kate's post-engagement interview, the Duchess of Cambridge revealed that she first met the queen back in 2008, while attending the wedding between Prince William's cousin, Peter Phillips, and Autumn Kelly. "Well I first met her at Peter and Autumn's wedding and again it was in amongst a lot of other guests and she was very friendly," Kate said during the interview, according to The Mirror. As it turns out, Kate was actually attending the wedding without Prince William. Instead, Prince William was attending a wedding in Kenya at that same time, leaving Kate to meet his grandmother on her own, per Marie Claire.
Despite his absence, Prince William was quick to interject during Kate's retelling of her first meeting with the queen. "She was very welcoming, she knew it was a big day and everything was going on with Peter and Autumn, she had wanted to meet Kate for a while, so it was very nice for her to come over and say hello, we had a little chat and got on very well," Prince William said during the couple's post-engagement interview. Since becoming an official part of the royal family in 2011, Kate has enjoyed a close relationship with Queen Elizabeth, with the pair attending many royal functions together (and, judging from the plethora of photos depicting a smiling or laughing Kate, it appears as though the pair get on quite well).