How Mejuri Is Changing Up The Jewelry Game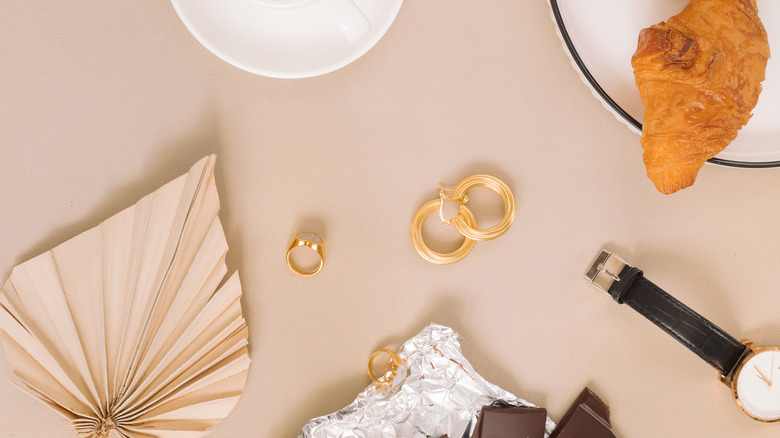 Creative Nina/Shutterstock
Diamonds are certainly a girl's best friend, however, the price tag attached to them makes them an instant frenemy. Good jewelry is not cheap, and getting that perfect glisten to catch every light is going to cost you. Fortunately, we live in an era where online brands offer affordable mid-range jewelry at a fraction of the price, without giving up that dainty, elegant, expensive feel and look.
Mejuri tends to lead that march. Launched in 2013 by Noura Sakkijha, the Toronto-based jewelry brand has taken over the online fine jewelry movement. Mejuri has been so successful that they have a few stores scattered across Canada and the U.S. and even launched a pop-up store in London in 2021 (via Hypebae).
Mejuri's fan base continues to grow, amassing 1 million Instagram followers as of publication. The brand keeps things exciting by launching new editions and ranges on a weekly basis every Monday. 
Mejuri has even become a holy grail favorite for countless celebs, from Billie Eilish to Emily Ratajkowski. It's rare to find a jewelry brand where you can see stunning earrings draping down the Duchess of Cambridge Kate Middleton's ears, then hop online and realize you can afford and order the exact same pair (via Vogue). So, what is it about Mejuri that makes them so popular and changing up the jewelry game?
Mejuri keeps it real by keeping their jewelry real affordable
Mejuri offer complete transparency and affordable jewelry, the full package. Underneath each product on their website, you'll find a breakdown of the cost of that piece of jewelry, and how much it would have cost you at an estimated retail brand. Their mission is simple as outlined on their website, "From the beginning, our mission has been fine jewelry for every day, for our damn selves" (via Mejuri). Mejuri have dedicated themselves to finding sustainable ways to provide quality jewelry at fair prices, and that's why their fans love them.
During an interview with Shopify, founder Noura Sakkijha spoke about what's helped Mejuri's success. Sakkijha said, "The fact is that our team is our community. They're so interconnected so it feels very genuine. [We don't overthink] the content that we put out and it naturally connects with our community because we are speaking to the same audience." Sakkijha is right, one thing you can instantly notice when scrolling through Mejuri's social media accounts is its connection with its audience. Whether by supporting and uplifting creators or sharing and reposting their follower's content, Mejuri remains constantly on the pulse of what its community wants and needs from them. That is rare and special to find in a brand of their size.