What Rachel Uchitel Did Before She Became Famous
Astrid Stawiarz/Getty Images
Rachel Uchitel first entered the spotlight after the Sept. 11, 2001, terrorist attacks when a photo of her holding a picture of her late fiancé made the cover of several newspapers. But it was her affair with professional golfer Tiger Woods – who was married to Elin Nordegren at the time — that gained Uchitel worldwide notoriety. 
Although their relationship was revealed in 2009, Uchitel has been dealing with the fallout ever since. "For 10 years, I've had to live with such hatred of people and it still affects me to this moment and I think that's a really unfair thing for women to have to go through," she told Page Six. 
Since then, she opened two children's clothing boutiques in New York, but both shut down by 2019. Uchitel believes she lost customers after they figured out who she was.
She also claims that Woods did not follow through on all of the payments promised when she signed a 30-page nondisclosure agreement, which guaranteed her $5 million and $1 million annually for three years if Uchitel kept quiet. As a result, she filed for bankruptcy and says that she still has difficulty earning a living, which led her to participate in the HBO documentary "Tiger." 
"I've had it with NDAs," Uchitel explained to The New York Times. "Ten years later, people were still talking about me as a player in a story I had never talked about. I felt like it was time to take the reins."
Rachel Uchitel started her career in TV before shifting to hospitality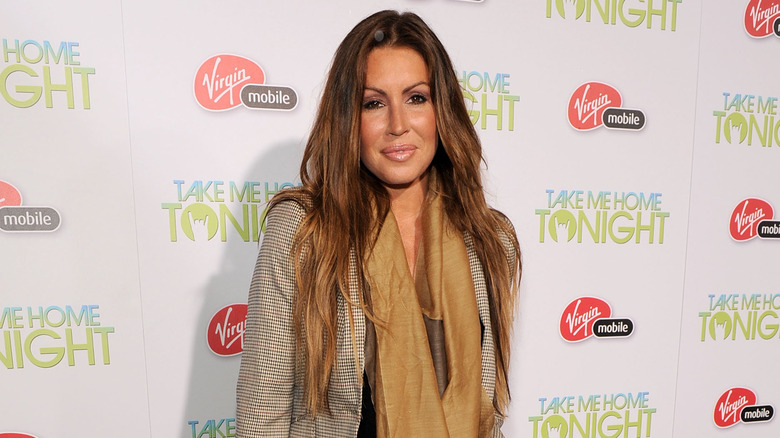 Frazer Harrison/Getty Images
Before she became infamous as the mistress of Tiger Woods, Rachel Uchitel worked as a TV producer for Bloomberg News (per Men's Health). After her fiancé died in the Sept. 11, 2001, terrorist attack in New York City, she moved to Las Vegas to become a VIP host at Tao nightclub. Two years later, she was put in charge of all VIP operations for the company in New York. 
"It can be difficult being a successful woman in this industry because being assertive is often misinterpreted as being a complete b—h. I take people's opinion of me personally, and that can be rough," Uchitel told Black Book in 2008.
Since her affair with Woods came to light, Uchitel was linked with another married man, "Bones" star David Boreanaz (per HuffPost), but she eventually went on to marry and have a daughter, Wyatt Lily. Uchitel also worked for a time as a special correspondent on "Extra" (per TV Over Mind). 
As for the future, the now-divorced Uchitel is hopeful that people might see a different side of her when watching the "Tiger" documentary. "I would just hope that maybe at this point, now that everybody knows my name, they might just maybe want to believe me a little bit," she told "Extra." "That I'm not that awful of a person and they could maybe give me a chance this time around."