The Business You Didn't Know Eric Trump Owns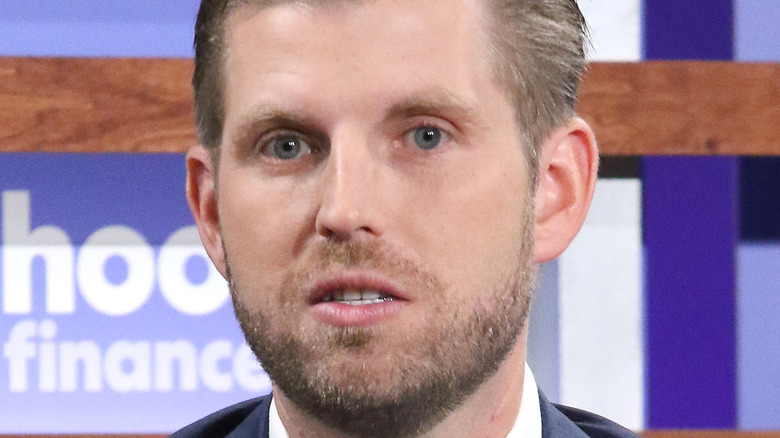 Jim Spellman/Getty Images
The Trump family name has been linked to business for nearly a century, from the apartment buildings in the outer New York City boroughs that Fred Trump owned (per the Washington Post), to golf clubs, suspicious universities (via CBS News), hotels across the globe ... and even steak! While Trump Steaks was a branding venture in which ex-President Donald Trump lent his name to a product he bought from wholesalers, according to the Washington Post, another business venture in the family seems to be the real deal.
Eric Trump, Donald and Ivana Trump's youngest son, has been less involved with the Trump administration than his older siblings, Ivanka and Donald Jr. Trump. That said, Bloomberg reported in July 2021 that the brothers were tasked with running the Trump Organization after its Chief Financial Officer Allen Weisselberg was indicted on charges of tax fraud. During this time, Eric also had a business all on his own, and it's one that seems to be thriving without the former president's hand in it.
Eric Trump is the owner of Trump Winery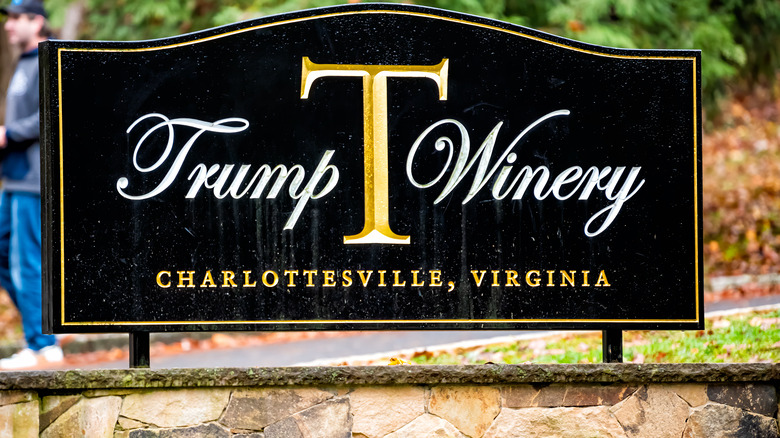 Kristi Blokhin/Shutterstock
Steak and wine go well together, and for a time, the Trump name appeared on both types of gourmet products. But it was Trump Winery that became a success, unlike other things the Trump name touches. According to Vine Pair, the Trump Organization originally purchased Charlottesville, Virginia's Trump Winery — formerly known as the Kluge Estate Winery and Vineyard — in 2011, but the business went on to change hands. Per the Trump Winery website, "Trump Winery is a registered trade name of Eric Trump Wine Manufacturing LLC, which is not owned, managed or affiliated with Donald J. Trump or any of his affiliates." Despite his son's ownership, Business Insider reported that when Donald Trump bragged to his supporters about owning a home in Charlottesville, he was referring to the winery that he doesn't own.
In a 2016 taste test, Vine Pair gave a mediocre rating of the wines offered at the winery, but the products did receive some favorable reviews, too. In the Washington Post, sommelier Erin Scala wrote that while some of the wines are good, their "association with the GOP frontrunner is likely to keep them off wine lists they otherwise belong on." That said, Town & Country reports that the Trump Winery produces roughly 36,000 cases of wine each year and is one of more than 300 vineyards in Virginia, per Virginia.org. That's not too shabby for the state with the fifth most vineyards in America (via Wine-Road), so it sounds like the business is flourishing just fine.