Inside Ivanka Trump's Relationship With Her Siblings
Guillermo Legaria Schweizer/Getty Images
Ivanka Trump is the most public of the President's children serving as she does, alongside husband Jared Kushner, as one of his most trusted advisers. Although all the Trump kids are vocal supporters of their father, Ivanka is the most recognizable to the point many were shocked when her younger half-sister Tiffany gave a speech at the 2020 Republican National Convention. Obviously, this lot hasn't lived ordinary lives by any stretch of the imagination but, at least from the outside, they appear to be a relatively low-key group who get along just fine. 
As CBS News notes, Ivanka has two half-siblings, Tiffany and Barron, the youngest Trump child, whose mothers are (respectively) Marla Maples, the commander-in-chief's second wife, and Melania, his current wife, respectively. Ivanka and her brothers Eric and Donald Jr. all share the same mother, Trump's first wife, Ivana. It's a complicated family dynamic but they make it work.
Is there an issue between Ivanka and half-sister Tiffany?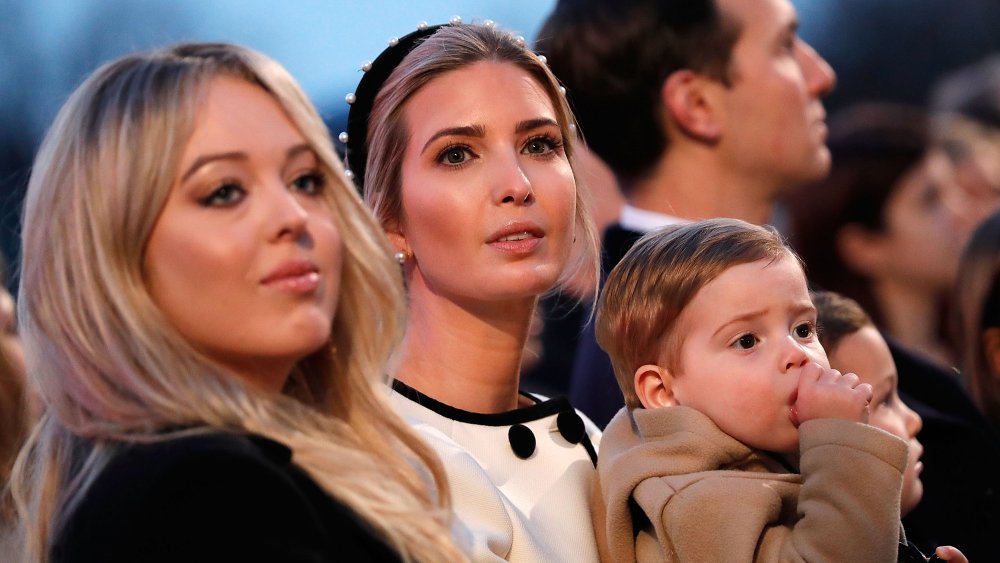 Paul Morigi/Getty Images
Ivanka has always projected an image of family bliss. In a 2016 interview with People, she gushed about Tiffany, who's 12 years her junior, "She's my little sister! I've been close to Tiffany her whole life, and I really love her." The two assisted their father during his 2016 presidential campaign too, which no doubt brought them even closer, while Ivanka explained they saw each other frequently as kids in spite of growing up on opposite sides of the country (Tiffany lived in California with her mother, while Ivanka was brought up on the east coast).
However, Town & Country reports that, according to recently-resurfaced conversations between radio shock jock Howard Stern and their father, Don Jr. and Ivanka may have tried to cut Tiffany of her inheritance at one stage. When Stern questioned whether the duo was trying to "bump off" Tiffany, Trump dodged the question until, after being put under pressure by Stern, he relented and confirmed, "Yes." 
Ivanka gets along well with the Trump boys — or does she?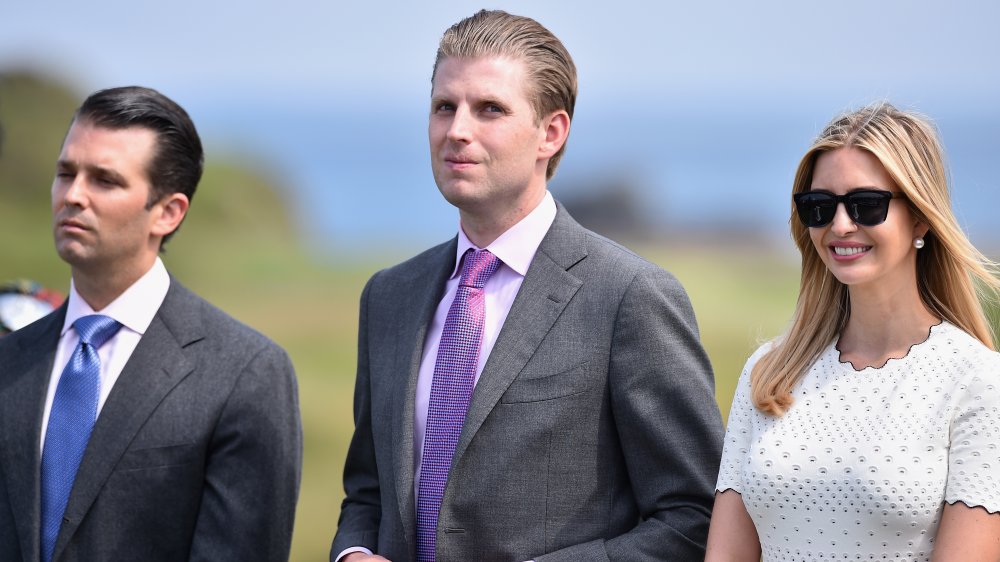 Jeff J Mitchell/Getty Images
As for the Trump men, Ivanka seemingly gets along fine with them too, though there have been rumblings of a rivalry between Ivanka and Don Jr. The Cut details how the two competed for years for their father's affection. Ivanka, naturally, has been the favorite for quite some time now with Don Jr. relegated to working in the background but, over the past few years, his prominence has grown. Even his girlfriend, Kimberly Guilfoyle, got a job working on the president's re-election campaign while Ivanka and her husband have taken more of a backseat — as far as the election campaign goes, anyway.
As for Eric, he and Ivanka reportedly worked together on renovating and redesigning the Trump National Doral and its Blue Monster course in Miami, according to Express. Barron, meanwhile, the youngest of their brood, is very close to Ivanka's children. She gushed, "They have so much fun together and they are so young. They're really just kids. So they are just enjoying it [Trump's presidency]."